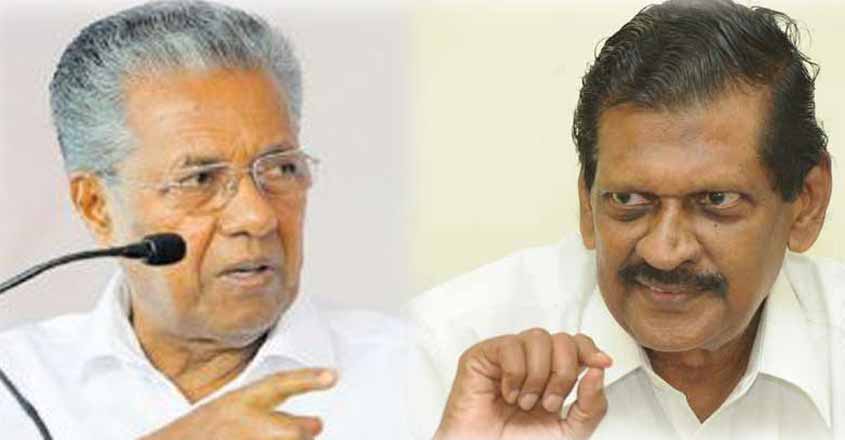 Chief Minister Pinarayi Vijayan said Left Democratic Front's victory in the Pala bypoll will boost the morale of his government. "The victory gives us the confidence to move ahead with our development and welfare projects," he told reporters in Thiruvanathapuram.
LDF candidate Mani C Kappan of Nationalist Congress Party won the Pala bypoll, defeating United Democratic Front's Jose Tom of Kerala Congress (M) by 2943 votes on Friday. Pala had been a UDF citadel, as it elected Kerala Congress (M) leader KM Mani continuously for more than five decades.
"I had said earlier that Pala bypoll would be a referendum on the government. We were confident that people would not let us down," Pinarayi said.
Addressing a press conference on August 29, Pinarayi had said "Pala byelection, like all elections, would be a referendum on the incumbent government in the state." He also said  Pala was a UDF stronghold.
He said many people attempted to create an impression that LDF has alienated from the people. "Today's victory has proved them wrong. LDF is the a strong political force," he said.
This is Jose K Mani's defeat: P J Joseph
P J Joseph, who leads one of the two factions in Kerala Congress, blamed his bete-noire Jose K Mani for the party's defeat at Pala. "Jose K Mani's political immaturity caused this defeat. It is his defeat, and not party's," he told reporters at Thodupuzha on Friday.
Joseph said Jose Tom was neither popular nor winnable candidate. "Jose K Mani's decision to field him backfired. Jose Tom had revolted against KM Mani when the latter was alive," he said.
Joseph's tough stand denied Jose Tom the party's election symbol 'Two Leaves'.
"Despite all the differences, I worked for Jose Tom. I am sad that UDF lost the bypoll. UDF should analyse the result and rectify the mistakes," he said and added that the outcome will not impact the five upcoming bypolls in Kerala.
'Unexpected defeat'
Former Chief Minister Oommen Chandy said UDF suffered an unexpected defeat in Pala. "We will analyse the reasons for this shock defeat," he said. Hinting that BJP had cross-voted for the LDF candidate, he said there was a decline in saffron party's vote share.
KPCC president Mullappally Ramachandran opined factional feud in Kerala Congress caused UDF defeat. "The factional feud angered the voters. But this defeat will not impact the upcoming bypolls in Kerala," he said.
Senior Congress leader K Muraleedharan urged the UDF leadership to expel Kerala Congress from the coalition if it cannot end the faction fight. "The defeat will pain late KM Mani's soul," he said.