Kozhikode: The probe on the mysterious deaths of six members in a family at Koodathayi in Kerala's Kozhikode district has unfurled a shocking tale of conspiracy and deceit among the family members. Three people have been arrested so far in the incident, of which two are close relatives of the deceased.
The case hit headlines due to the eerie similarities of all the six deaths in a span of 14 years. Retired educational department officer Tom Thomas of Ponnamattom family, 66, his wife Annamma Thomas, 57, son Roy Thomas, 40, Tom's brother's daughter-in-law Sily Shaju, 44, her 2-year-old daughter Alphine, and Annamma's brother Mathew Manjadiyil, 68, had died under mysterious circumstances during the period 2002 to 2016.
Jolly married Roy's cousin Shaju Sakharia, Sily's husband, a year after the latter's death.
Foul play was suspected after a part of the family property was allegedly grabbed by Jolly over a fake will.
Jolly, their relative M S Shaji (Mathew) and his friend Praju Kumar have been arrested by the probe team on Saturday.
Jolly Thomas, wife of Roy Thomas, who died in 2011, has reportedly confessed to poisoning the family members. Jolly has also confessed that she had attempted to murder Roy's sister Ranju.
Jolly, a BCom graduate, married Roy in 1998. Jolly has been running a beauty parlour and a private educational institution.
According to the investigators, Jolly procured the chemical cyanide, used to poison the deceased, from Shaji and Praju Kumar.
Shaji was earlier employed with a jewellery, from where he allegedly got cyanide. (Goldsmiths use cyanide to extract the yellow metal). Shaji is the nephew of Mathew Manjadiyil, one of the six victims.
The crime branch has collected material evidence and forensic proof to prove Jolly's involvement in the case. The accused who stood firm on her stance in the previous six rounds of interrogation, lost ground when the evidence was laid bare in front of her. Besides confessing to the crime, she also pointed out her aides- Shaju and Praju.
The Kozhikode Superintendent of Police KG Simon said that two main things indicated Jolly's involvement in the series of crimes. One, the accused lied that she was a lecturer at the National Institute of Technology (NIT). Two, she faked the documents to procure the family property.
Missing diary
Tom Thomas and his wife Annamma Thomas, who were retired government employees, had the habit of writing a diary regularly. However, their diaries are missing and the police are investigating this aspect too.
The couple's son Roy was engaged in several business ventures at Mukkom and Thamarassery but none of them was successful. It is presumed that Annamma used to fund her son's businesses. Moreover, when Tom Thomas died, the balance in his bank account was a mere Rs 22,000. According to the Crime Branch, it was strange that a couple who were both former government staff had such a small amount of their savings left. The police are also planning to trace the money received as pension benefits.
Mathew's death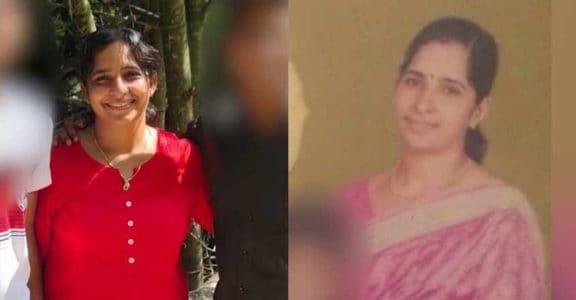 Meanwhile, it is the death of M M Mathew Manjadiyil that puzzles the police the most. The 68-year-old-man, Mathew was Annamma's brother.
The first death in the family was that of Annamma. She collapsed after tasting mutton soup on August 22, 2002. There was froth in her mouth and she was brought dead at the hospital. In 2008, her husband Tom died. Later in 2011, the couple's son Roy died in a similar fashion.
Roy's death raised suspicions and it was Mathew who first pointed out the similarities in the three deaths. It is presumed that Mathew suspected the role of Roy's wife Jolly in the deaths. In fact, it was Mathew who demanded an autopsy into the death of Roy. Now the main crux of the serial deaths case is this autopsy report that said that traces of cyanide were found in Roy's body.
The bodies of Tom and Annamma were not subjected to autopsy as no foul play was suspected.
After Roy's sudden death in 2011, the next person to lose his life mysteriously was Mathew. He too collapsed and died. On the day of his death, Mathew was alone at home as his wife was at her ancestral house. Incidentally, it was Jolly who informed neighbours that Mathew had collapsed, foaming at the mouth. Jolly too lived near Mathew's house. Though Mathew was rushed to hospital, he died on the way.
Sily and Alphine die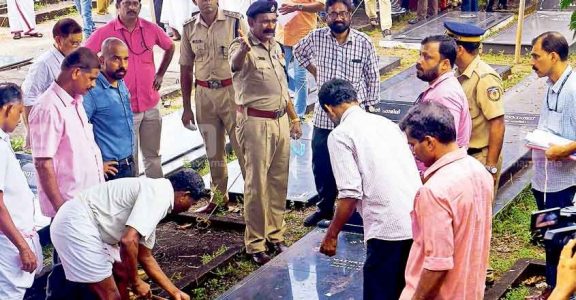 The two remaining deaths were of Sily and her two-year-old daughter Alphine Shaju. Sily was the first wife of Shaju, Tom's brother Sakharias' son.
Alphine had eaten bread and meat curry on May 3, 2014, the day of her brother's first holy communion. Soon after, she fell unconscious. Though she was rushed to a private hospital nearby and later to another hospital in Kozhikode, the child died the third day. The police are investigating Jolly's presence at this incident too.
Sily died in January 2016. She had visited Thamarassery along with Jolly to attend a relative's wedding. After returning to Thamarassery, Sily visited dentist along with Shaju and their children. Jolly too accompanied them.
Shaju went into the dentist's room and Sily and Jolly waited outside. Soon Sily collapsed in Jolly's lap. She too foamed at the mouth and was rushed to hospital. But her life could not be saved.
One year after his first wife Sily's death, on February 6, 2017,Shaju married Jolly despite opposition from their family members.
Sakharias, brother of the deceased Tom and father of Shaju, told Manorama News that dispute over property might be the chief cause of the incidents. "When Sily's child died, doctors had attributed it to epilepsy. Now let the Crime Branch conduct a probe and we are ready to face anything," he said. Sakharias also wondered why there was a delay in filing a complaint.
Shaju too said that there was a property dispute in the family. "We will cooperate with the probe. I have no idea what really happened. Let the police investigate what role my wife Jolly had in the incidents," he said.
He also said that the police had not taken him into custody. "The police sought some information from me. I told that I had visited Mukkom and Thamarassery on some personal matters. Officers asked me about Jolly's role in the incidents. I replied that I had no comments. I am a teacher and there's no need for me to tell lies," said Shaju.