Kozhikode/Kochi: The son of main accused Jolly Joseph, who allegedly killed six people from her husband's family at Koodathayi in Kerala's Kozhikode district, has said that other people could have helped her in committing the sinister murders.
Romo, son of Jolly Joseph and deceased Roy Thomas, also said that someone would have helped her to kill one family member after another over a period of 14 years. The police are also checking the involvement of other people in the series of murders that happened from 2002 to 2016.
Jolly's second husband and Roy's cousin Shaju Skarias was taken into police custody on Monday. The police had earlier arrested another kin M S Mathew (Shaji) and Prajikumar, a goldsmith, for providing cyanide to Jolly.
"My mother could not have committed all the murders alone, including that of my father. I suspect help from outsiders. I am sure that all those involved in this crime would be brought to book," the 21-year-old said.
"The Crime Branch probe is in the right direction. I am sure that the other accused would be caught in the coming days," Romo said.
"I have got to stay strong as I have a younger brother. I can't afford to let him down," Romo said in an interview to a Malaylam TV channel.
The police suspect that different individuals had helped Jolly for each of the murder. The cops are checking the phone call records of the accused. The police had questioned seven people on Sunday. The statements of a local leader, who helped Jolly at different phases of her life, were also taken.
Renji, the sister of deceased Roy Thomas, also said they were suspicious of Jolly's actions after she sought an additional share of the property.
Those, who helped create a fake will to grab father-in-law's property, and those who acted as middlemen have all been summoned.
Retired educational department officer Tom Thomas, 66; his wife and retired teacher Annamma Thomas, 57; son Roy Thomas, 40; Tom's brother's daughter-in-law Sily Shaju, 44; her two-year-old daughter Alphine, and Annamma's brother Mathew Manjadiyil, 68; had died under mysterious circumstances. All members of this Ponnamattom family had eerily similar deaths. They all fainted and died after having food with froth coming out of their mouths. A post-mortem had revealed traces of cyanide in Roy Thomas' body. After the death of her husband, Jolly had married Roy's cousin Shaju, whose wife Sily and daughter were also killed earlier. The police initiated a probe, after Tom's another son, Rojo who is in the US, filed a complaint.
Who helped to prevent police probe?
The probe team suspect that Jolly had received help to avoid a police probe into her husband Roy's death. Though traces of cyanide were found in the body, the family suspected it to be a case of suicide as he was found dead in the bathroom that was locked from inside. Neighbours had rushed and broke open the door to take out the body. However, the police did not look for the source even after they found cyanide.
Who helped to kill Sily?
The probe team also has doubts about the death of the first wife Sily of Jolly's second husband, Shaju. Jolly knew in advance about the places and the timings of Sily's visit. She plotted the murder accordingly. The police are probing who helped her in this.
Political leaders, govt officials too?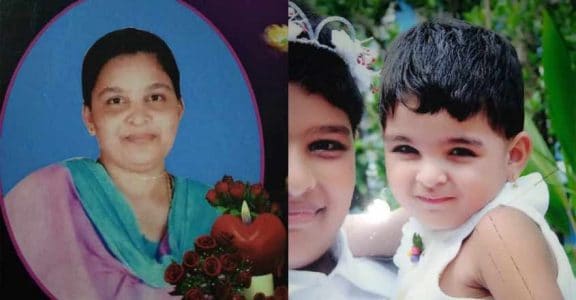 While the graves of the victims were opened on Friday, all the family members were present. However, Jolly was discussing the case with a close friend. The cops are checking reports that Jolly had met the local leader right before her arrest.
The police have received information that political leaders and revenue officials had helped Jolly in forging a fake will. Jolly's sister-in-law Renji also said that another person frequented their house, other than M S Mathew.
Son vs second husband – who is right?
Statements of Jolly's son Romo and her current husband Shaju are contradictory.
The youth has raised allegations against Shaju. Romo said that the deaths of his wife and daughter had no effect on Shaju. When it was hinted that Sily's death was an unnatural one, he allegedly replied, "They have to die someday," Romo said that his mother had told him of this.
Just three days after his wife and daughter died, the marriage of Shaju and Jolly was discussed in the family, Romo pointed out. Jolly deliberately spread the news about her second marriage.
Shaju said that he agreed to the wedding for the sake of the children. He has one older son in his marriage with Sily.
But contrary to what Shaju said, Sily's family had not taken the initiative to conduct their marriage, Romo pointed out. "It was Shaju's father who initiated the talks. Both Shaju and Jolly were ready for the marriage. Roy's family also agreed to the wedding as they did not find anything suspicious," he said.
Romo also shared his suspicion that Shaju had removed some crucial pieces of evidence. An auto driver also said that he had taken Shaju along with a sack of papers. These are suspected to be pieces of evidence that were destroyed.
Was Roy an alcoholic?
Shaju also said that he was not aware that traces of cyanide were found on Roy's body. He claimed he came to know of this only now. Shaju also said that he had heard Roy to be addicted to alcohol. He also claimed that Roy had undergone treatment at a private hospital at Oomassery. "Did not know a post-mortem was conducted. Believed it to be a case of heart attack. As he had several financial dealings, a heart attack was also not ruled out.
Romo, however, denied allegations that Roy was an alcoholic. "Such statements are being made to deliberately create confusion," he said. He also said that Shaju used to come to his house when Roy was alive.
Property interests
Renji, the sister of deceased Roy Thomas, said they were suspicious of Jolly's actions after she sought more property.
"She first made a fake will to take over some property. When she again raised demand for more property, we were suspicious. Then we decided to check the post-mortem report," she added.
Jolly had forged a fake will that said the plot of 38 cents and the house would belong to son Roy and Jolly. After Tom Thomas' death in 2008, Renji said that Jolly had shown her and her brother this fake will. However, this will does not mention another 50 cents of land that belonged to Tom.
After Roy's death in 2011, Jolly tried to get the property transferred in her name. All procedures were completed at revenue, village and panchayat offices. However, Roy's brother Rojo on coming to know of this, gave a complaint and stalled the proceedings. Only after changing the ownership rights back to Tom Thomas that Rojo returned to US. However, Renji said that other family members did not object to Jolly and her children living in the house.
Jolly's share
Renji and her brother moved the court, seeking a partition of the property after Jolly's remarriage in 2017. They sought to divide the property into three and give one portion to Jolly and her two children. However, Jolly contented that the house and the 38 cents of land belonged to her, and sought a share of the 50-cent land.
The siblings got suspicious as Jolly brought up the will again that was already proved to be fake and sought share in other assets as well. They then decided to check Roy's post-mortem report. This happened in July.
Close relatives were aware that cyanide was found in Roy's body. Though they believed it to be a case of suicide, Rojo sought a probe into how Roy got hold of cyanide.
However, Renji said that Jolly had then objected to this. Jolly allegedly said that this would bring disgrace to the family and that she had two young children growing up.
However, when the post-mortem report was checked, they found discrepancies in Jolly's statements. Jolly said that Roy had had food (rice and Bengal gram curry) only for lunch on that fateful day. She said that Roy came home in the night and sought food. Jolly said that as she went to the kitchen to make the food, Roy had gone to the bathroom and fainted. However, autopsy revealed that the rice and curry had not been digested, proving that he had had food right before the death.
Jolly's presence at the time of death…
After discrepancies were found in Roy's death, Renji said that they checked more closely into other deaths.
"Jolly was present at the time of each death. She is the first person to see the death and inform the others. Jolly was also in the forefront for taking the victims to the hospital. When we joined the missing dots, we found the situation to be perilous. And sought to file a complaint," she said. When Rojo came home for vacation, the siblings filed a complaint to the rural district police chief.
"It doesn't matter if the crime took place 17-20 years ago. I always wanted to know how my parents and brother died. The truth is out now. I am not worried about the forensic report. Now, that's not my concern," she said.
Shaju's version
However, Jolly's second husband Shaju said that he never doubted her and that she interacted very amicably with everyone. He said that he believed that Jolly was a BBA lecturer at NIT Kozhikode till the police questioned it. When he asked her if she had been lying, Jolly said that she was instead going to a beauty shop.
Shaju also said that he was not acquainted to Jolly before. "When I went to get admission form for my son, I got one for Roy's son as well. That's when I spoke to Jolly," he said.
About the deaths in the family, Shaju said, "I believed the first death in the family to be a natural one,"
Shaju said that he had taken his uncle Tom's death to be a case of heart attack.
About his first wife, Shaju said that Sily had suffered from chicken pox while she was three months pregnant. It was also said that the child could also be affected.
"When her kidneys were infected, she had sought treatment at the MIMS hospital. During this, my daughter died on the day of my son's holy communion. But I don't know if my wife doubted Jolly," he said.
After the daughter's death, Sily wanted to seek ayurvedic treatment at Uleri as she wanted to have another child. "During this time, she suffered from epilepsy and was taken to a hospital in Kozhikode. Sily said that the doctors feared she would not survive. She was in the hospital for three days. When she later fainted and died, I believed that the illness had recurred," Shaju said, adding that he had decided not to remarry.
"Both mine and Jolly's children were friends. Sily's relatives first put forth the marriage proposal. Jolly also agreed to it. I agreed to the wedding, considering the future of the children," he said.
Shaju, however, said that he did not suspect any affair between Jolly and Mathew. "Jolly used to be on the phone for a long time. However, I did not notice anything suspicious in her behaviour," he said.
He also alleged that the media were giving false news. "Even when I was at the Koodathayi house, news reports said that I was in police custody. As I have not done anything wrong, I do not want to seek anticipatory bail.," Shaju said.
The forensic team has checked the house, where the murders took place. The police have sealed the home.
Renji Thomas also said that attempts were made to kill her mother earlier as well. She survived that attempt as she was rushed to the hospital. But the cause of the death was not found.
Renji said Jolly had given her a tonic as well. Though she felt nauseous and dizzy after drinking it, she survived as she drank lots of water.
Rojo was apparently the next one to be targetted. However, as Rojo lived in the US, he and his family remained out of the reach of the killer(s).