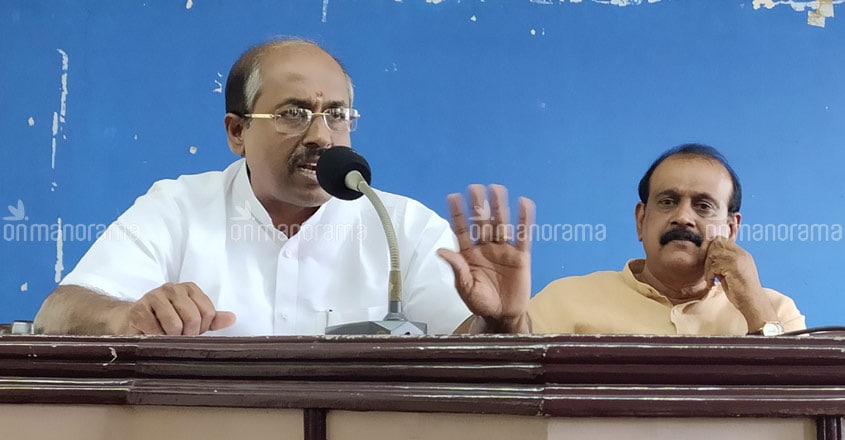 Thiruvananthapuram: Former Kerala Police chief T P Senkumar has sought Income Tax department's probe against Sree Narayana Dharma Paripalana (SNDP) Yogam secretary Vellappally Natesan for siphoning off Rs 1,600 crore from the organisation's fund.
He alleged that Vellappally swindled the money received as donation for students' admission and staff recruitment to schools and colleges under the Yogam.
Senkumar also sought details of the staff recruitments and how the donation money was utilised.
He urged those who paid the donations to come up with the details. "They should provide details," he said at a press meet on Thursday.
He said the Yogam collected Rs 100 per person for the Sivagiri pilgrimage. "A probe should be ordered to find what happened to the money," he demanded.
Questions over SNDP election

He alleged that Vellapplly sabotaged the Yogam office-bearers' elections.

"As many as 1,000 Yogam branches are fake. Yogam's statute stipulates one representative for 200 members. If the vote count is taken, it would be more than the community population. This is because of the fake votes. Most of the fake votes are from the Malabar region. We are collecting the data on fake votes," he said.
He demanded that Vellappally should stay away from the post until he holds free and fair elections.
Subhash Vasu, who recently fell out with the Vellappally and his son Thushar, alleged that Vellappally family is obsessed with money and it doesn't care about values.
The press conference was marred by unruly scenes after Senkumar asked those who raised questions to leave.
Reaction
Senkumar is merely reiterating facts disregarded by the Supreme Court, High Court and Vigilance, Tushar Vellappally said on Thursday. He also accused Senkumar of revising the amount in his allegation from Rs2,000 crores to Rs1,600 crores, while demanding proof for the same.
"The office bearers' were elected in the presence of a High Court observer. How can the voters' list be fake in this scenario?" Vellappally asked.
The SN Trust was able to create more than 100 institutions in a span of 20 years due to the efficient utilisation of funds, he added.
"Senkumar became the member of the SNDP Yogam only a year ago and he is yet, to become a member of the trust. How did get the information? If the allegation is true, why did he not take any action during his tenure?," Vellappally said.