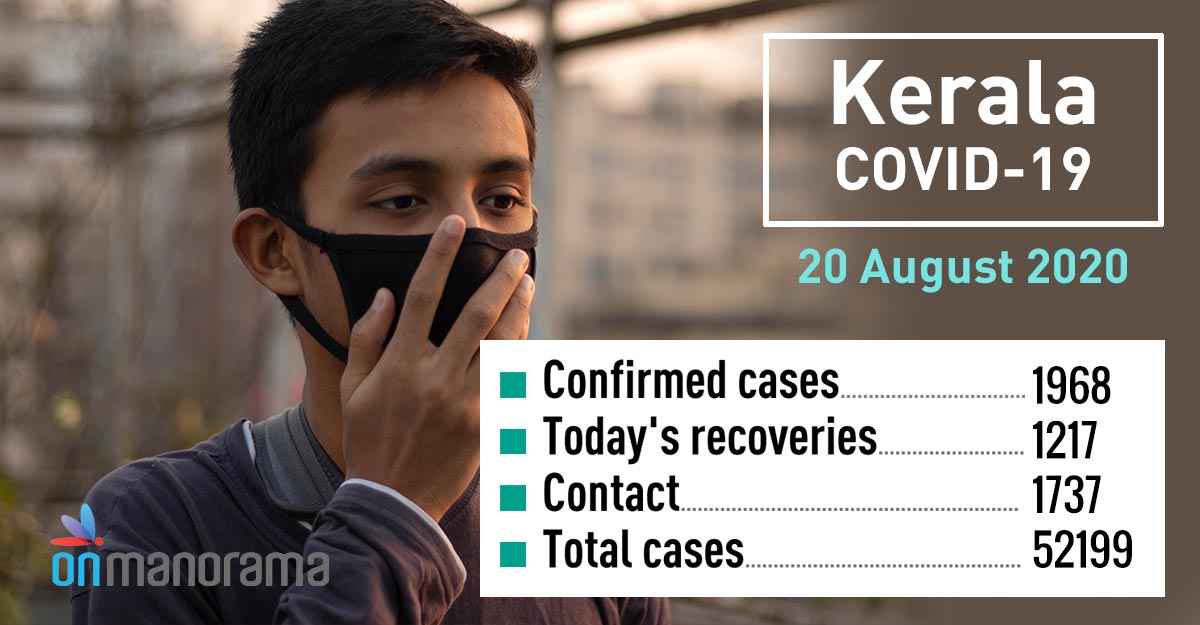 Thiruvananthapuram: Kerala's COVID-19 case count reached 52,199 on Thursday, with the state reporting 1,968 fresh cases. The state also registered 1,217 recoveries in the last 24 hours.
So far, 33,828 people recovered from the disease, while 18,123 patients are still under treatment in various hospitals across the state, Kerala Health Minister K K Shailaja informed.
Local transmission of COVID-19 continues unabated as 1,737 of the newly reported cases contracted the virus through contact. Of this, the infection sources of 100 are unknown, the minister said in a statement.
Apart from this, 48 healthcare workers (21 from Thiruvananthapuram, nine from Malappuram, four each from Ernakulam and Kozhikode, three from Kasaragod, two each from Kollam, Thrissur and Kannur, one from Palakkad) also contracted the virus.
Of the 1,968 cases reported today, 71 people came from abroad, while 109 came from other states. Three INHS employees from Ernakulam also tested positive.
With nine more deaths, the COVID-19 death toll reached 191 in Kerala on Thursday.
The deceased have been identified as Mohanan, 69, from Vadakara in Kozhikode; Mahad, 48, from Vettoor in Thiruvananthapuram; Basheer, 44, from Vellumannadi in Thiruvananthapuram; Rajan, 84, from Medical College lane in Thiruvananthapuram; Krishanankutty Nair, 73, from Kavadiyar in Thiruvananthapuram; Lawrence, 69, from Vallakadavu in Thiruvananthapuram; Mohana Kumaran Nair, 58, from Neyyatinkara in Thiruvananthapuram; Mershli, 75, from Puthukuruchi in Thiruvananthapuram and Manikandan, 72, Poojapura in Thiruvananthapuram.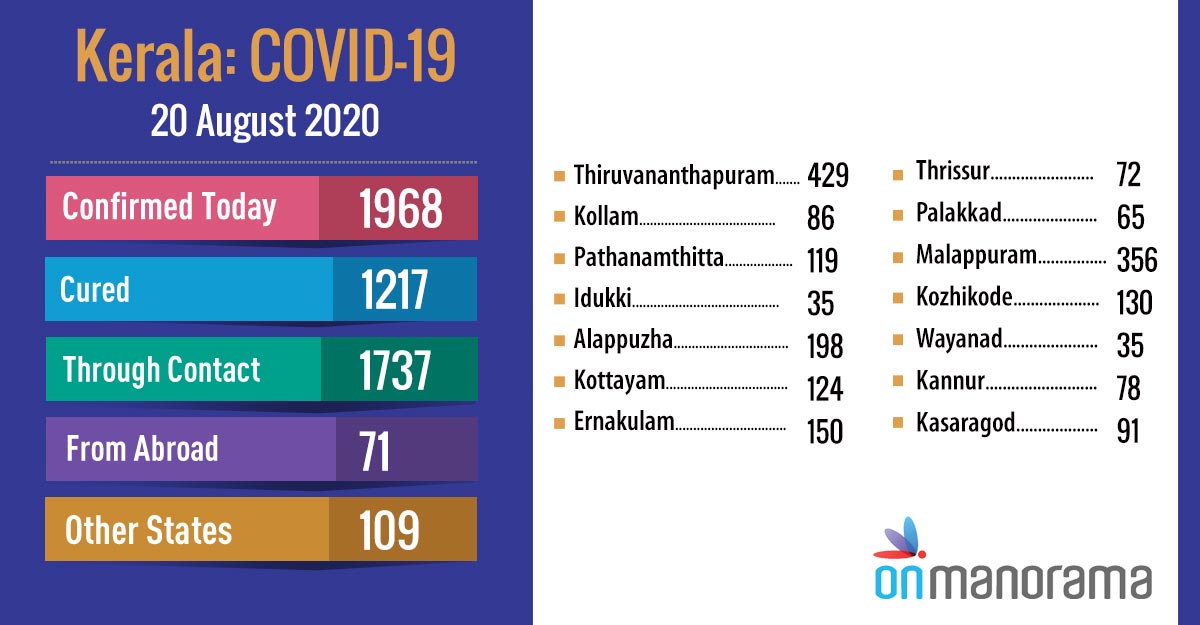 District-wise break-up of today's contact-based cases:
Thiruvananthapuram – 394
Malappuram – 328
Alappuzha – 182
Ernakulam – 138
Kozhikode – 108
Kottayam – 115
Pathanamthitta – 95
Kasaragod – 79
Kollam – 79
Kannur – 66
Thrissur – 67
Palakkad – 34
Idukki – 29
Wayanad – 23
District-wise break-up of recoveries:
Kozhikode – 257
Thiruvananthapuram – 230
Kasaragod – 154
Ernakulam – 121
Malappuram – 108
Palakkad – 91
Alappuzha – 75
Thrissur – 35
Kannur – 35
Kollam – 30
Pathanamthitta – 29
Kottayam – 29
Wayanad – 24
Idukki – 9
Alappuzha district reported 198 COVID-19 cases on Thursday. Of them, 182 are cases of local transmission. Most of the fresh cases in the district were reported from Alappuzha region as 41 people tested positive there. Twelve cases each were reported from Ambalappuzha and Chettikkad.
Of the 150 cases confirmed in Ernakulam, 147 are contact cases. Twelve cases were reported in Aluva and 13 in Palluruthy. Twenty-four cases were detected in Fort Kochi-Mattancherry region. Four healthcare workers are among those tested positive.
In Malappuram, 107 people contracted the virus through local transmission. Of them, source of infection is not known in 10 cases. Most of the cases (42) were reported from the limits of the Kozhikode corporation while 13 people tested positive in Thamarassery. Ten cases were reported from Unnikulam. Four health workers are among the cases.
Of the 124 cases in Kottayam, 114 are contact cases. Nine residents of a psychiatric hospital in Uzhavoor are among those tested positive.
Testing and quarantine
In the last 24 hours, 37,010 samples have been tested.
In total, 13,12,992 samples (including routine, airport surveillance, pooled sentinel, CBNAAT, TrueNAT, CLIA and antigen assay) were sent for testing. A total of of 1,55,984 samples have been collected as part of sentinel surveillance, the minister said.
Of the 1,73,189 people under observation for suspected infection, 1,58,543 are home/institutional quarantined and 14,646 hospitalised. As many as 2198 people were hospitalised since Wednesday.
31 new places were designated as hotspots on Thursday, while 18 LSGs were excluded from the list. The state presently has 585 hotspots.