Pathanamthitta: A bus carrying Sabarimala pilgrims overturned at Elavunkal here on Tuesday afternoon. 
The passengers, all natives of the Mayiladuthurai district in Tamil Nadu, were returning from the hill shrine when the bus overturned at the third bend on the Elavunkal-Erumeli road.
As per reports, the driver lost control of the bus while negotiating a turn, causing the vehicle to overturn. However, police suspect the vehicle to have had a defect in its braking system.
There were a total of 64 passengers, including nine children, on the bus. While all of them sustained injuries, nine of them are serious and the driver's condition is reportedly critical.
According to Heath Minister Veena George, the grievously injured have been shifted to Kottayam Medical College Hospital and Pathanamthitta General Hospital. The others have been admitted to a hospital in Erumeli.
"The District Medical Officer has been instructed to make necessary arrangements to ensure expert treatment for the injured. A team of experts from Konni Medical College will reach Pathanamthitta General Hospital," she said.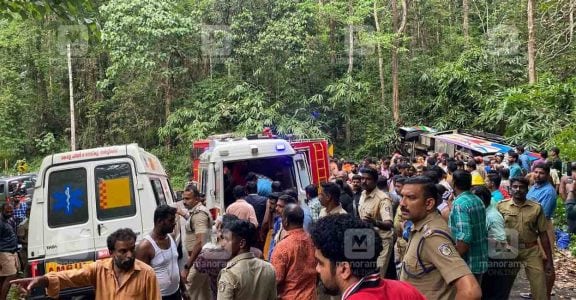 The Fire and Rescue Services team that reached the spot had to cut open a side of the bus to pull out the trapped passengers. A shortage of vehicles affected the operation, according to an official.
The rescue operation was carried out with the help of local residents and police.
Meanwhile, Devaswom Minister K Radhakrishnan, talking to Manorama News, said that everyone on the bus has been rescued.
"The condition of one person is critical. All arrangements have been made to ensure the rescue operation goes smoothly," said the minister.