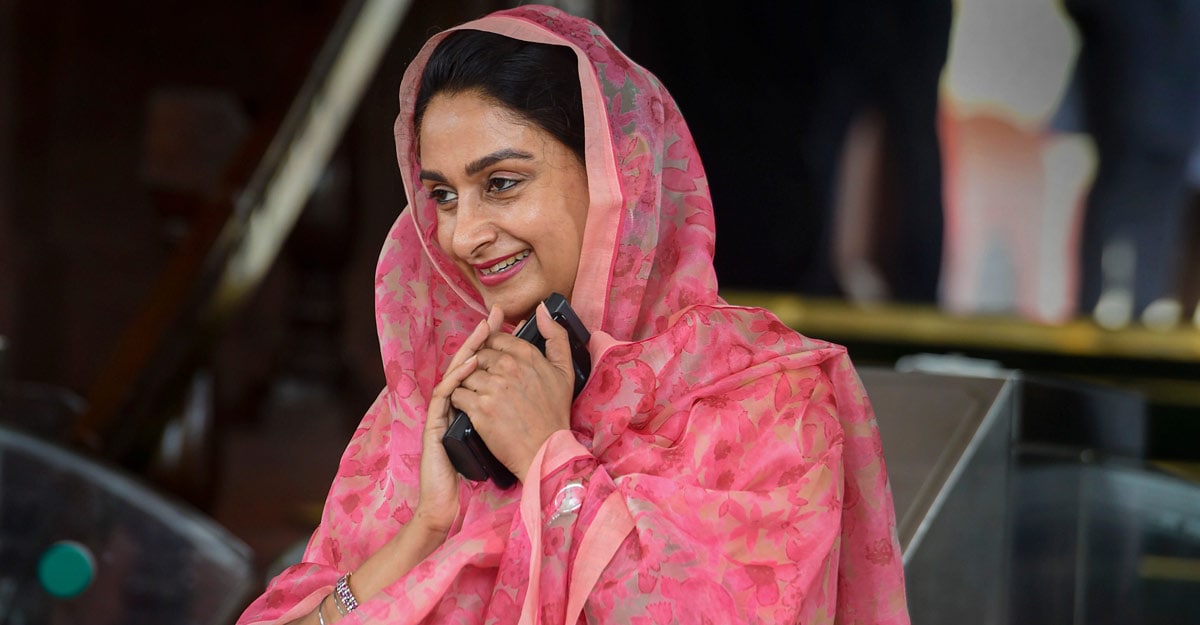 New Delhi: Harsimrat Kaur Badal has submitted her resignation as Union minister to the Prime Minister's Office (PMO), principal advisor to Shiromani Akali Dal president Sukhbir Singh Badal said on Thursday.
Harcharan Bains, the principal advisor, said Kaur submitted her resignation soon after the party chief announced in Lok Sabha that she would quit the Union Cabinet in protest against the three farm bills, tabled in Parliament by the Centre for passage.
Kaur, the Union Minister of Food Processing Industries, is the only SAD representative in the Modi government.
The Akali Dal, a part of the National Democratic Alliance, had also protested against the first of three such bills, which has already been passed by the Lok Sabha.

In his speech during a discussion on two of the farm bills-- the Farmers Produce Trade and Commerce (Promotion and Facilitation) Bill and the Farmers (Empowerment and Protection) Agreement on Price Assurance and Farm Services Bill, Sukhbir Singh Badal said the proposed laws will "destroy" the 50 years of hard work put in by successive Punjab governments and farmers to build the agriculture sector.

He recalled Punjab's massive contribution in making India self-sufficient in food grain production as he vehemently opposed the bills.

"I want to make an announcement that our Minister Harsimrat Kaur Badal will resign from Cabinet," he said in concluding remarks.

He also refuted suggestions that his party initially supported three ordinances, which these bills seek to replace, and asserted that Harsimrat Kaur Badal had expressed her concerns in the Cabinet meeting and also wrote to Agriculture Minister Narendra Singh Tomar, highlighting "flaws" in the proposed legislations.

Hitting out at the Congress, which has sought to corner the SAD over these bills, he accused the party of "double speak" on the issue and noted that the abolition of the APMC Act was part of its manifesto in both the 2019 Lok Sabha election and the 2017 Assembly polls in Punjab.