The Defence Scientific Information & Documentation Centre (DESIDOC) of DRDO has completed 50 years of serving the nation silently.
DESIDOC, situated in Delhi's famous Metcalfe House, was a favourite place for Dr A P J Abdul Kalam, during his stint with DRDO and also when he was the President.
"Information is a vital resource for R&D scientists. We provide contemporary information in the field of science and technology along with developments of past to researchers and scientists. DESIDOC has been serving the scientific community to meet information needs in real time," says an official.
Soon after its inception in 1958, DRDO established Scientific Information Bureau (SIB) to cater to the information requirements of scientists. As the needs and requirements of information increased, SIB was made an independent establishment on July 29, 1970, with much wider scope and responsibilities.
Today, DESIDOC is a central resource centre for scientific information, documentation, IT-based services, multimedia services, e-pub services, publishing services rendered on anticipation and demand, to DRDO wings and other establishments of the Ministry of Defence. 
It being among the best and most advanced libraries in India, many universities send their students on study tours to DESIDOC. The 100-plus team at DESIDOC is currently headed by Dr Alka Suri.
"The core competence of DESIDOC is design and development of databases, application software for information retrieval in a multi-centre environment and development of multimedia content. It also provides the scientific community a platform to present their research output ideas through peer-reviewed journals, bulletins, monographs, etc," says an official.
Dr Kalam, while serving as the DRDO chief, frequently visited DESIDOC, and in his lectures often referred to the might of the institution.
"For 20 years Metcalfe House was my great attraction. The main reason was the library and DESIDOC. Even now, I use DESIDOC and whatever book you want, you get here," Dr Kalam said while delivering a lecture at DRDO as the President.
Power of OSINT
Open Source Intelligence (OSINT) is an emerging medium gaining momentum at a fast rate in an information-chaotic world on the web. 
Ever since the India-China stand-off at the border began, there were several OSINT platforms giving in-depth details of the emerging situation, more accurately and faster than the conventional media.
Anshul Anand, a professional dealing with physical security and surveillance systems, is an active participant using OSINT information.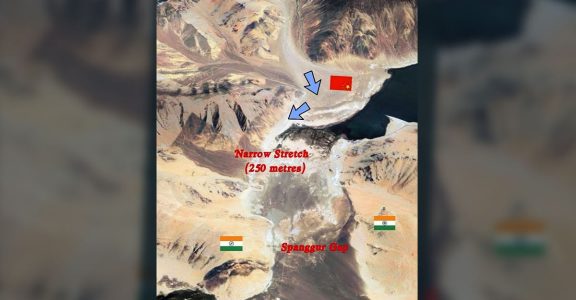 On OSINT's relevance these days, Anshul said it helps to verify information on sensitive matters.
"OSINT, IMINT (Imagery Intelligence) and COMINT (Communications Intelligence) have become increasingly relevant for professionals/enthusiasts who can use available resources to arrive at conclusive patterns. These results can be used to authenticate reported news or lead to entirely new revelations in areas like defence and investigative journalism," said Anshul.
He said easy availability of mapping resources, routing information, audio archives, equipment lists and public databases help him connect the dots and verify reported facts.
"OSINT started as a social media phenomenon, with maps and videos being posted on various platforms. This was adopted very quickly by mainstream media to supplement traditional reporting on TV and in print. A well documented OSINT post is at times more revealing and conclusive than traditional news reports which rely on sources and official briefs," he added.
He said the future of OSINT is bright, as information becomes more freely available and access to data and tools becomes routine.
Lab Watch
Karnataka Chief Minister B S Yediyurappa wants a new DRDO laboratory to be set up in Shivamogga district. He represents Shikaripura Assembly constituency in the district. The CM met Defence Minister Rajnath Singh with his proposal for the new lab. 
The Ministry of Defence seems to have agreed to the Karnataka government's proposal for establishing a DRDO research cell at the Kuvempu University. But the CM is not satisfied with the cell and wants a full-fledged DRDO laboratory.
According to him, the laboratory can explore natural remedial measures for military use from the Western Ghats region. The state government also has promised land for the lab including that for official quarters.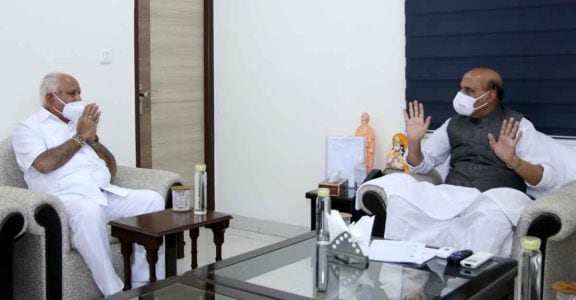 One has to wait and see if Yediyurappa's dream lab will be gifted to Shivamogga, especially at a time when DRDO is in self-introspection mode, with a view to becoming more efficient. A panel is to submit a report to plug the loopholes in DRDO. Many feel DRDO has to be lean.
 "To set up a new lab several procedures have to be followed, and the most important is the feasibility study. It's too early to say anything on the proposal from the CM. We are not sure if the state government did any study before submitting this proposal," says an official.
Except for one lab in Mysuru, all other DRDO labs in Karnataka are situated in Bengaluru. Only time will tell if the dream of Karnataka's strongman Yediyurappa will come true.
Printing Ban
Looks like the Centre's decision early this month asking all ministries and public sector undertakings not to print calendars, diaries and coffee-table books has derailed the plans of many who had planned well ahead to fulfill this annual publicity ritual.
Instead, the government wants its departments to go the digital way to curb costs and also to embrace eco-friendly measures.
It has been a tradition for India's military and several defence PSUs to periodically bring out publications and coffee-table books to portray milestones and the historical relevance of their existence and achievements. All that will have to be halted now, thanks to this order.
"The times are tough and there were already several austerity measures in place even before Covid-19 struck. With the pandemic spreading, things have worsened. The order is clear and we have decided to go the digital way," says a senior marketing manager with a Ministry of Defence undertaking.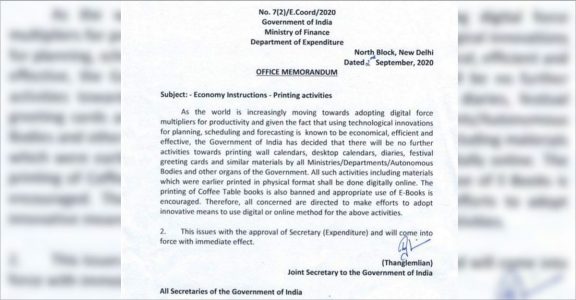 In its note, the Ministry of Finance said: "There would be no further activities towards printing wall calendars, desktop calendars, diaries, festival greeting cards and similar materials by all Ministries/Departments/autonomous bodies and other organs of the Union Government. All such materials that were earlier printed in physical format for internal use or distribution to other stakeholders shall be done digitally online. The printing of coffee-table books is also banned."
This move has definitely saved the exchequer crores of rupees, but it has also hit the printing industry — already reeling under heavy losses due to the pandemic — harder. 
"It will have an impact on several small players like us," says Rajendran M of Krithika Kreations.
Your Take
Decommissioned aircraft carrier Viraat, the priceless asset of the Indian Navy, has reached Alang ship-breaking yard in Gujarat. Despite heightened emotions and widespread efforts to stop the former Indian Naval Ship from getting scrapped, Viraat unfortunately is heading the Vikrant way — another decommissioned ship that was scrapped. 
Here are some select views from 'Plane Talk' regulars and those following Onmanorama, as to what could have been done to preserve this national asset from getting scrapped.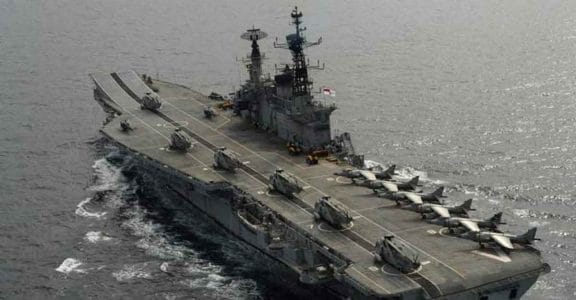 •  "We pay lip service to a lot of things in this country. Military heritage is near the top of that list." —Angad Singh
• With the journey of Viraat (R 22) to the scrap yard commencing, it has closed the chapter of it being saved for posterity. She deserved to be around as she was a witness to the Falklands War under the British flag. — Capt D K Sharma (Retd), former Spokesperson, Indian Navy
• We have the world's largest coastline and couldn't find 1,000 ft to accommodate a historical warship. A nation that forgets its past has no future. It would be an attraction like the statues. — Nikhil Naidu
• Imagine watching the sunset while on the carrier or doing scuba diving nearby. Should be used as a spot for adventure sports and light shows. Maybe some events using 3D holograms to showcase Indian naval history etc. — Vishal Kushwaha
Landing Line: Communication is key. An overdose or lack of it can be detrimental. 
(Plane Talk column will make random appearances on your radar armed with variety news captured from India's aerospace and defence sector. The 'Your Take' segment is exclusively reserved to embed your views. The writer is an independent aerospace & defence journalist, who blogs at Tarmak007 and tweets @writetake.)