So the World Cup is on, and Kerala, as always, is consumed by a pandemic of football fever. The symptoms are a widespread obsession with the sport, intense questioning by otherwise busy people about the latest score, giant cut-outs of international football heroes everywhere, and football-themed allusions on every occasion. I was in Kozhikode for a few days earlier this week, arguably the most afflicted city, and there was no escaping the World Cup. Whether I was being addressed at a political gathering or being questioned by journalists, even in a speech introducing me at a women's college and in an interaction with lawyers at the Calicut Bar Association, football metaphors flowed.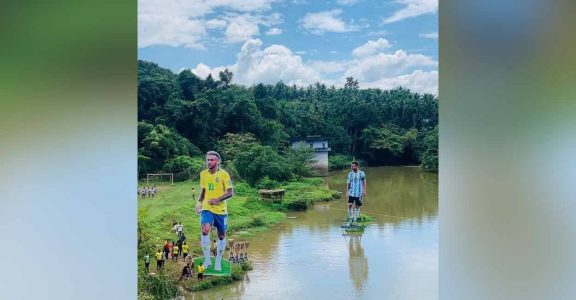 But every World Cup has been about more than football, and this one in Qatar is no exception. The host nation has been pilloried for its human rights record, its treatment of its LGBTQ minorities (homosexuality is illegal in Qatar), its treatment of migrant labourers and even its hydro-carbon fuelled prosperity (Qatar is one of the world's largest producers of liquefied natural gas). Right from the start – from the moment in 2010 that the tiny Gulf state, with a population of just 3 million, won its bid to host the 2022 tournament – it has been subjected to attacks and even faced hostile campaigns in Western media demanding it be stripped of the privilege of being the venue for the World Cup.
The British newspaper The Guardian alleged that some 6,500 foreign labourers working on World Cup-related projects have died. "6,500 lives for 6,750 minutes of football," one slogan screamed, demanding that the World Cup be withdrawn from Qatar on moral grounds. There were unverified allegations that Qatar had bribed FIFA officials to grant them the hosting rights. None of the charges of bribery and illicit financing have been proven, however, and Qatar claims the 6,500 mortality figure is inaccurate, since it represents all deaths of all migrant workers from all causes over five years. It asserts that only 38 labourers actually working on World Cup-related projects have died.
Many of the neighbouring Gulf kingdoms resented what they saw as Qatar's upstart politics, which apart from presuming to hold the region's first-ever World Cup, included setting up the globally-viewed Al Jazeera television channel, giving a platform to the Taliban insurgency in Afghanistan (the Taliban's only international office is in Doha) and allegedly financing Islamic terrorists (ISIS or Daesh is alleged to have been financed by Qatari money, much of it paid as ransom to release some kidnapped Qatari sheikhs). The Gulf Co-operation Council declared an economic and political blockade of the desert kingdom in 2017 that went on for four years, finally ending only after some patient Qatari diplomacy in 2021.
But other opponents of Qatar as the World Cup venue have been outspoken. And they found an unlikely supporter in the man who presided over FIFA at the time the winning bid was allocated to Qatar, then-FIFA President Sepp Blatter. Qatar "is too small a country," he recently declared to a Swiss newspaper. "Football and the World Cup are too big for it."
Qatar is too small a country. Football and the World Cup are too big for it.
Sepp Blatter, Former FIFA President
The current FIFA President, Gianni Infantino, responded in a long and rambling press conference on the eve of the tournament, accusing the West of "hypocrisy" in its reporting about Qatar's human rights record. Infantino said: "I am European. For what we have been doing for 3,000 years around the world, we should be apologising for the next 3,000 years before giving moral lessons. If Europe really care about the destiny of these people, they can create legal channels - like Qatar did - where a number of these workers can come to Europe to work." Anticipating the charge that he was defending an indefensible autocracy, he added: "I don't have to defend Qatar, they can defend themselves. I defend football."
Amid reports that teams were planning to sport rainbow logos and "One Love" headbands to show their solidarity with the LGBTQ community, FIFA banned all such overtly political stands. Infantino wrote to all the participating teams requesting them to avoid dragging the tournament into controversy. "We know football does not live in a vacuum and we are equally aware that there are many challenges and difficulties of a political nature all around the world," he wrote. "But please do not allow football to be dragged into every ideological or political battle that exists."
Qatar has never even featured in a football World Cup before, but it has spared no expense to justify the honour. It has spent an astonishing US $220 billion bonanza on World Cup infrastructure projects, constructing seven new stadiums (each a marvel of design), multiple highways, roads, and flyovers, new railway systems, hotels (including cruise ships floating off the coast to serve as temporary hotels) and a hugely expensive air-cooling system that makes each stadium, though open-air, a bubble of low temperatures. Since winning the World Cup bid, Qatar has spent a fortune on expanding its influence in the football world, purchasing the French club Paris Saint-Germain and hiring some of football's biggest superstars in Brazil's Neymar, Argentina's Lionel Messi and French hero Kylian Mbappe, to play for it.
It has also invested a great deal of its political capital in the tournament's success. "No state, until now, has placed sport in general, and the World Cup in particular, at the heart of its foreign policy and economic development" as Qatar has done, wrote the football historian David Goldblatt. That is debateable: history is replete with examples of World Cup host countries using football to enhance their global prestige. Uruguay, which hosted the very first World Cup in 1930, was another tiny state whose only claim to fame was football. "Other countries have their history, we have our football", goes the local maxim. Fascist Italy used the following two World Cups to promote itself globally, as did military-ruled Argentina in 1978 and Putin's Russia in 2016. The late British historian of nationalism, Eric Hobsbawm, once explained that "What has made football so uniquely effective a medium for inculcating national feelings, is that the … imagined community of millions seems more real as a team of 11 named people." As my son Ishaan Tharoor, an authoritative commentator on the sport and the World Cup for the Washington Post, adds, "More than any other sport, soccer is the global game and, as such, a fulcrum for all sorts of political symbolism and myths of belonging… These '11 named people' embody a nation's yearning for prestige and anxiety over failure."
India has no stake in the tournament's outcome, and remains far from qualifying even for a future tournament. But Kerala's football passions will be undimmed till after the final on 18 December.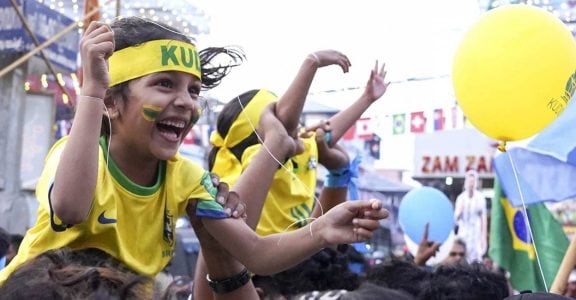 Soccer beyond supercomputers
An English betting company called BetVictor, anxious about the prospects of the England team in the tournament (and no doubt keen on fixing the odds for its gamblers), invested in a supercomputer that ran an algorithm through every team's talents, records and prospects. The algorithm predicted a Brazil – Belgium final, with Brazil emerging as champs. But before they pop the champagne corks in Brasilia (or on those Kerala beaches that are already sporting Brazilian colours), a warning: even supercomputers are not perfect. The algorithm failed to predict Saudi Arabia's stunning victory over Argentina. It is of such glorious unpredictabilities that the true joy of sport is born – and no supercomputer can programme for that.