Potchefstroom: Not content with the U-19 T20 World Cup triumph, batting sensation Shafali Verma has already set her sights on replicating the success with the senior women's team in less than two weeks' time.
She will get her chance when the Women's T20 World Cup gets underway on February 10 in South Africa, the same country where the country just won the inaugural U-19 world tournament.
Shafali, 19, has already established herself in India's senior side and wants to make the visit to South Africa even more memorable with another silverware.
"No, the big one also," Shafali said when asked if the U-19 trophy was the only one she was hoping to take back from South Africa.
"I am someone who focuses on the task at hand. When I entered the Under-19s, I only focused on winning the Under-19 Cup and we have won that today (Sunday).
"I will look to take this winning confidence with me and win the senior World Cup. I will try and forget this and get involved with the senior setup and gel with the team and win the World Cup," she was quoted as saying by the ICC.
India on Sunday won their maiden ICC title in women's cricket as a bunch of supremely talented teenagers lifted the inaugural U-19 World Cup with a seven-wicket victory over England.
The Shafali-led India squad managed to do what their seniors could not by clearing the final hurdle in a global event.
Meanwhile, India great Mithali Raj said at least three to four members of the triumphant squad would graduate to the senior level and potentially play a key role in the ODI World Cup at home in 2025.
Leg-spinner Parshavi Chopra, opener Shweta Sehrawat, pacer Titas Sadhu, off-break bowler Archana Devi and left-arm spinner Mannat Kashyap were among the standout performers of the U-19 side that outplayed England in the final in Potchefstroom on Sunday.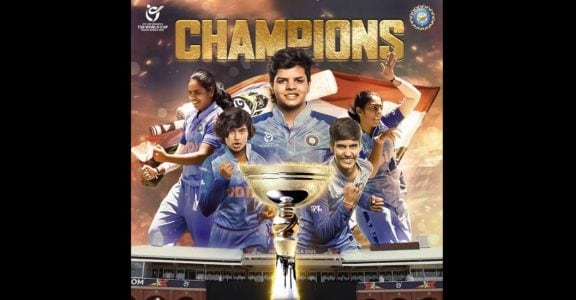 "The spinners and seamers have been very impressive and in both departments, we need improvement at the senior level. It's always good to have more options and build a solid pool of players.
The leading run-getter in women's ODI cricket said the NCA in Bengaluru prepared the team well for the first-ever global age-group event.
Going forward, she wants all the squad members of the victorious outfit to toil on the domestic circuit while the three or four who are ready for the higher level can be slowly drafted into the national side.