Cheruvathur (Kasaragod): After nearly three decades of living together and raising four daughters, day labourer Ashraf C P (55) and his wife Suhara C P (49) split up. The couple from Ottapalam in Palakkad district worked on the plan for two years.
Their three older daughters are married. Ashraf, who used to "do any work" to run the family, underwent surgery for varicose veins. He then flew out to Dubai and landed himself a job as a cook in a restaurant.
And Suhara boarded a train to Cheruvathur in Kasaragod district, with their youngest daughter, 22-year-old Thoufeera C P. That was in 2020.
Thoufeera, a discus thrower, wants to win an Olympic medal and her parents decided to do anything to help her achieve that.
The decision was not easy for Tisha E Manuel and Abraham Joseph, a couple from Thoppumpady in Fort Kochi. Their daughter Henin Elizabeth (16) has been a shot putter since she was 12 years old. In June 2018, her parents put her in Class 6 at Mar Basil Higher Secondary School in Kothamangalam, 55km away.
But the school, which focuses on running, did not have a specialist throwing coach and she depended on Youtube to learn. In Class 7, she created a state record in the sub-junior category by throwing 9.54m at the Kerala State School Athletics Meet. "But without a coach, I was not making much progress," Elizabeth said.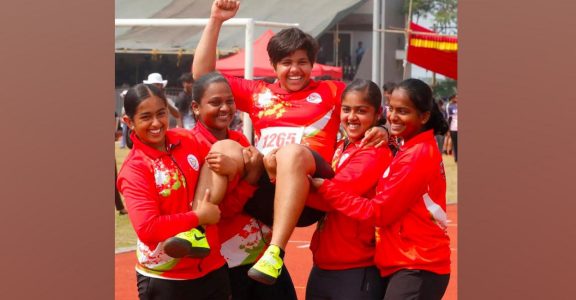 In December 2021, when she was in Class 9, she saw Servan K C of Kasaragod breaking the under-16 state records of shot put and discus throw at the State Junior Athletics Meet in Malappuram's Thenhipalam.
Servan created a new meet record in the shot put with a throw of 17.65m and broke his own record in the discus with a fling of 59.25m that also erased the National Record of 53.96 set by Sahil Silwal in 2016.
"The media hailed Servan as the miracle boy and Henin decided she wanted to train under his coach," said her mother Tisha Manuel.
Servan is being trained by his father Gireesh Kizhake Charalil, popularly known as Gireesh K C, a successful but underrated throw coach.
He went on to win the silver medal in the boys' discus throw at the Asian Youth Athletics Championship in Kuwait in October 2022. The gold was won by Atul Sahu of Charkhi Dadri in Haryana whose discus landed 3.2cm farther.
Gireesh started K C Throws Academy at his house for his sons, Servan (17) and Sidharth K C (22) in 2017. Five years on, athletes from his academy own almost all records in discus and shot put in junior and youth categories. The best part: Gireesh charges no fee from his athletes. "After five years, I am struggling financially, but I have no intention to charge my students. They have their own struggles," he said.
So after clearing Class 9, Henin Elizabeth packed her bags and came to Cheruvathur. She did have second thoughts because she was entering Class 10 and a change of school might affect her academics. "But I know I want to be a shot putter and I have already lost time," she said.
Her mother Tisha Manuel tagged along, leaving behind her husband, a loan recovery executive with HDFC Bank, to take care of their younger son Francis Manuel (14), who is in Class 8. "Gireesh is the best throw coach in Kerala, if not in India, today. So we threw our weight behind Henin's decision," said Tisha Manuel.
Producing record breakers from 1,100 sq ft gym
We share the cost of food equally. My wife and I also pitch in with our share for the food
Gireesh KC
Gireesh's academy sits on the banks of Thejaswini, the second longest river in Kasaragod district, next to his house at Mayicha in Cheruvathur grama panchayat.
He had built an open stilt hut on the river for his athletes to take in the breeze and cool down.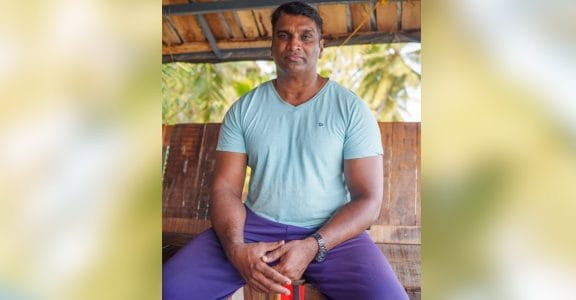 He turned his late father Chandan Kunhi's copra drying yard in front of the house into a 1,100 sq ft open gym and training ground. He has planted scores of arecanut trees around the gym to block the sun.
One side of the gym is covered by five blankets stitched together. In front of the blankets, he hung a thick tarpaulin used to cover trucks and padded it up with another blanket. "Together, the blankets and tarpaulin will weigh around 27kg, good enough to stop the shot puts and discuses hurled at it," said Gireesh.
His nine students spend four hours in the morning and four in the evening working out in the gym and throwing the shot put and discus at the blankets. "The focus is on improving their techniques, rotation skills, and power. They will not know how much they have improved until Monday," he said.
The athletes get a break on Sunday. Fresh from the break, they are taken to the ground of Government Higher Secondary School at Kuttamath, 10 minutes away, on Monday.
"Every week, we see a marked improvement in our throws and we keep notes," said Thoufeera, who started as a discus thrower at the age of 12 years in Class 6.
Before arriving at the academy, her best performance was 31m. "I came here when I was 19 years old. After a year and a half, my personal best today is 45.25m," she said.
It takes around three years of rigorous training to perfect the techniques, said Gireesh.
The struggles and the successes
Discus thrower Akhila Raju (18) of the nearby village Cheemeni has been training with Gireesh for four years and a half. Last November, she won the gold at the 37th National Junior Athletics Championships held at Guwahati with a throw of 43.6m. The state record of 44.38m is also in her name.
V S Anupriya (16), a shot putter from nearby Elambachi village, started training with Gireesh three years ago when she was in Class 8. Now, she along with Servan, Akhila Raju (18), is the crème de la crème of the academy, if not Kerala.
Anupriya will be the first female shot putter from Kerala to participate in an international competition. It came after a lot of hard work and sacrifice.
After scoring A+ (the top grade) in all subjects in Class 10 in 2022, she took the tough decision of dropping out of school for a year. She scored A+ without grace marks, said Gireesh.
"My coach and I knew what I was doing. My parents also understood. But it was a lot of work explaining to my relatives and neighbours the logic of skipping school," said Anupriya.
But the decision to suspend school education for a year was worth it. For the past two years, Anupriya has been the national champion in the Under-18 girl's shot put event. In September 2022, she won the gold in the National Youth Athletics Championship in Bhopal but did not clear the qualifying mark for the Asian Youth Championship.
In March 2023 in Udupi, she not only broke the seven-year-old national record (15.03m) with a throw of 15.59m, but she also cleared the qualifying mark of 14.92m with ease to make it to the Asian Under-18 Athletics Championships to be held at Tashkent in Uzbekistan from April 20 to 23.
"The track and field competition has 40 events and she is the only athlete from Kerala on the national team," said Gireesh. "Personally, it is a matter of pride. But as an athlete from Kerala, it is a matter of shame and exposes the plight of the state's track and field," he said.
Every evening, he takes Anupriya, Sidharth, Servan, and Akhila to the school ground for his special coaching. "Discus and shot put are the forte of Haryana and Punjab. We are trying to break into the big league," he said.
Gireesh has an eight-year plan to win an Olympic medal with his team.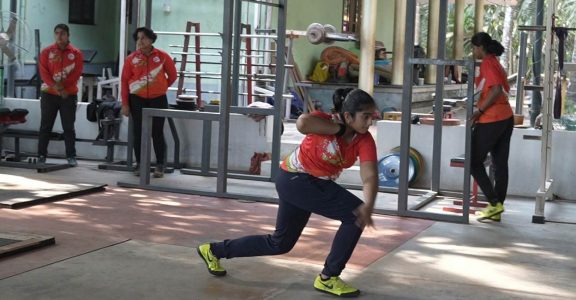 How KC Throws Academy was born
At 1.86m, it is not easy for the well-built Thoufeera to blend in. The discus thrower is among the tallest track-and-field athletes in India.
Gireesh first spotted her during a national school event in Udupi in 2017, the year he started KC Throws Academy.
The next year, he saw her again at the same event in Thiruvananthapuram. He asked her to join his academy. He saw a younger Gireesh in the struggling Thoufeera. "She has the built to be the best discus thrower but she did not have a coach to teach her the techniques," he said.
In his late teen years and 20s, Gireesh was in the same boat. He was 1.90m tall, hefty, and a natural thrower. But he never broke into the nationals.
In 1989, when he was 16 years old, he created a school state record in the discus with a throw of 37m at Pala in Kottayam.
In 2017, 28 years later, his son Sidharath would create another state school record with a throw of 45.25m at the same ground in Pala. "That was KC Throws Academy's first gold medal," Gireesh said.
But the young Gireesh did not have the benefit of a coach. After his school, he joined Nehru Arts and Science College at Padannakkad for his pre-degree (classes 11 and 12). He shined in sports by becoming the best discus thrower at Calicut University and won the gold at the South India University Meet at Ujire in Karnataka.
"But my best throw was only 44m. I had the height but could not throw," he said.
He dropped out of college and completed a course in Physical Education and became a sports teacher in 1996. But he could not do much. Then he started a gym in Cheruvathur and continued his self-training.
From 1999 to 2006, he kept winning the gold in the state amateur athletics championship but he could never cross the qualifying mark to compete at the national championship.
"At every meeting, I would ask around for video cassettes of the world's top discus and shot put thrower. I laid my hands on a cassette only in 2003," he said.
In 2006, Gireesh -- a young father of six-year-old Sidharath and one-year-old Servan -- wrote to the state's athletics association to allow him to participate in the national event though he was not able to cross the qualifying mark of 44.5m. "But they rightly or wrongly refused. It was mid-November. By the first week of December, I was in Dubai looking for a job. I had to take care of my family," said Gireesh.
He quickly got a job as a gym trainer. In two years, he would start his own gym, Bab-al-Atta Gym, at Naif, a bustling marketplace in Dubai.
"From 2008 to 2016, I made a lot of money running the gym. But I used to frequently come home to train my sons too," he said.
Not able to focus on his children and business, Gireesh handed over the gym to his nephew Priyesh Krishna. Sidharth and Servan became his priority. "First Sidharth started making records. Then Servan started breaking Sidharath's records. I knew I was on the right path as a coach," he said.
He would take in students at KC Throws Academy only if sports was their priority, not a means to get grace marks or get admission to colleges.
Weeks before the sports championship, he would go to the host city and find a good house near the venue for his athletes. They would come several days before the event started to acclimatise. His wife Reshma K would cook food for his athletes. "We share the cost of food equally. My wife and I also pitch in with our share for the food," said Gireesh.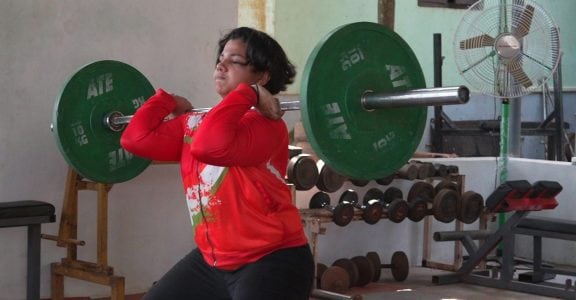 Running on a shoestring budget
Gireesh makes it a point not to charge a penny for the coaching he offers his students. When Thoufeera joined the academy, he gave her food supplements worth Rs 10,000. "That was the first time she got food supplements," he said. Her father now ensures she gets what the coach prescribes.
The athletes told onmanorama.com that their food bills come to around Rs 15,000 to Rs 20,000 every month per athlete. "Food is the biggest expense," said Henin Elizabeth.
Gireesh said he was able to run the academy for so long because of the money his nephew would send him from Dubai. He cannot expect his students to pay him either.
Take the case of Anupriya. After she joined the academy, her father Sasi K has also almost given up on his business of quarrying laterite stones and is with her throughout the training.
On the ground, he would collect the discus and the shot put and return them to the athletes. He would not allow the athletes to walk on the gravel for it would damage the expensive rotational throw shoes.
A pair of shoes worth Rs 15,000 would last for only six months. In a year, the parents have to shell out at least Rs 30,000 on just shoes. Almost all the parents of Gireesh's students run their houses on a shoestring budget. "They cannot afford to see the shoes getting worn out in less than six months," said Gireesh.
Despite the high performance of the academy, the government extends no support to it. Last year, the government gave Rs 10 lakh to a sports club in the neighbourhood which produced no athlete of repute.
Gireesh said the government did not even give Servan the assured Rs 50,000 for the silver medal he won in Kuwait.
"Sports is a long-term investment. But here, there is no investment. Only celebration of wins," he said.
Meanwhile, Henin Elizabeth said she would go to Fort Kochi for 10 days to stay with her father and brother during the Easter holidays. "But I will have to send videos of my workout to sir all the 10 days," she said.
But after the break at home, she is planning to bring her brother along. "I want to spend his vacation with him," she said.