Jayaram loves travelling. Especially the adventurous kind. And he prefers to take his family on these travels. When queried about his most unforgettable trip, he will tell you the story of a tiger. It's that trip to meet Machali, the world's most famous tiger. The National Geographic described her "The Bengal tigress, which dominated a prime, 350-square-mile territory within India's Ranthambore National Park became a favourite among tourists for her tenacity in the face of incredible odds." It is said that in her 19 years (she died in 2016), Machli attacked crocodiles, defended cubs from males, and managed to survive for years with one eye. She is considered to have been the most photographed tiger on Earth.
It was in 2015 that Jayaram and his family went to Ranthambore Reserve Forest to visit its queen. Machli was not only beautiful but also a powerful entity that had a stronghold over her territory which included the Ranthambhore's palace, lakes, and forts of Ranthambore. With domes and chhatris as a shelter and lakes under her control, one can easily figure out Machali's dominance over Ranthambore. This 350 square mile area of Machali's territory was the largest area of the park, and also the most beautiful one. Amongst the 62 tigers of Ranthambore, what made Machli so special was her comfort level with the humans, and how she held lensmen (and women) in awe of her grace. She was smart too. At times, she used to take the advantage of the tourist's vehicles to stalk and hunt.
Queen of the Palace
Near the Ranthambore forest, there is a century-old Palace. One is not sure if it was preserved as the memorial of a Royal family who lived there. Soon the forest had taken over the Palace. And that's where Machali lived. She is very old now. Except for the twinkle in the eye which strangely is the only sign of her vitality. But then Machali is not just the queen of the jungle but also the land. She has a daughter named Krishna who in turn has three children- Pacman, Arrowhead and Lightning. Each tiger is distinctive according to the stripes of its body. Since the stripes were shaped like lightning, the tiger was called by that name, and the one with an arrow mark on its head got the name Arrowhead.
Machali was resting
Machali was 20 years old. She was living a life of leisure at the Palace, being fed by her children and grandchildren. But Pacman, Arrowhead, and Lightning seem to have had a spat and are residing in three different territories. One is not sure if they had a spat with their mother or between themselves. There is no other option than to see these three tigers in their own territories. We started our trip from day one. That's when we saw her in a flash. It was our guide who alerted us. We stopped our vehicle and there saw Krishna, Machali's daughter.
She has just captured a deer ready for feasting. We could unhurriedly take her pictures and had enough time to watch her every move. If Krishna was so beautiful, we couldn't imagine how magnificent her mother would be. We did spot more tigers on the way, but Machali remained elusive. We saw Pacman, Arrowhead, and Lighting but not their grandma. We thought we should call it a day. With a heavy heart, we bid adieu to guide Adil and the Ranthambore Reserve Forest. And somehow, we knew that there was a lot more to see and enjoy.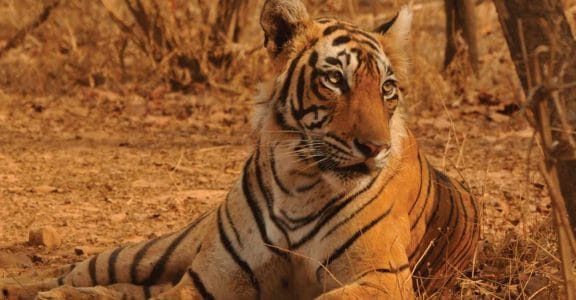 Machali made us cry
Back home, Ranthambore kept calling us back and we felt we should make one more trip. And so we started planning and that's when we heard the news. Machali was dead. When Adil called us, we were all crying. The demise of the Queen of Ranthambore made the headline of next day's newspapers. Her cremation was done royally with state honours. Even today, she remains a grieving memory.
Our home is a zoo
I have always loved animals and birds. And ever since I can remember my house was filled with birds and animals. We would go to the market on Fridays to buy them. My first dog was Devil, a name inspired by Phantom's dog. But then he really turned into a devil and started biting all the visitors and so we had to banish him. But he came back again.
More about Machali
Machli was born in 1997, and since birth, she had been a dominating cub. At the age of two, which was the year 1999, this ferocious tigress started hunting on her own, thereby, showing signs of her separating from her mother. Soon afterward, Machli acquired a part of her mother's territory, and that's where she's spent the majority of her reign. After a few years, she gave birth to three cubs – one female, (Sundari – T-17), and two males (Broken Tail and Slant Ear). By the end of December 2001, both the cubs separated from Machali. By April 2002, Machali had given birth to her second litter, the two cubs named Jhumru (male) and Jhumri (female). By the end of 2004, she again gave birth to two cubs, namely, Sharmeele, and Bahadur. Her ferocity was something that she was born with, and one can see that from the series of incidents that have been documented about her. One of these tales was her fight with the 14-foot-long crocodile that even created history. It has been described as a historic encounter by the spectators.
Tigress Queen of Ranthambore', 'Lady of the Lakes' and 'Crocodile Killer' are some of the titles she received during her life. The tigress was named Machli since she has fish-shaped marks on the left part of her face.
Between 1998 and 2009, the extraordinary popularity of Machli helped the Indian government earn nearly US$100 million. She won the "Lifetime Achievement Award" due to her contribution to conservation and tourist attraction. Indian Government issued a commemorative postal cover and stamp to honour Machli for her ecological and economical contributions.
Machli passed away at the age of 20, which made her the world's oldest surviving tigress in the wild. This age is higher than the average lifespan (10 to 15 years) of tigers in the wild.
A film on Machali, "The World's Most Famous Tiger", won the National Award at the 66th National Film Awards.
Machli had 11 cubs over the years whose offspring make up almost half the park's tiger population. Two of her daughters are now being shifted to Sariska Tiger Reserve after the reserve lost all its count.