Ahaana Krishna, one of the favourite actresses of Mollywood, loves acting and travelling in equal measure. The talented actress often hits the road with both friends and family members. She is more into exploring new destinations rather than travelling for some other purpose. Ahaana has toured many places such as Maldives, Dubai, Varkala beach, Kashmir and Singapore, among others, and currently she is floating on air in the bewitching Goa. The actress has splashed her social media accounts with photos of her Goan trip in which she seems to be enjoying herself greatly.
If you borrow the words of Ahaana, travelling is nothing but leisure therapy. Anyone bitten by the travel bug will endorse the actress' view that even a short trip is an effective antidote to the busy and stressful modern life. "My travel bucket list is pretty exhaustive and I want to tour all my dream destinations, if time permits. But I am not into categorizing my travel plans as I want to explore places in all angles," says Ahanna in a chat with Manoramaonline.
Vistas galore in Goa
Goa with its white sugar sand beaches, naturally synchronized waves and bright sunshine, and sky studded with stars at night has always attracted tourists in droves. The heart of Goa is Panaji and is dotted with spectacular beaches, great shopping avenues, delectable cuisine and exquisite architecture to keep the travellers in good spirits.
Another feature of Goa is that tourists come to this wonderful place throughout the year as there isn't any tourist season as such for this western Indian state. Goa is always flooded with travellers but there are lean periods too. If you can chalk out your tour during the not-so-rush period, you can enjoy the visit more. Usually, the tourist season of Goa starts from January and the travellers will be flocking to the beaches and other places of interest till February. Though January-February is the right time to visit Goa, the cost of accommodation and food is bound to hit the roof during these two months. Without an iota of doubt, a Goa tour during the tourist season can burn a hole in your pocket.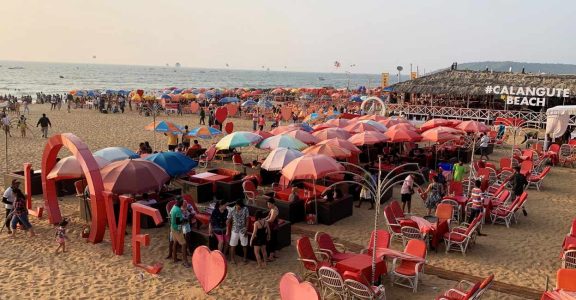 A budget travel can be planned from March to May as there won't be many travellers in Goa during that period.