This fluffy, feather-soft dish may be mistaken for dosa but it is actually the famous Ramassery idli. Its unique taste attracts hundreds from around the world to this small village in Palakkad which bears the same name as its acclaimed idli.

Ramassery is about 8 km from Palakkad on the Palakkad-Coimbatore road. It is said that a Mudaliar family, which moved to Ramassery from a Tamil Nadu village were the inventors of this popular dish. This family claims an ancestry of over 100 years of making Ramassery idli.
Sankar Villas is one of the two easily located outlets in Ramassery which serves this idli. This place, once known for its hand-loom industry, has four families in the Ramassery idli business. Usually, they make idlis twice a day.
The ingredients used are rice, black gram, fenugreek, salt and the same recipe which the family's ancestors had used is still being followed. The idli is cooked in earthenware on hearths which are fuelled by the barks of tamarind tree. One set of idlis will be ready in one or two minutes. The sale of idlis start sometime around 4 am and till about 9 am, it is rush hours. Many hotels around also purchase idlis from here. A set of two ildis is priced at Rs.8/-
The ingredients required for Ramassery idli are the same for making normal idli (it is not known if any secret ingredient is added to get that unique taste). A kilogram of rice and 150 gram of black gram are separately soaked in water. The soaked black gram is husked and ground thoroughly with a large pinch of fenugreek. The rice, soaked and cleaned is also ground well. The two batters are then mixed and after adding salt, the mix is kept for fermentation for 10-12 hours.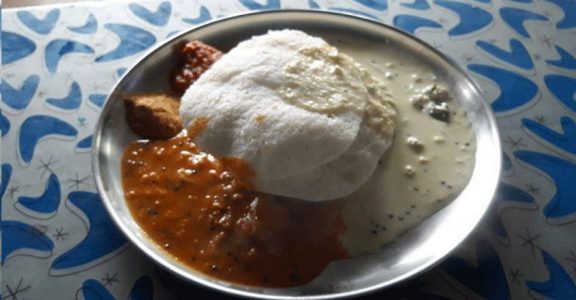 Many had tried using the same ingredients, recipe and cooking method for making Ramassery idli but few had succeeded in replicating the special taste of the idlis the Mudaliar family makes. Earlier, people going abroad used to pack Ramassery idlis and these used to last for three or four days. In those times, the rice came from the family fields. With farming now discontinued, the rice has to be outsourced and the idlis these days last only for a day or so. The batter is also made in machines now.