Kerala is a land filled with exuberant nature, different types of topography and what not!

Idukki is a much sought-after tourist destination in Kerala that has enthralled travellers with its pristine natural beauty. The prominent charming spots in Idukki have hosted hundreds of travellers and tourists. If you are planning to explore Idukki, we have a few suggestions apart from Munnar.
• Idukki Wildlife Sanctuary: The sanctuary spread over 70 sq. km, occupies the forest land between the Cheruthoni and Periyar rivers, and is a natural habitat for several species of animals. Featuring a picturesque lake around the sanctuary, the whole region is covered by tropical, and evergreen trees.
• Idukki Arch Dam: The dam is over 550 ft and stands across the Kuravan and Kurathi hills. It is said to be the world's second and Asia's first arch dam and remains one of the most popular tourist spots in Idukki. • Calvary Mount: You simply cannot miss this gorgeous stretch of landscape from the Idukki Reservoir to Ayyappancoil. The Calvary mount viewpoint is breathtaking. 
• Painavu: This picturesque hill station is said to be the headquarters of Idukki and is situated inside the Idukki Wildlife sanctuary.
• Ilaveezha Poonchira: It is a charming valley spread across thousands of acres of land at the foot of three hillocks – Mannakunnu, Kudayathoor Hill, and Thonippara near Kanjar. It is great for trekking with great views of sunrise and sunset.
• Thommankuthu Waterfalls: It is almost 25 km from the main town but this mesmerizing waterfall is sure to take your breath away. An awe-inspiring seven-step cascading waterfall gushing down from a height of above 300 feet and with a pool at each level, it is one of the best Idukki tourist places to get up and close with nature, and to enjoy a bit of trekking as well. 
• Mangala Devi Temple: This ancient shrine is located near the border of Tamil Nadu and sits at an altitude of 1337 meters above sea level. Dedicated to Goddess Mangala Devi, tourists love the scenery as well. 
• Ayyappancoil Hanging Bridge: One of the longest hanging bridges in the state, what makes it exciting is its lush scenery and is built across the Periyar River. 
• Gavi: Encircled by tea estates and dense forests, a popular Malayalam film (Ordinary) has helped in promoting this place among the tourists. Located 14km from the Periyar Tiger reserve, you can catch some rare species of wildlife here apart from its flora and fauna. It is cold throughout the year and a stroll through the tea plantations is a must.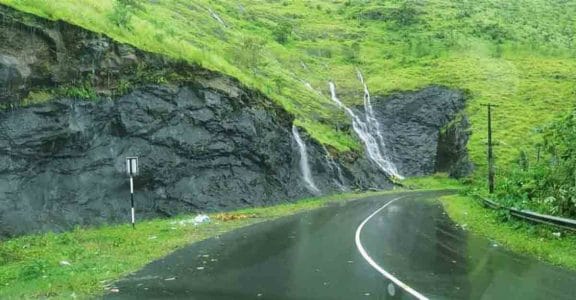 • Nadukani: A hill station nestled at an altitude of 3000 ft above sea level, it is almost 25 km from Idukki and is home to some rare kind of fauna. Great scope for nature photography. 
• Hill View Park: Just 2 km from Idukki Bus stand stands this charming and well-maintained park stretching over 8 acres. There are so many varieties of crotons, flowers, medicinal plants, and other woods. You can also enjoy boat rides as well as get a view from the watchtower of both the dams, Idukki and Cheruthoni. The Park is open throughout the year and can be accessed through gentle slopes, though it is stationed at 350 ft above the level of Dam water. The herbal garden and children's play area add a distinct charm to Hill View Park.
• Vandanmedu: It is located 25 km north of Kumily, on the Thekkady-Munnar Highway, and is famous for cardamom. In fact, it is said to be the biggest auction centres for Cardamom. It is bliss to walk through the plantations enjoying the aroma of cardamom wafting through the air. Do not miss out on Vandanmedu's historic colonial-era buildings.
• Ramakkalmedu: Positioned 3500 ft above sea level, you get a bird's eye view of the rural area of Tamil Nadu from here. There is the historical monument of Kuravan and Kurathi, a huge statue that illustrates the Sangam period of Kerala. Rama-Kal-medu means "Land of Rama's Stone" or "Land where Lord Rama set his holy foot". Another unique feature of Ramakkalmedu is the prevailing wind conditions, irrespective of the seasons. It offers excellent trekking options to adventure enthusiasts.