Both foreign and domestic tourists flock to Kerala to get a glimpse of the state's countryside. The state is dotted with destinations with lush green paddy fields and placid lakes. Moreover, these tourist spots serve authentic traditional food. The state's tourism department has launched many projects with a focus on village tourism and one such initiative had been implemented in Kottayam district's Maravanthuruthu.
It is worth noting that the Water Street project of Maravanthuruthu got special mention from the jury of the International Center for Responsible Tourism, which coordinates tourism activities on the global stage, to choose the best from the Indian sub-continent. Kerala got the recognition under the category of the tourism-related steps taken to protect water bodies. The jury was of the view that the project was purely democratic in nature.
The project mainly focuses on cleaning up and increasing the depth of the waste-ridden canals and water bodies and using them for tourism purposes. As part of the project, the water bodies were protected by carpeted them with geotextiles and they were used for kayaking to give the perfect dose of adrenaline rush to the tourists. Hundreds of tourists reached Maravanthuruthu during the Christmas holidays to enjoy the soothing countryside views and indulge in kayaking.
As the 18 water bodies of Maravanthuruthu came under the ambit of the tourism project, the charming beauty of this tiny hamlet attracted not only domestic tourists but also travellers from abroad. This trend forced the local residents to have more interest in tourism and they embraced the tourism project with great responsibility. The main aim under the Street Project is to develop each region as a tourist destination with the support and backing of the local people.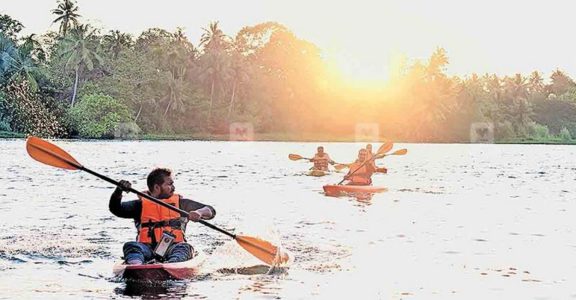 Kayaking is rocking
The 3.5-km kayaking that starts from Moozhikkal and Panjipalam will take you through Arival thodu and Muvattupuzha River. The kayaking trip takes around three hours to complete.
Timings: 6am to 9am and 3pm to 6.30pm.
What's in store: The two types of kayaks can accommodate one person and two people. SUP (stand up paddle) kayaks are also available.
Fees: The fee varies between Rs 500 and Rs 1,000 according to the demand for kayaking.
Facilities: Washrooms, snack bar and ample parking space are available. If you can inform the authorities concerned early, you can enjoy the rural charm and have traditional meal by sitting on the shores of the stream.
How to reach
You can reach Panjipalam after travelling 500m on the Palaamkadavu route from Toll Junction, which is on the Vaikom-Ernakulam route. Take the Aattuvelakadavu road from the near the Kulashekharamangalam road and travel 500m to reach the Moozhikkal library. The kayaking starts from Moozhikkal and Panjipalam.
And if you are coming from Thalayolaparambu, you can reach Panjipalam after travelling 3km from Palaamkadavu toll road. For more details, contact: 97461 67994.