The placid waters reflect the sky painted in crimson red by the setting sun. At a distance, tall coconut trees line up like pencil scribblings. The Little Cormorant and migratory birds are fluttering away with urgency to reach their nests. Lights are slowly propping up in houses to keep the emerging darkness at bay. Schools of big fish are throwing bubbles on the surface of the water. The eye-catching frame of nature looks like a watercolour painting on a vast canvas.
The cool breeze of the lake can sing a lullaby to put you to sleep in the small wooden huts built on pillars in the middle of the lake, and the sweet chirping of the birds can wake you up to a new dawn. You can also see the wonderful sight of the first sunrays straining hard to seep through the mist that has enveloped the lake.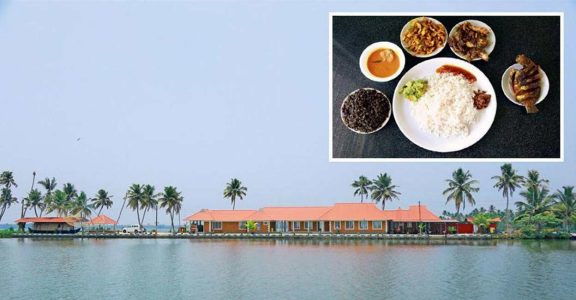 Do you have a desire to enjoy these mesmerizing vistas and spend a night or two in huts in the middle of the backwaters? If the answer is in the affirmative, the Palaikari Fish Farm of Matsyafed in Kottayam district's Vaikom is gearing up to provide night stays to visitors. The project to put in place huts in the middle of the lake is underway, and the construction would start after getting the requisite nod, says the farm authorities.
The Palaikari Fish Farm has become a sought-after spot among tourists as it is an ideal destination to spend a day in tranquillity on the shores of the lake. Presently, visitors can spend a day at the farm, have great food, and go boating. They have to leave the farm at dusk and can't stay overnight. Now the farm is working towards rolling out overnight stays, says the farm's former manager, Shivaprasad.
Aqua tourism with a difference
Riding on the huge potential of aqua tourism, the Matsyafed is aiming to provide a surreal experience to people visiting the farm. As part of it, the authorities concerned are including night stays in the existing bouquet of tourism facilities. The farm, which is between the lake and the larger water body, is the best destination for people to spend quality time with their family members.
A mermaid that welcomes visitors at the main entrance is an indicator of all the good things on the farm. The water body that houses the fish farm is spread across 117 acres.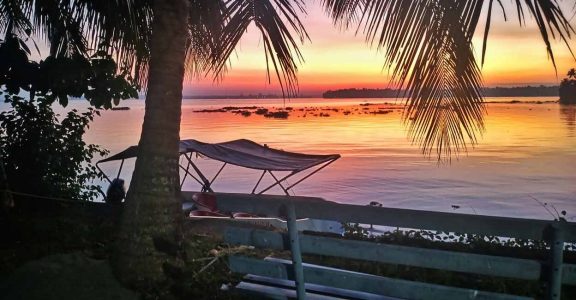 After parking the vehicle and taking the ticket at the entrance, you have to walk through a narrow pathway, which is tightly hugged by coconut trees and small trees, in the middle of the water body. If you have any difficulty in walking, you can take the vehicle up to the office.
A floating restaurant where you can dine while savouring the beauty of nature will catch your attention first. People coming to the farm in groups can have piping hot coffee or tea while sitting on half-walls of a gazebo near the floating restaurant. One could also find a museum structured in the form of a houseboat.
The water body has cages for fish farming, and there is a floating walkway close to the cages near the shore. As you take a stroll through the floating walkway, you can see fish such as pearl spot (karimeen), milkfish (poomeen), and Tilapia swirling in the cages.
If you want to take a breather after a long walk, you can sit on benches and chill out in the cool and pleasant breeze. Children won't be disappointed as there is a park for them too. You can talk with your loved ones or read books in an atmosphere dipped in serenity by sitting on benches or in hammocks. You can also indulge in angling for a nominal fee and it may be noted that many people come to the farm for angling on holidays.
Boating
Tourists can go on a boating spree at the farm on boats such as speed boats, rowing boats, pedal boats and shikara boats. Solar boats, which are eco-friendly and soundless, will be pressed into service shortly. Plans are on the anvil to expand the scope of kayaking and introduce coracles and boats running on batteries instead of petrol engines. Right place for meetings and get-togethers
The farm has superlative facilities to make your birthday parties and family get-togethers memorable. A celebration consisting of 30 people could be conducted at the floating restaurant. If the guest list touches 100 people, then the expansive hall near the entrance will be ideal. Even official meetings held at the farm will get into a picnic mood. Mouth-watering food made of fish from the farm will also be served. The authorities concerned are also planning to usher in more facilities for get-togethers in future.
Traditional meal with fish curry
The restaurant in Palaikari Fish Farm is something exceptional. The eating outlet, which is run by family members of Vaikom's fisher folk, serves yummy traditional meal along with delicacies made of fish such as pearl spot, trevally (vatta), prawns and clams. You have to place orders for the special dishes as soon as you reach the farm. The fish for the curries are sourced from the farm and clams from the Vaikom Lake. The entry ticket rate includes meal with fish curry and ice cream for dessert.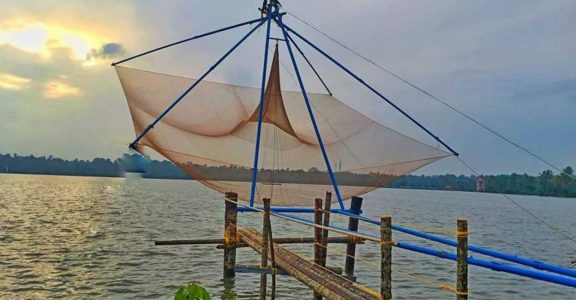 Fish tastes good
It is a fact that freshwater fish have an earthy flavour that doesn't go up well with many die-hard fish fans. But the fish of Palaikari Fish Farm doesn't have that muddy taste. The farm grows fish in cages and parabolas. Fish such as Asian sea bass (kalanji), trevally (vatta), red snapper (chembally) and Genetically Improved Farmed Tilapia (GIFT) are farmed at the facility. You can get trevally weighing 4kg and 5 kg-pearl spot from the farm. An advantage is that even seven-month-old fishlings of Asian sea bass can be harvested and you can get fish weighing 600gm to 1kg. Asia sea bass is in great demand and one could buy the fish for less than Rs 500 per kg and pearl spot for less than Rs 400 per kg. The farm's motto is to sell fish at an affordable price to common people.
GIFT Tilapia is a star
GIFT Tilapia is reared in 22 cages on the farm. The sight of schools of Tilapia emerging in unison after getting the scent of food is simply amazing. The visitors are taken on a boat to see the fish in cages. You could also see kites and migratory birds waiting to feast on the fish that are in cages covered in nets.
Milkfish
Nearly five lakh fishlings of milkfish (poomeen) had been stocked as part of a major project last year. Each pond stocks one lakh fishlings and the fish are harvested in March after five months. Next year the fish will be released into the water body and each fish will grow to nearly 5 to 6kg. The Palaikari farm has one of the tastiest milkfish, says Shivaprasad.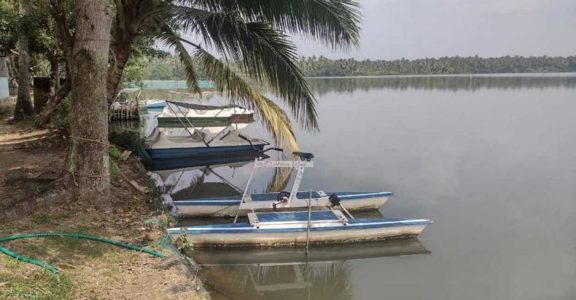 Packages and entry fees
'Dwayam' evening package
Timing: 3 pm to 6.30 pm. Rs 250 per person.
What's in store: speed boat, rowing boat, pedal boat, fishing rod, visit to Matsyafed aquarium and Vaikom beach, tea and snacks.
Combination package
Timing: 9.30 am to 3 pm. Rs 500 per person.
What's in store: rowing boat, pedal boat, fishing rod, cage farming visit, park, houseboat museum visit, kayaking, speed boat, visit to Matsyafed aquarium and Vaikom beach, lunch, tea and snacks.
'Tharangini' package
Timing: 9.30 am to 5.30 pm. Rs 800 per person.
What's in store: Shikara boat ride, breakfast on shikara boat, park and cage farming visit, houseboat museum visit, kayaking, rowing boat, pedal boat, fishing rod, visit to Matsyafed aquarium and Vaikom beach, lunch, tea and snacks.
'Kazhcha' package
Timing: 9.30 am to 7 pm. Rs 1,000 per person.
What's in store: Shikara boat ride, breakfast on shikara boat, park and cage farming visit, houseboat museum visit, speed boat, kayaking, rowing boat, pedal boat, fishing rod, visit to Matsyafed aquarium and Vaikkom beach, lunch, tea and snacks consisting of 'vellayappam' and fish curry.
'Bhoomika' package
Timing: 8.30 am to 7.30 pm. Rs 1,500 per person.
What's in store: This package is a combo of Njarackal aqua tourism centre and Palaikari aqua tourism centre. It includes 'flying' milkfish, coracle ride, bamboo hut in water body, water cycle, kayaking, rowing boat, pedal boat and fishing rod at the Njarackal centre. The Palaikari leg of the package has a houseboat museum visit, visit to cage fish farming, children's park, shikara boat ride, visit to Matsyafed aquarium and Vaikom beach, breakfast, fresh juice, lunch, tea and snacks – boiled tapioca and fish curry.