Wayanad: Drawing inspiration from the success stories of flower farmers in Karnataka, who rake in substantial profits during the Onam season by selling flowers and showcasing their flower fields to tourists from Kerala, farmers in the state, along with the Department of Scheduled Tribes Development and Local Administration Bodies, have collaborated to launch pilot projects aimed at tapping into this demand.
The demand for flowers from Kerala reaches its peak during the 10-day Onam season, starting with Atham when Malayalis begin crafting flower carpets in front of their homes, and culminating with Thiruvonam (August 29 in 2023). Considering this demand, Marigold in various colours takes the spotlight among the varieties, along with sunflowers and chrysanthemums.
In Sulthan Bathery, the Municipal Administration has ventured into flower farming on a 3-acre plot. This move is attributed to the influx of tourists visiting neighbouring villages near Gundlupet in Karnataka from the state. The Department of Scheduled Tribes Development has initiated another project at Kalloor, near the Kozhikode-Mysore National Highway (NH 766), involving a group of tribal women planting over 5,000 flower plants.
Anu Alphonse, the Project Officer of the Centre for Management and Development (CMD), which is overseeing the floriculture project for the tribal department at Kalloor, stated to Onmanorama that the project aims to provide an additional source of income for the tribal women of Panappadi tribal settlement.
Four women—Bindu, Lakshmi, Shantha, and Chamikutti—all belonging to the Oorali tribal community, exhibit great enthusiasm for this innovative farming venture. The pilot project is being conducted on paddy land that was previously abandoned due to recurring wildlife attacks. Despite attempts by families to cultivate various crops, all were destroyed by herds of animals, as the land is adjacent to a wildlife zone.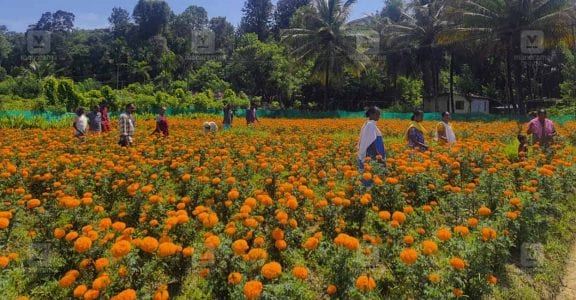 Although initially launched as an experiment, the project has now proven successful, attracting tourists to the marigold farms. Tourists are required to pay a nominal fee of Rs 20 per person to closely experience the orange and yellow marigolds. Farmers in the forested regions of Karnataka primarily engage in marigold cultivation, as these farms are less disturbed by animals due to the plant's off-putting odour and leave with a sour taste that animals do not consume.
Anu Alphonse mentioned, "The women are now selling the yellow flowers for a price of Rs 150 and the orange flowers for Rs 80." She added, "We have also launched a 'selfie contest' for tourists, encouraging them to upload selfies on our Instagram page. We will award prizes to the pictures with the highest number of likes."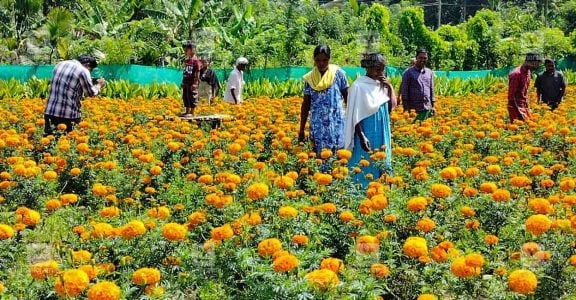 Sulthan Bathery Municipality, known as the 'Garden Town' with flower pots adorning every corner, has commenced floriculture on three acres of land near the town this year. TK Ramesh, the Municipal chairperson, expressed, "With over a hundred resorts, lodges, and homestays in the municipality area, we decided to capitalize on the selfie trend among tourists by establishing our flower farm right within the city." He further remarked, "Rather than just a revenue source, we view it as a service to both tourists and locals who would otherwise travel to Karnataka to revel in the sight of flowers and take selfies."
The District Tourism Promotion Council (DTPC) has committed to promoting floriculture extensively in the district. An experimental plot has been set up at Pazhassi Park, Mananthavady, where a pilot project has already been tested. What began with only a few farmers trying it out on an experimental basis has now expanded this year, with more and more farmers engaging in floriculture during the season.
Ajesh KG, the Member Secretary of the District Tourism Promotion Council (DTPC), informed Onmanorama that while the DTPC isn't heavily involved in farming, it provides full support to farmers and agencies. The council directs tourists to these locations, ensuring that farmers can generate income to sustain themselves. He added, "In the upcoming season, we will also establish a farm at Pazhassi Park, Mananthavady."