Jeju Island, which is one of the modern wonders of the world, is a much sought-after destination among travellers. Jeju is the largest and the only self-governing island in South Korea and is acclaimed as one of the natural heritage centres. Moreover, the volcanic mountains and lava tubes make Jeju, which is a volcanic island, special for the tourists. Hallasan is a shield volcano on the island and is the highest mountain in South Korea at 1,950m. The economy of Jeju Island, which is a great tourist spot, revolves around the revenue generated by its vibrant tourism industry. 
As per legend, demi-gods lived in the region once and the island, which is situated in the Korean strait towards the south of the South Jeolla Province, got the appellation 'Island of the Gods'.
Korea's Hawaii
Tourism is an integral part of Jeju's economy and the island is known as South Korea's Hawaii. Tourists from China don't need a visa to stay in Jeju to a maximum of three months. It is believed that the island was formed after a volcanic mountain erupted in the ocean around two million years ago. The natural beauty and expansive beaches of the island can only give travellers pure bliss. 
According to official records, nearly 1.5 crore tourists visit the island, which has only 6.5 lakh inhabitants, every year.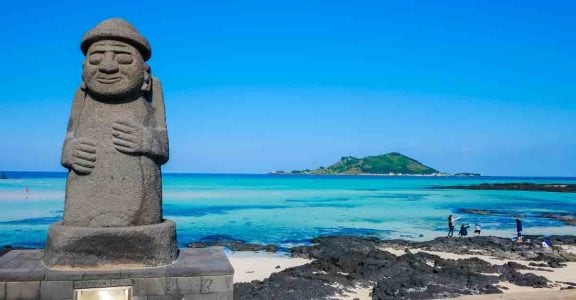 New airport on the anvil 
Taking into account a marked increase in the number of tourists visiting the island, talks are underway to construct a new airport that can receive close to 4.5 crore travellers every year by 2035.  
Currently, the Jeju international airport is handling nearly 3 crore passengers every year. There are also plans to start direct flight service to major cities such as Tokyo, Osaka, Beijing, Shanghai and Taipei. 
Menace of pollution 
Like any other tourist centre, pollution is a major problem in Jeju Island too. The authorities concerned are taking steps to make the island carbon-free by 2030, and the administration is promoting the use of electric cars as part of this initiative. 
Major tourist spots  
Jeju is one of the popular surfing centres in South Korea, and it showed the way of surfing to the Korean people. The most favoured beaches of the island are the Woljeongri beach and Jungmun beach. The Jungmun beach is host to South Korea's first surfing club, which was formed in 1995. Other tourist centres on the island are: 
• 8-km long Manjanggul lava tube. One km of the tube is open to tourists 
• Seongsan IIchulbong, also known as 'Sunrise Peak'
• Hallasan Mountain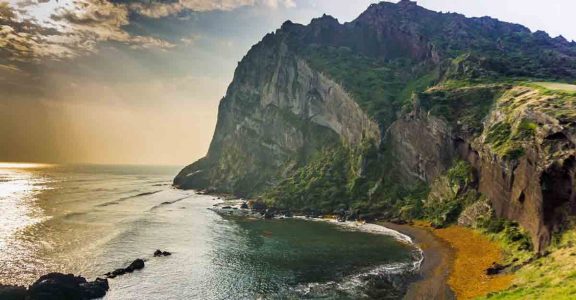 • Seongeup folk village
• Jeju Teddy Bear Museum 
• Jeju Loveland 
• Osulloc tea museum 
One can enjoy the real beauty of Jeju Island between November and February.