If there's one thing that ties most citizens of our country together, it's Bollywood movies. The thrill of buying your tickets, eating mouthfuls of chips and popcorn and watching your favourite stars on the big screen is unbeatable. However, sometimes it's not just enough to watch and rewatch these movies. It's also a great idea to visit some of the famous locations that made the movie so iconic in the first place! Here's a guide to some of the most popular shoot locations in the country. These wonderful places are great spots for tourism and also help you really get a feel for your favourite films.
Rohtang Pass
A few hours away from Manali, Rohtang pass is a popular tourist destination where visitors go to sled on the slopes and eat warm bowls of maggi. However, it's also a very famous shoot location - instantly recognisable from Kareena Kapoor's "Yeh Ishq Hai" song from Jab We Met and an iconic scene from Alia Bhatt and Randeep Hooda's "Highway." So the next time you visit Rohtang Pass be sure to click a memorable picture to immortalize this famous shoot location!
Udaipur
Nothing says royalty and romance quite like Udaipur, so of course Udaipur Palace is next on the list of most popular, and romantic shoot locations in Bollywood. Many scenes from "Ram-Leela" the epic Romeo and Juliet romance directed by Sanjay Leela Bhansali, starring Ranveer Singh and Deepika Padukone were shot here, as was "Dhadak" a bittersweet story about inter caste marriage that was the debut film for Jahnvi Kapoor and Ishaan Khattar. Some amazing international movies like "The Best Exotic Marigold Hotel" were also created here. Kalki Koechlin's character Aditi's destination wedding (that became the dream wedding for girls all over the country) in "Yeh Jawaani Hai Deewani" was also filmed at the beautiful and must-visit Oberoi Udaivilas in Udaipur.
Ooty
This small hill station in Tamil Nadu is known for more than just its tea plantations. While Ooty is a well known town, populated by locals and tourists alike, known for its clubs and boarding schools, many famous scenes from films throughout the ages have been shot here. The classic bollywood song, "Chaiya Chaiya", which features Malaika Arora Khan and Shah Rukh Khan dancing on the roof of a train traveling across scenic mountains was in fact shot in Ooty. Many other scenes from "Dil Se" as well as songs and scenarios from Kuch Kuch Hota Hai, Barfi, Sajan and Ajab Prem Ki Gazab Kahani were shot in this unassuming town. So the next time you're looking for a hill station to visit, do visit Ooty and get the chance to relive some famous reel life moments.
Howrah Bridge, Kolkata
One of Kolkata's most famous landmarks, Howrah Bridge has been a hugely popular spot for many cinematic scenes and famous films, serving as the perfect backdrop for tense, climatic moments . The city's classic yellow cabs add a splash of colour to the scenes and allow viewers to instantly recognize that their beloved characters are in Kolkata. Piku, a touching story about a Father - daughter road trip, culminates in Kolkata, and the drive past Howrah bridge, while not more than a few seconds long, adds to the vibe of the film. Other movies such as Parineeta, Kahaani and Vicky Donor all have scenes associated with this famous bridge.
Gulmarg, Kashmir
First popularized by the hit film "Bobby" starring Rishi Kapoor and Dimple Kapadia, Gulmarg soon became the go-to location for Bollywood directors to shoot romantic song sequences in the late 90's and early 2000's. Tourists visiting Gulmarg can even stay in the famous "Bobby" cottage, where many scenes from the movie were shot. Other films like Yeh Jawaani Hai Deewani, where the characters go on a trek in Manali, was actually shot in Gulmarg, and so was most of Haidar, a movie that was set in Kashmir and was a commentary on the political climate of the state. Aap Ki Kasam and Highway also have notable scenes filmed in this scenic location.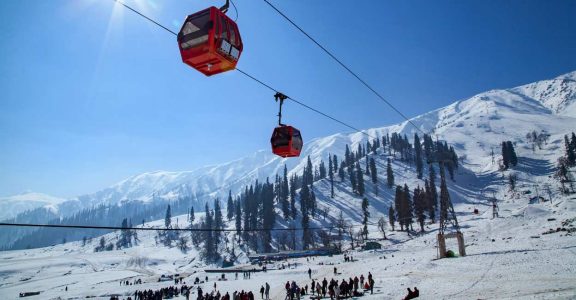 Marine Drive, Mumbai
One of my favourite spots in Mumbai, Marine Drive is known for its stunning views. While it is a bona fide tourist spot, it is also a spot for the culmination of many romantic scenes from famous films set in Mumbai, most notably "Wake Up Sid" where the titular character, played by Ranbir Kapoor confesses his love for Konkona Sen Sharma. Marine Drive also plays a role in adding to the ambience and vibe of many songs from films like "Apna Sapna Money Money" and "Hasee Toh Phasee" which is what has made it the place for romance to bloom in real life too!
If you're as big a bollywood buff as I am then a visit to one or all of these locations to remember your favourite scenes and snap a picture or two for yourself is a must!