As vast and varied as India is in terms of heritage, culture, and cuisine, there is no other city that is as deeply engrossed in the history of our nation as Delhi. This history is visible in Delhi's architecture, along hidden paths in nooks and corners of the city, and in its very foundation. It also reveals itself through the age-old and historic monuments scattered across the area. However, it's impossible to visit these monuments without working up an appetite, so here's a guide to traversing history in the country's capital and enjoying great food while you're at it!
Qutub Minar
if you start in South Delhi, then the first place on your list has to be the Qutub Minar. Located in the Mehrauli area of south Delhi, the Qutub Complex is a veritable avenue of old world mughal history at the centre of which is the "minaret" or victory tower known as the "Qutub Minar." This is a tall cylindrical tower that was built by the first Muslim settlers in the country and is characterised by its distinct architectural style - which is a combination of middle eastern Muslim and south asian Hindu designs. It is not only ripe with history but a replete with a beautiful park to walk around and absorb nature in. We would recommend an early morning guided tour around the Qutub complex, followed by brunch at one of the eateries in the area such as Olive or The Grammar Room, that are known for their cocktails, pastas and continental food.
India Gate
As you move further into Central Delhi, or Lutyens Delhi as it is known, you will enter the picturesque part of the capital that was designed by the architect Sir Edwin Lutyens. Here you will find India Gate, one of Delhi's most famous and iconic monuments. Located across from the Rashtrapati Bhavan, India gate is a war memorial dedicated to the 90,000 soldiers of the British Indian Army who lost their lives in the first world war. A relatively new monument that has only been around for 100 years or so, India Gate is still a popular tourist destination, and even a site for civil protests where citizens can protest their rights peacefully. India Gate is surrounded by a beautiful park that is ideal for winter picnics. You can't go to India gate without eating a "bhutta" or corn on the cob from a local vendor and grabbing a mango or choco bar from the many ice cream carts on the main road.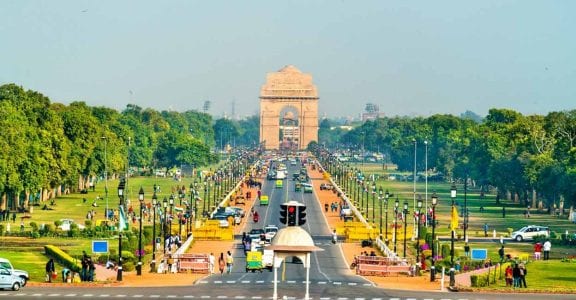 Humayun's Tomb
One of the earliest monuments built during the mughal empire in 1570, Humayun's Tomb is also one of the first mausoleums built in such a grand and decorative way, even inspiring the creation of the Taj Mahal, which was built much later. The construction was initiated by Humayun's son Akbar, and Persian and Indian craftsmen came together to work on the detailed design and layout of this magnificent garden tomb. It is surrounded by a garden and other smaller architectural structures that are also available for tourists to explore. Humayun's Tomb is situated close to Khan Market, an open market space that is home to some of Delhi's most iconic restaurants. Post your visit to the Tomb, you can grab some delicious continental food at "Big Chill" known for their cheesy pastas and milkshakes. If you're in the mood for some Indian food then eat some kathi rolls and kebabs from "Khan Chacha" , another Delhi staple since the days of partition. If you would prefer fine dining, you can always check out "Perch" for their wine and fusion appetisers or "Town Hall" for their sushi and Asian food.
Jama Masjid and Red Fort
The last stop on your Delhi Darshan has to be Old Delhi, to explore the Red Fort or Lal Quila and Jama Masjid, and eat the rich, scrumptious food at Chandni Chowk. Jama masjid is one of the largest Mosques in the country and features a courtyard capable of hosting over 25,000 devotees at a time. Built by Shah Jahan around 1650, it still plays a significant political and historic role in the area and across Delhi. The Red Fort is situated about a kilometre away from the Jama Masjid, was also commissioned by Shah Jahan a few years prior to the construction of Jama Masjid and is another pinnacle of Mughal Architecture. It is also the place from which our national flag is raised every Independence day by the Prime Minister. Once you are done exploring these monuments, you should embark on a food tour of Chandni Chowk, known for its "paraanthe waali gali" an alley that serves a hundred different kinds of parathas and various chaat and dahi bhalla stalls located in the area. For the most succulent mutton dishes like Nihari and galouti kebabs, "Karims", located close to the Jama Masjid is a must visit, and you should end your meal with "daulat ki chaat" and barfis at the "Bikaneri Sweet Shop."
As the country's capital and a place of such historic significance, Delhi has the old world charm and monuments galore that are every tourists dream come true, not to mention all sorts of fabulous cuisines and dishes from around the world. We hope this guide will prove to be the ultimate travel companion on your next visit to Delhi!