The nature is at its best in Coorg with vast expanse of bloomed coffee plants, gentle aromatic breeze, lush green meadows, luxuriant orange orchards, unique flora and fauna and breathtaking waterfalls. Moreover, the Kaveri River originates from this beautiful place, which has earned the sobriquet 'India's Scotland', in Karnataka. Though travellers flock to Coorg during winter, summer is also equally alluring at this pristine hill station as jaw-dropping vistas are awaiting every visitor. Let's take a lowdown on must-see spots in Coorg.
Abbey waterfalls
This incredible cascade is situated amidst spices estates and coffee plantations and the bird's eye view of the hill town of Madikeri from the base of the waterfall is simply superb. The best time to visit this heart-warming waterfall is in the months of November and December just after the monsoon.
Madikeri fort
The exquisite fort was built in the 17th century when Madikeri was made the capital city. Later many rulers, including Tipu Sultan, captured the Madikeri fort, which underwent many changes during the British rule. The museum near the entrance houses many elegant elephant sculptures and priceless antique items. The fort is just a kilometer away from the city center.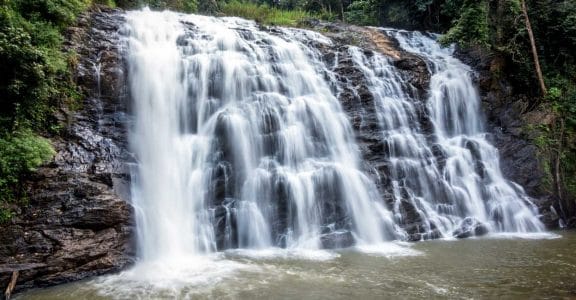 Mallalli falls
The charming Mallalli falls, which is 53 km away from the city center, is a treat for your eyes. The exotic waterfall, which flows into the Arabian Sea, is situated in the northern region of the Kodagu district and is on the base of the Pushpagiri hills, which is near Somvarpet.
Kutta
Kutta is a small village in Gonikoppal. If you want to have a picnic on the shores of Kaveri River, then Kutta is the right place for you. Trekking aficionados can also have a great time at Kutta, which is the gateway to the Nagarahole National Park.
Honey Valley
The awe-inspiring Honey Valley or the Nilakandi Falls is in the midst of verdant forests near Kabinkadu village, which is 7 km away from Kakkabe, 27 km from Virajpet and 48 km from Madikeri, in Kodagu district. The water falls from a height of 50 ft and the cascade is generally a calm one. Trekkers and adventure enthusiasts visit Honey Valley throughout the year to get that adrenaline rush. An estate spread across 75 acres with coffee, cardamom and pepper plantations along with a private resort can also be found near the Nilakandi falls.
Nagarahole National Park
The Nagarahole National Park or Rajiv Gandhi National Park is spread across Kodagu and Mysuru districts in Karnataka. The wildlife park is home to tigers, leopards, monkeys, four-horned antelopes, flying squirrels, pythons and mugger crocodiles, among others, besides close to 250 varieties of birds. The facility also houses an elephant protection center.