Sindhu has been working as a cook at Kochi's Maharajas College canteen for the past 17 years. Along with her son Gopakumar, who is a salesperson, she recently went on a trip like no other. The mother-son duo rode to Ladakh on his bike, and clicked a photo at the famed Khardungla Pass in the traditional Kerala attire!
What's more, the mom even got to ride the bike herself at the Zojila Pass in the Himalayas. The inspiring duo tells us the story of their trip and how they made memories through food, friendships and more. 
From kitchen to Ladakh
Apparently, it's been a while since Gopakumar wanted to travel with his mother. He sowed the seeds of a Himalayan trip in the mind of his mother, who was busy shuttling between her work and home. Initially, Sindhu wasn't particularly excited about the Ladakh trip.
But all that changed when he showed her videos of the place. Then on, she couldn't hold her excitement. Initially, COVID-19 played spoilsport with their trip. But, when they finally got an opportunity, the mom and son decided to finally undertake the trip. "We are both alike in many ways. So, we had a blast," Gopakumar says. 
The ride and the Malayalee connection
They started their journey on April 20 from Kerala, through the Konkan coast. They rode through Goa, Maharashtra, Gujarat, Punjab, Rajasthan, Jammu and Srinagar to finally reach Ladakh. "We met many kinds of people whom we never thought we would ever get to meet. We also experienced many scenic spots and all of it gave us many memories," they say. Interestingly, Sindhu and Gopakumar had carried enough groceries with them to cook food, if required, as nothing can replace the joy of having a Kerala lunch. Finding spots to cook was no easy task, but they had an interesting experience connected to it in Kargil.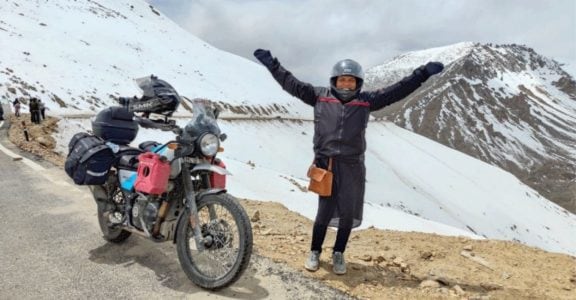 Kargil experience 
Sindhu and Gopakumar asked Adil, who runs a lodge near the Kargil memorial, whether they can cook their food at the spot. At first, Adil couldn't understand what they were trying to request. Adil gave a video call to his brother, who had studied in Kerala, to understand what the two strangers were trying to communicate.
But once he understood, he was extremely helpful, says the duo. 
On the way from Ladakh to Kardungla, the police stopped them as the road was blocked due to snowfall. They had to spend the night at the spot, and they also met about 20 other bike riders from Kerala at the location. 
When Sindhu suggested cooking rice as they had a stove, the bikers were delighted as they were yearning to have rice. They shared the rice they too had with them and the Malayalis got together to cook rice in two batches.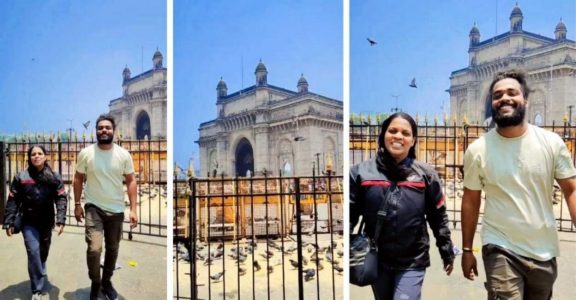 Once done, they sat together to have some kanji, pickle and dried prawn chutney. The joy of enjoying a Kerala meal outside the state was incomparable, says Gopakumar, who also compliments his mom that her cooking skills were much appreciated by the group. 
Khardungla 
Gopakumar says that introducing snow to his mom and reaching the Khardungla pass were the highlights of the trip. Apparently, the soldiers had instructed that they could spend only about 10 minutes in front of the famous Khardungla board. However, that wasn't enough for them to take pictures or videos.
That's when a Malayali soldier spotted them, says Gopakumar. Interestingly, he had already heard about their journey and gave them enough time, along with facilities to freshen up. And that's how they got to click pictures wearing the traditional Kerala attire, at the Khardungla Pass! 
Sindhu, who holds a biker's licence, rode both in Kerala and the Himalayas, and experienced riding through the famed Zojula pass. Gopakumar says he wanted to help his mom have some fun, as her life has always been about work and home.
A supportive family
The mom and son's family too deserve applause as they wrap up the trip. They say that Sindhu's mother, her daughter and husband too were quite supportive of the trip.
Even their neighbourhood gave them a special farewell while leaving for the trip. "Even if I never travel again, I wouldn't mind. I was taken aback by the love and concern that people had for me," says Sindhu.
She adds, "Not everyone would be able to take their parents to Ladakh. However, children can surely try to make a few of their parents' wishes come true. Moms do everything for children without expecting anything in return. Our love for mothers shouldn't be reserved for Mother's Day alone."