Holidaying with bae is extremely ordinary! But a trip to a far-off destination with your girl gang doesn't happen often, Right?
Sharing tidbits about their daily lives, gossiping about work, indulging in mischief on the beach, or shopping at the local markets till the legs hurt are only enjoyed best with a tightly-knit girl group.
If you are of the same opinion, then you must call your girl gangs right now and plan a trip to one of these destinations. Moreover, why should boys have all the fun?
Goa
If you're bored with ladies' nights in your place, Goa will come to your rescue. After all, it is one of the best places in the country to party with your besties. Is there anything better than a groupie with your girl gangs on the beach wearing comfortable swimsuits (no one's going to judge your dress in Goa) while sipping some sassy sundowners? Unlikely.
With dance festivals happening in the last few days of the year to raging and raving, this is definitely one of the most favourite spots for tourists to come and jam their way through a new year.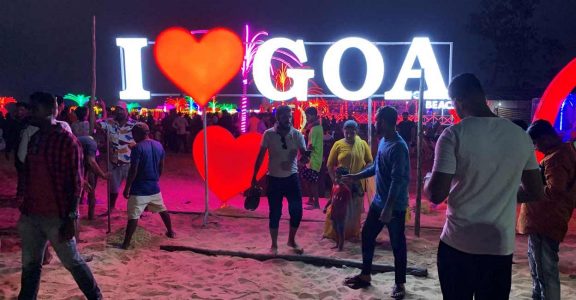 Pondicherry
Has a France trip with girlfriends been a long-pending one in your group? Why not hit up the French Quarter in Pondicherry instead? The quaint houses in warm pastel colours, the clean alleys, and the beautiful cafes out here will win your heart.
From treating you with relishing and mind-boggling food to great shopping destinations to shop your hearts out, Pondicherry is one of the best destinations to explore during new year's eve.
Fireworks, bonfires at the shoreline, and festivities in the city proceed for the whole night. Make it to Pondicherry this time at New Year's to make the most of this paramount time. The Andaman Islands
Lofty palm trees, elongated white sand, and coral reefs! No, we're not talking about Maldives; it's Andaman on the majestic Bay of Bengal.
If you want to stay away from the crowd of new year's eve, then definitely visit the Andaman Islands.
You can also enjoy various water adventures like snorkelling, kayaking, scuba diving, and many more. This place will undoubtedly offer you and your girlfriends an amazing parasailing and jet skiing experience. Also, you can start your new year's eve with some fun activities. Meghalaya
If you want to enjoy nature with your girls on new year's eve, Meghalaya can be a great choice. Meghalaya is an all-year-round tourist destination. The summer in Meghalaya welcomes you with spring festivals, the monsoon of Meghalaya with its intense greenery, and the winters of Meghalaya come with a blanket of fog and low temperatures.
Some less crowded places to visit during the new year season are Nartiang Monoliths in Jaintia Hills, Krang Suri waterfalls, the double-decker living root bridge, and the Krem Rupasor caves.
The road trip from Guwahati to Meghalaya comes with deep gorges, lush green flora, and lively streams. Jaipur
If your girl gang loves a touch of regality and fine architecture, Jaipur is a must-visit destination during new year's eve. The Pink City, Jaipur, is home to many forts, gorgeous palaces, and magnificent temples.
The ancient and historic architecture, along with the vibrant culture of Jaipur, attracts tourists from all over the world. Be it the 350-year-old Hawa Mahal, the majestic Amer Fort, the City Palace, or the Nahargarh Fort, every place within the city will tell you awe. Moreover, the vibes of Jaipur are completely different and you would enjoy your stay travelling and meeting some awesome people.
Shimla
Are you dreaming of a snowy Christmas celebration with your girlfriends this year? Well, you must head to Shimla to celebrate amidst snow-capped hills, take a stroll at the Mall Road and enjoy a delicious meal at British-era cafes.
Shimla is one of the best new year destinations in North India, the hotels and resorts in Shimla arrange fun New year's eve parties to pill the crazy crowd from across the country. You can't afford to miss all the fun Shimla offers you during this time of the year.
Coorg
With the sacred groves, the smell of coffee beans, and the mighty hills, Coorg is the best place to celebrate New Year.
While you sing with your team and cross the lush forests, the hill station, on the other hand, sprinkles in the air the aroma of its fine coffee plantation. And that's not even close to what Coorg is all about; take an afternoon sightseeing tour to the Abbey Waterfall, Chelavara Waterfall, and Iruppu Waterfall.
There are tons of unconventional forest camps amid the mountains, like the Coorg Planter's Camp, where you and your girlfriends can stay for some time amid Coorg's famous coffee and cardamom plantations. Kasol
Kasol is like a poem written so beautifully that Himachal Pradesh is often seen bragging about it. And why wouldn't it? Kasol is the perfect retreat for those who love the lullaby of mother nature or the ones who look for excuses for an adventure.
The alpine and coniferous trees keep on adding grace and accompany trekkers to and fro the base point and endpoint of Kheerganga, Tosh valley, and Malana village, to name a few. So, what are you waiting for? Hit up that group chat with these suggestions. Make sure to tell us where you celebrated your new years eve.