Muscat: The annual rose season has begun at the Al Jabal Al Akhdar valley in Oman and the region is covered by the beautiful pale blood-coloured flowers. Adding to the charm, the sweet scent of the unique variety of rose pervades the air.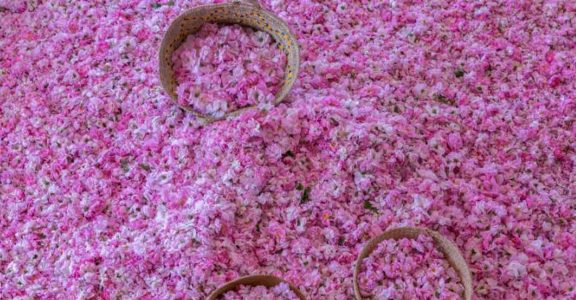 The rocky valley, situated at a high altitude of the mountain, is an ideal ground for abundant growth of the rose plant. Every year, eight villages in the valley come alive with rose blooms, attracting numerous tourists to the area.
In all parts of the world, rose is considered the queen of flowers due to its beauty and sweet scent. Among the thousands of varieties of rose, Damask rose is noted for its high commercial value. This variety, which is widely used in the perfume industry, grows exceptionally well in Oman.
In fact, rose cultivation is an integral part of the culture and heritage of Oman. The heat and desert conditions of the country which prevail along with greenery provide a favourable climate for roses as well as other flowers to bloom to their best.
Harvesting of roses in Oman takes place entirely by hand. Travellers to the villages can watch the whole population engaged in picking flowers during the season. The time of harvest is from early morning to the time when sun-rays turn hot. Most farmers start a day's work by 5 am and end it by 9 am.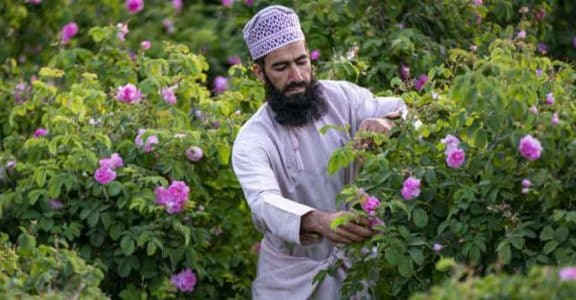 Damask rose, the variety grown in Oman, is indigenous to the Middle East and was first cultivated in Syria during Roman times. However, the Damask rose of Oman stands apart for its unique scent of musk. When tasted, the rose feels a little sour and hot. The rose grown in Al Jabal Al Akhdar, Rosa damascena trigintipetala, contains a high amount of oils, which makes it an inseparable part of the perfume industry.
Moreover, this variety is much in demand for the manufacture of medicines and local cuisine. Local people claim that the rose is an antidote for mental stress and anxiety. The flower is also used as a medicine for menstrual problems and indigestion.
According to experts, Omani rose smells sweeter than other varieties when used for rose water. Rose grown in Al Jabal Al Akhdar also remains without wilting for a longer time than other varieties. Things to note
Before heading to Al Jabal Al Akhdar, ensure that the village you are travelling to would be carrying out the harvest on the day of your visit.
Villagers welcome visitors warmly and allow them to join in the plucking of flowers. They will also explain the method of preparing rose water.