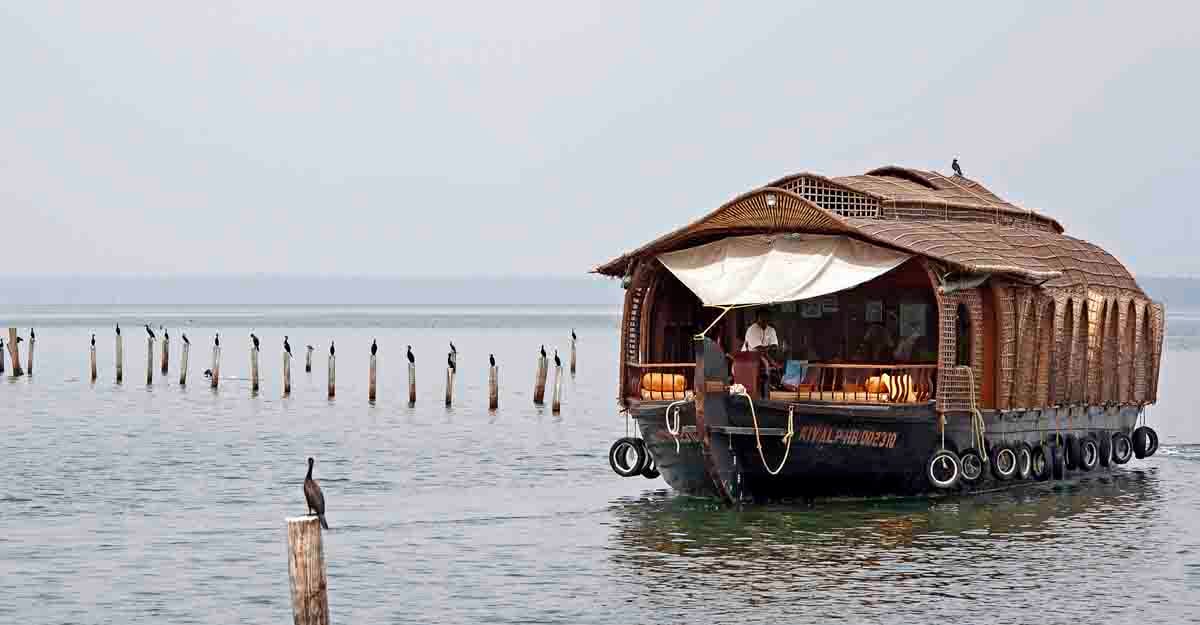 Leaving heavy rains and floods behind, Kumarakom in Kottayam district of Kerala is getting ready to welcome visitors during the Onam season with its backwaters and overwhelming greenery.

In fact, travellers including foreign tourists have already started arriving in the world-renowned destination.
Grand Onam fete
The Responsible Tourism Mission has announced packages for Onam which will be available from September 1 to 30. Authorities said there has been good response and that around 60 bookings have already been made. The packages include the traditional Onam feast (Onasadya), Onam gifts, and stay in the countryside.
One package priced from Rs 3,000 to Rs 8,500 covers accommodation, 'sadya' and gifts for a four-member family including two children less than 15 years of age.
Another package has a trip to the rural areas as its highlight. The cost, including a boat ride and the 'sadya' for a four-member family, is Rs 3,000 and above.
The fourth package allows travellers to have a real feel of village life. The tariff is in the range of Rs 4,500-8,000.
Back on track
The tourism sector in Kerala is working hard to overcome the losses caused by the incessant downpour and flooding which led to a drastic fall in traveller arrivals. Every year, Kumarakom witnesses visit of a large number of people from Arab countries during August and September. These bookings were cancelled this time.
However, according to resort operators, Arab travellers have again started booking for stay and packages in Kumarakom. Meanwhile, organisers of corporate meetings and conferences, too, are seeking out properties in the tourist spot. The arrival of other foreign guests is expected from October. As the same time, Kumarakom is an eternal favourite among domestic tourists.
Wedding destination
Kumarakom has been drawing couples from abroad who wish to conduct their wedding in traditional Kerala style for some time now. Meanwhile, weddings under other rituals are also held, particularly by visitors from north India who organize grand celebrations.
UNWTO, the World Tourism Organisation, has recommended Kumarakom as one among the must-see destinations in a lifetime. Moreover, it is the only iconic destination in Kerala among the 17 such places in India. It is pointed out that Kumarakom is the most suitable place to enjoy backwater tourism and village life.
Travellers can familiarize themselves with the rural lifestyle thanks to the arrangements made under Responsible Tourism initiative. Other attractions of the place include a visit to the Kumarakom bird sanctuary, trips on houseboats and 'shikara' boats.
While the houseboats take travellers up to Thanneermukkom bund along the Vembanad lake, fish like pearl spot can be bought directly from fishermen. The floods have not damaged the tourism facilities this year and everyone associated with the sector is geared up to welcome visitors. The Tourism Department has also charted out plans for new programmes this year, including boat races and Onam celebrations organized by local clubs.
Arrangements ready
According to K Rupesh Kumar, state coordinator of Responsible Tourism Mission, promo videos for attracting travellers to Kumarakom have already been released. "Now various programmes are being conducted along with tour operators," he said.
Explaining the arrangements, Biju Varghese, deputy director, Tourism Department, Kerala said that work on a houseboat terminal at Nalupanku is over. "Facilities to make the terminal functional will be set up soon," he added.