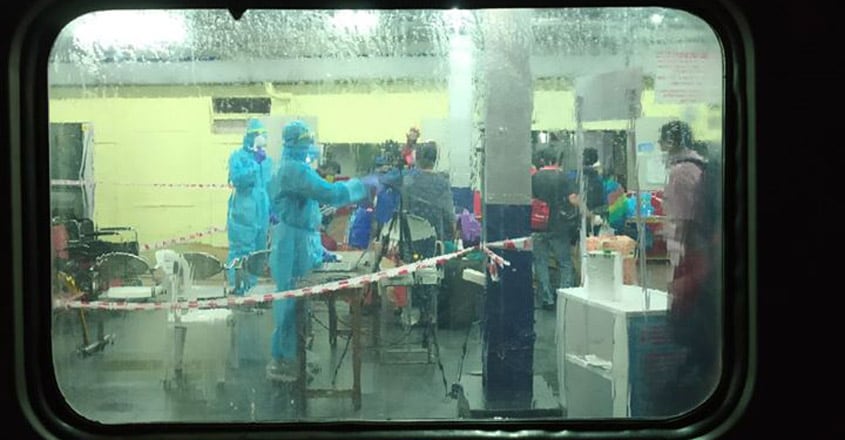 "I can only doff my hat to the Kerala Government and its officials for their exemplary service. I also like to express my gratitude to them and want to scream from the top of the lungs that Kerala is simply superb." These are the words of Malayali journalist Vivek Rajagopal, who along with his friends, returned to Kerala from Delhi on a special train that ferried stranded people to their homes in the wake of the COVID-19 pandemic.

After reaching Kerala on May 21, the scribe is currently in quarantine at the Institute of Co-operative Management at Poojapura in Thiruvananthapuram.
The Railways started to operate special trains when Vivek and his friends, who were staying at Noida in Uttar Pradesh, were in a tight spot as the options to return to their home state were very limited. They were very desperate to return to Kerala as there was an exponential increase in the number of COVID-19 cases in their neighborhood in Noida. The introduction of special Rajadhani train from New Delhi to ferry Keralites working in other states came as a great relief for Vivek and friends and they reserved tickets on that train, says Vivek in a note.
But Vivek adds that authorities at the New Delhi railway station were not following the government guidelines on how to deal with the passengers. Police were checking the body temperature and baggage of passengers who were standing in a queue without following social distancing norms. Though circles were marked on the platform to ensure adequate distance between passengers, social distancing was thrown to wind while they boarded the train, Vivek mentions.
The special train traversed through seven states such as Uttar Pradesh, Haryana, Rajasthan, Gujarat, Maharashtra, Goa and Karnataka. The train halted at Kota in Rajasthan, Vadodara in Gujarat, Panvel in Maharashtra, Goa, Mangaluru in Karnataka, Kozhikode and Ernakulam in Kerala. The police personnel controlling the crowd at five stops in seven states just had masks to protect themselves against the contagious coronavirus. But things changed when the train entered Kerala and stopped at Kozhikode, Ernakulam and finally at Thiruvananthapuram stations, Vivek writes.
"All the officials collecting information from passengers were wearing personal protective equipment (PPEs). Thermal scanning and checking of passes were done on the platform itself along with providing information relating to how to safely exit the station premises.
The passengers were also given strict instructions to follow social distancing. Through new reports and social media posts we were aware of the proactive measures taken by Kerala to contain the spread of coronavirus, but experiencing everything first-hand was a different feeling altogether," adds the journalist.
He also writes about the experience at the Institute of Co-operative Management where he is in institutional quarantine. The room had all facilities including soap, towel and comb, among others that are needed for a 14-day stay. The employees also take utmost care in matters relating to food and other necessities.