Young actress Ahaana Krishna is a travel lover who loves to fly around the world to enjoy unique sights and experiences. Interestingly, the young actress has sky dived for the second time in four months. Sharing the pictures on her Instagram page, Ahaana wrote that she felt incredibly happy and proud as she jumped off a plane from an altitude of 13,000 feet. Ahaana has enjoyed her sky diving above the iconic Palm Jumeirah in Dubai.
Palm Jumeirah is an archipelago of artificial islands in the Emirates of Dubai. The island has been built in the shape of a palm tree. Palm Jumeirah, Deira Island and Palm Jabal Ali are the islands that are part of this luxury archipelago. There are lots of hotels and swanky restaurants in this archipelago that was commissioned in 2007.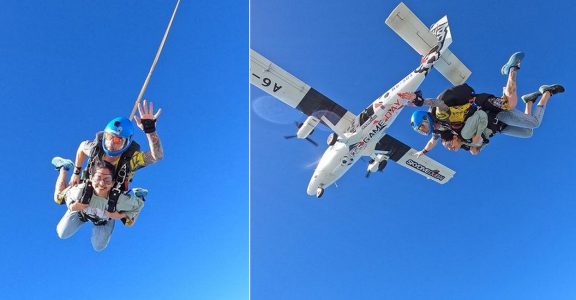 Lately, adventure lovers have been enjoying the thrilling sky dive above the Palm Jumeirah. Several celebrities from the Malayalam cinema industry including Saniya Iyyappan, Parvathy and Nazriya had enjoyed sky diving in Dubai. Skydive Dubai based in Marina has been organising sky diving for the tourists.
Those who have no previous experience too can experience this. Meanwhile, tandem jump is the best option for people who haven't experienced parachute jump at least once in their life. You could jump of a plane with a professional instructor who controls the parachute. So, it is the best way to enjoy sky diving with all the safety precautions.
Skydive Dubai has a private air strip of their own. The plane takes off from this air strip. During the free fall, the jumper falls at a speed of 210 kilometres per hour. The instructor opens the parachute at a specific height. After the parachute opens, you would just glide in the air while enjoying the mesmerizing views of the Palm Jumeirah.
The drop zone is the area targeted for landing by the parachutists. Interestingly, the drop zone of Skydive Dubai is 26,000 square metres wide. Around seventy percent of this area contains water and twenty five percent is land area. The flying mostly happens above Palm Jumeirah. After the dive, you could relax and enjoy a coffee at the Skydive Dubai's café.
Skydive Dubai has become the leaders in offering safe sky diving and parachuting experiences. They function by strictly following the safety guidelines issued by the Emirates Aerosports Federation.
Not just above the Palm Jumeriah, sky diving could be enjoyed over the Dubai dessert too. However, this is less expensive that the dive over the Jumeriah. Those who are at least eighteen or above can sky dive. Men could weight up to 100 kilos while women could weigh up to 90 kilos. The weight of the clothes and the shoes too are included.