Pathanamthitta: The Thiruvananthapuram-Kannur Vande Bharat Express service which is all set for a launch in Kerala is the third such train in Southern Railway and fourteenth in the country.
The Southern Railway has already submitted a few proposed timetables for the train to the Railway Board. The train is supposed to cover the 501-km distance in seven to seven-and-a-half hours.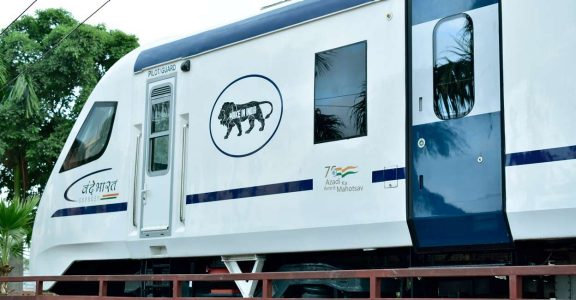 According to sources, the 'Kerala Vande Bharat' is likely to start its trip from Thiruvananthapuram before 5am and return to the state capital by night. The early start from Thiruvananthapuram is to avoid holding up other trains to enable smooth running of Vande Bharat, they explained.
Prime Minister Narendra Modi, who will reach Kerala on April 24, is scheduled to inaugurate the Vande Bharat Express from Thiruvananthapuram the next day.
Stops
The stops suggested by the Southern Railway for the 'Kerala Vande Bharat' train are Kollam, Kottayam, Ernakulam Town, Thrissur, Tirur and Kozhikode.
Rake
A rake comprising 16 coaches will be utilized for the service, instead of the eight compartments suggested earlier. The rake is expected to arrive in Kochuveli, Thiruvananthapuram, by Friday afternoon as it has left the Integral Coach Factory, Chennai. Trial runs also will be conducted soon, following which the timetable is to be finalized.
What's special about Vande Bharat?
• The indigenously-developed and built trains can achieve a maximum speed of 180 kmph depending on the conditions of the track.
• The train can touch 100 kmph in 52 seconds.
• With driver cabins at both ends, there is no need to reverse the train, thereby saving time.
• Vande Bharat trains are fully air-conditioned.
• Automatic doors are a standard feature.
• LED lighting is another attraction.
• The washrooms use bio-vacuum technology similar to aircraft.