The students of Maharaja's College, Ernakulam, who excelled in various extracurricular activities were honoured at the College Day function named "Kalas" on Saturday.

Madhu C Narayan, the director of the recently released film 'Kumbalangi Nights,' was the chief guest at the function which also paid tributes to the fishermen community who helped to save hundreds of life when Kerala was flooded last year.
The events began with the lighting of candles in fond remembrance of student leader Abhimanyu who lost his life to fanatic elements early this academic year.
Shilpa, the vice chairperson of the students' union, welcomed the gathering. Dr K N Krishnakumar, the college principal, presided over the function. In his presidential address he stressed that education should be understood as a weapon to conquer darkness and spread light.
Jayamol K V, the vice principal, in her address emphasised the importance of indiscriminate love
The fishing community of Kerala, who played a crucial role in rescuing marooned people during the Kerala floods last year, was represented at the function by Francis Xavier.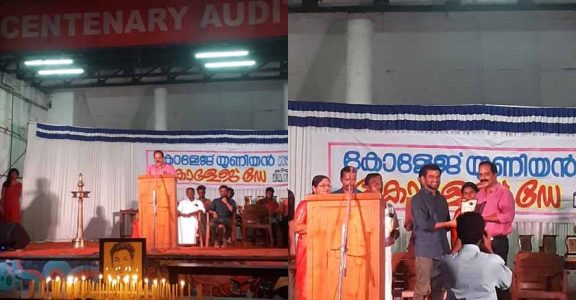 In the inaugural address Narayanan said that he considered it a great opportunity to be the chief guest of the College Day function. He noted the college had made great contributions to the Malayalam cinema world.
"I feel greatly privileged and honoured to share the stage with a real-life hero like Francis Xavier," the filmmaker said. Madhu was gifted a portrait of him drawn by Haritha, a student.
The audience welcomed Xavier to the podium with roaring applause. He shared his experience about conducting rescue activities amidst warnings from the government departments when even the sophisticated naval rescue teams were feeling helpless. He highlighted that it was the unity among Keralites that helped the state withstand and recover from the tragedy.
A memento was awarded to Xavier by the principal on behalf of the college community as a token of love.
Students' Union general secretary Rethu Krishnan presented the report of the union activities this academic year.
At the function, the college union members officially handed over the trophies that the college had won during the recent Mahatma Gandhi University Youth Festival.
The students who represented the college at that event were also honoured. Those who excelled in sports in various contests too were also honoured.
Teachers Dr Suja and Prof Priyesh also addressed the audience. PTA secretary Janish P A gave the felicitation speech and students' union chairman Athul Krishna delivered the vote of thanks.