Applications can be submitted online for the first session of the Joint Entrance Examination– Main (JEE-Main) 2023 till 9 pm on January 12 on the website jeemain.nta.nic.in.
JEE-Main enables students to gain entry to courses such as B Tech, BE, B Arch and B Planning at National Institutes of Technology (NITs), Indian Institutes of Information Technology (IIITs), other centrally-funded technical institutions and institutions and universities recognized or receiving funds from state governments.
The top 2.5 lakh students in JEE-Main would be eligible to attempt the JEE-Advanced, based on which admissions to Indian Institutes of Technology (IITs) take place.
Candidates can sit for the two sessions of JEE-Main, which is conducted by the National Testing Agency (NTA). While the first session– for which applications have been invited now – will take place from January 24 to 31, 2023, the second session is scheduled during April 6-12. The best score of candidates appearing in both sessions will be considered for admissions.
Question papers will be available in 13 languages, including English and Malayalam, for JEE-Main. However, Malayalam is offered only at the test centres in Kerala and Lakshadweep. A candidate can submit only one application for January's session. For the April session, another application could be submitted later, between February 7 and March 7 next year.
Admissions will be conducted based on the JEE rank by the Joint Seat Allocation Authority / Central Seat Allocation Board (https://josaa.nic.in & https://csab.nic.in)
Reservation
Reservation for various categories of candidates is as follows: Scheduled Caste – 15 %; Scheduled Tribe – 7.5 %; Backward Caste (non-creamy layer) – 27 % and Economically Weaker Section – 10 %. There is 5 % reservation in all these categories for differently-abled students.
Eligibility
Students who passed Class 12 or equivalent exam in 2021 and 2022 and those appearing in 2023 are eligible to take JEE-Main 2023. Students who cleared three-year diploma courses recognized by All India Council for Technical Education (AICTE) or state boards also can attempt JEE-Main.
Payment of fees
Fees for the exam should be paid online. Note that the amount varies depending on the applicant's choice of test centre and gender. An additional 18 % Goods and Services Tax (GST) and bank charges will also be charged.
Help centres
Around 1.5 lakh 'Common service centres' have been set up around the country to guide applicants. Check the website https://findmycsc.in/csc to locate the centre nearest to you.
In order to get free practice for the computer exam, candidates can locate 'Test practice centres' nearby on https://nta.ac.in/TPA
Training is available also on 'National test abhyas' – https://www.nta.ac.in/abhyas
Helpline number is 011-40759000. For more details, check the website jeemain@nta.ac.in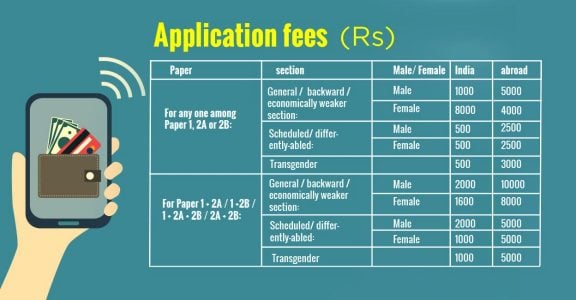 Subjects to study
For admission to BE/ BTech courses, Maths and Physics are compulsory at Class 12-level. In addition, one among the following subjects is necessary: Chemistry / Biotechnology / Biology / Technical vocational papers.
Meanwhile, for B Arch, the compulsory subjects are Maths, Physics and Chemistry. For B Planning, Maths is mandatory.
Exam pattern
JEE- Main consists of Paper 1, Paper 2A and Paper 2B. Candidates can attempt any one of these papers, any two or all three. However, for admissions to BE/B Tech, only Paper 1 will be considered. Paper 2A is for B Arch and Paper 2B for B Planning admissions.
Questions will be of multiple choice /numerical value type and a correct answer carries four marks. However, one negative mark will be deducted for a wrong answer. No marks will be deducted for questions not attempted and those kept for review.
There are two shifts for JEE-Main– 9 am to 12 noon and 3 pm to 6 pm. For B Arch and B Planning the timings are 9 am to 12:30 pm and 3 pm to 6:30 pm.
For differently-abled candidates, 20 minutes grace period will be given every hour. Candidates utilizing the service of a scribe also can avail of this grace period. Syllabus of the exam is available on the website.
Exam centres
There are over 400 exam centres in India as well as abroad. They include Thiruvananthapuram, Kollam, Pathanamthitta, Alappuzha, Chengannur, Kottayam, Ernakulam, Muvattupuzha, Angamaly, Idukki, Thrissur, Palakkad, Malappuram, Kozhikode, Wayanad, Kannur, Payyannur, Kasaragod, Kavaratti, Dubai, Sharjah, Muscat, Manama, Doha, Riyadh and Singapore. Candidates should list four centres in their order of preference in the application.
Breakup of marks in each paper
• Paper 1 is of three-hour duration and there will be 90 questions, of which candidates have to answer 75. In each of the three subjects - Maths, Physics and Chemistry- there will be 20 multiple-choice and 10 numerical value questions. Of the 10, five should be answered. Equal weightage is given for all three subjects and the total marks are 300. Paper 1 will be a computer exam.
• For Paper 2A, 77 out of the 82 questions could be answered. In Maths, 20 multiple choice and 10 numerical value questions would be asked. Five of the 10 have to be answered. Total marks are 100 and it is a computer test. To test Aptitude in Architecture, 50 multiple-choice questions will be asked. Marks are 200 and it is also a computer exam. In the Drawing section, students will face two questions with total marks of 100 in an offline test. The answers should be given in pen-and-paper mode.
• Paper 2B also comprises three sections – Maths, Aptitude and Planning. In Maths, 20 multiple-choice and 10 numerical value questions will be asked. Five of the 10 numerical value questions have to be answered. Total marks of the computer-based exam are 100. In Aptitude section, 50 multiple-choice questions are given in computer mode and the marks are 200. Meanwhile, 25 questions carrying 100 marks are asked for Planning and should be answered on the computer.
Things to note
Applicants are advised to download the SANDES APP of the central government on their mobile to receive notifications from NTA. This would help them obtain information regarding exams, apart from e-mail and SMS.
Confirmation page, admit card, score card and other documents can be downloaded also from UMANG / Digilocker. These documents should be filed safely.
Selection
Candidates will be selected for various courses based on the 'All India Ranks' prepared by NIA depending on their marks. The final rank-list will be published only after the April session of JEE-Main.