London: More than 83,600 students, including Keralites, continue to stay in the UK even after the expiry of their student visas and many among them are struggling for food and accommodation, say latest reports from various quarters.
Overseas students violating visa norms are finding it difficult even to get basic necessities like food, accommodation, etc. Such incidents have come as a strong warning to people who try to somehow migrate to the UK and build a life there.
Recently, several Keralite youths were seen eating on roadsides. Such sights have gone up in recent times in different parts of the UK.
A Keralite family, which had come to Chinatown in London the other day, shared such a sight with great pain on their social media account. About 15 young men between the ages of 18 and 25, with food delivery bags on their shoulders, were seen eating on the wayside. They were sitting in a circle after spreading paper on the ground. The family members noticed them when they heard the men speaking Malayalam.
UK-based Keralite and NHS nurse Ajimol Pradeep said in her social media post that she is seeing such a sight for the first time in her years of stay.
Parents should be careful not to fall into such traps again, and a proper enquiry should be conducted before sending their children for studies in the UK, she wrote.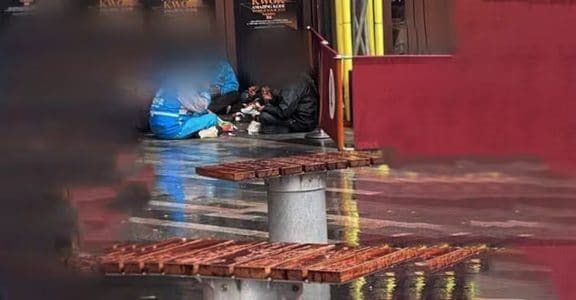 How overseas students court trouble
Often many who arrive in the UK on student visas start looking for jobs after paying the university fees. They don't have any legal documents to stay in the UK and are forced to do jobs in pathetic conditions. Such students often work in households as servants and also wash utensils in restaurants to eke out a living.
Among them are those who have been duped by middlemen on the false promise of arranging a UK visa after the expiry of their student visa. They are forced to pay huge amounts to the middlemen. It is also common for employers to exploit such people by not paying them wages for their labour as their visas have expired and their stay is illegal.
Several people are coming in small and big boats in a daring manner by paying huge amounts to the middlemen. Migrants who come to the UK illegally through the English Channel are also suffering a lot. In such a scenario, illegal immigration to the country is increasing uncontrollably, the immigration solicitors said.
They pointed out that more amd more people are arriving in the UK on student visas and visitor's visas and some do not return even after the expiry of their visa term. Immigration solicitors have sharply criticised the country's immigration system as a whole, saying it's now topsy-turvy.