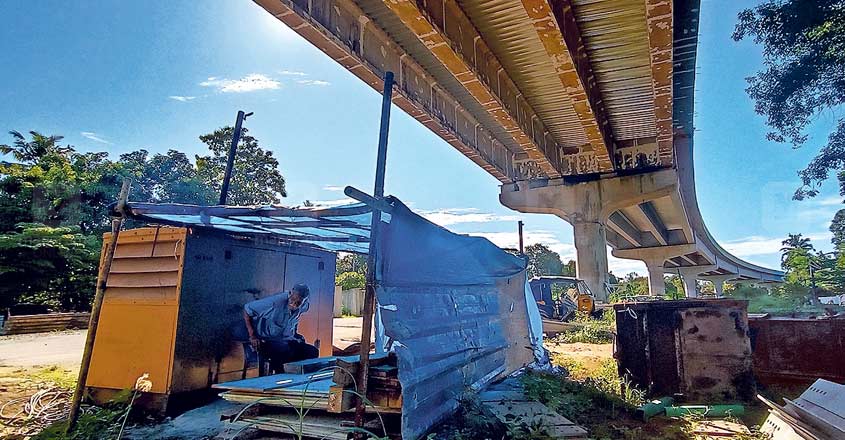 Alappuzha: A new design for the girders that has taken shape is bound to clear the roadblock in the commissioning of the much-awaited bypass here. The design was prepared following a request from the Kerala Public Works Department (PWD) to the Railways. The construction of the 6.8km-long bypass was stalled for the past one year after a railway inspection team found minor differences in cambers of two girders, which are part of the rail over bridge connecting the elevated bypass.
The railway design wing in Chennai has sent the revised design with requisite changes to the railway engineering department in Thiruvananthapuram which would be later forwarded to the PWD. The girders used in building the elevated bypass were made as per the design provided by the Railways at centres approved by it.
The girders are taken to the construction site after the Railways checks the quality of them, and the inspection team found minor measurement flaws in the cambers of two girders.
The railway officials said that though the defect was brought to the notice of those concerned in July last year, the builders opted to go forward without making any correction. It is known that the new design prepared by the Railways solves the problem in two girders without many hassles.
Minor changes should be incorporated into the girders as per the new design, after which the Railways will conduct an inspection. Later, a railway team from Chennai will conduct another scrutiny of the girders and if everything is in order then it will get the go-ahead signal.
PWD Minister G Sudhakaran said that construction can be carried out following any criteria put forward by the Railways. Otherwise the Railways can take up the remaining work with the funds provided by the state government, he added.
In a reply to Sudhakaran's letter to Central Railway Minister Piyush Goyal, the latter said that instruction had been given to the Southern Railways to expedite the procedures relating to Alappuzha bypass.
LDF on agitation path
Meanwhile, the CPM-led Left Democratic Front (LDF) is planning to protest against the inordinate delay on the part of the Railways in completing the project. "The Railways promised that it will submit the girder inspection report shortly to the state government. If it is not handed over in two days, we are planning to launch a protest," said CPM district secretary R Nazar.
Sudhakaran had sent emails to Goyal, railway board chairman, and head of Southern Railways requesting them to inform the state government about the changes that have to be made to the girders. The minister said that he was forced to shoot a mail as the Railway Ministry was dragging its feet despite Goyal's assurance that related procedures would be expedited. He criticised the Railways' apathy in completing the project as more than Rs 7 crore from the exchequer had been channeled into the construction of bypass.