The British Raj brought with it several changes in Indian culture. Where some changes were highly protested against, some were accepted with open arms. One noteworthy change was the "high tea" culture; introduced by the Raj, this elegant tradition today has acquired quite a few Indian touches, but more about that, in a bit!
High tea culture began circa the 1700s as a midday mini-meal served around 3 – 4 o'clock. Back then, it was a meal served to working men, taken standing up or on a high stool, ergo the term "high", but it was devoid of its "elite" status. Only later, ' high tea' was acknowledged as a part of the "Leisure Class" culture and got its own calendar events.
*cue Bridgerton flashback*
The meal was served with scones, tiny cakes and cheese on toast. In 1762 John Montagu, the 4th Earl of Sandwich, whilst playing a game of cards, refused to get up and asked that he be served roast beef between two slices of bread; and accidentally invented the iconic high-tea staple - the sandwich.
Now to host a high-tea, the one (and only) requisite is a tiered stand. You can get one with decreasing or the same plate size.
There aren't any set rules as to what goes on what tier.
However, if you opt for a decreasing platter size, the food elements are placed in decreasing order of their size, starting with the lowest tier (basically, the big food goes on the biggest platter).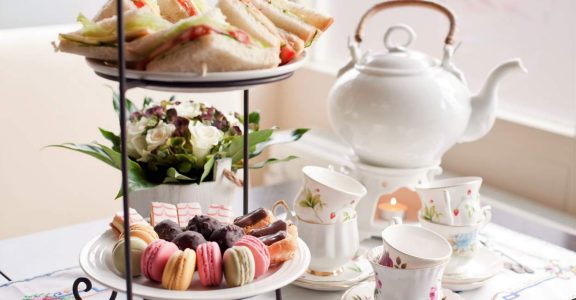 Now coming back to our discussion of the British Born 'Desi' high – tea…
Believe it or not, this high tea is quite different from its English counterpart (except in the use of a tiered stand- that's a non-negotiable constant). For example, the correct time to serve high tea in India is 5pm to 7pm, given that, on average, Indians eat their dinners at 9pm.
Now coming to the menu of a desi high-tea, you want to keep easy to eat (and cooked) things on the menu. Finger foods like mini samosas and mini chutney sandwiches work best. They are dry, ergo spill-proof and relatively hassle-free.
In case you're confused or simply out of ideas, here are our must-have additions to a desi high tea:
1. Lotus Root Bhel
This fun spin on the traditional Indian snack is well worth the effort and the calories with its spicy, tangy flavour. Here's what you need to make it.
Ingredients
300 gm lotus root (cut into fine diagonal slices)
½ cup of refined oil for frying
2-tablespoons of pomegranate arils
1/3 cup of tamarind water
½ cup of coriander chutney
2-tablespoons of peanuts
3-tablespoons of onion (finely chopped)
Optional- 2 tablespoons of garlic (finely chopped)
Coriander for garnish
Preparation
Fry the cut lotus root in small batches until golden brown and crispy. Allow them to dry completely
Optional- fry the garlic until golden brown and crispy. Allow the garlic to completely dry as well
In a large bowl, mix the fried lotus root and garlic with the remaining ingredients
Garnish with coriander and serve immediately
Note- please serve them in individual small bowls that guests can pick up and dive into. Also, don't let it sit for too long; it tends to go soggy and lose its crispy texture!
2. Cup-o-Dhokla
This five-minute recipe is sure to win your heart! Here's what you need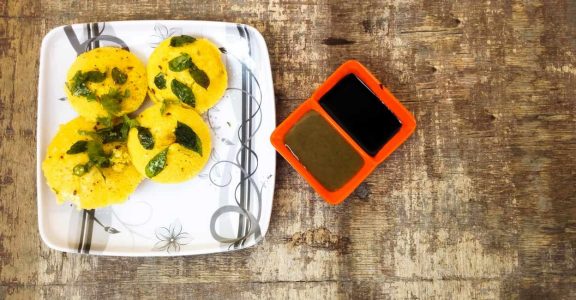 Ingredients
For the batter
1 cup of gram flour
2 tablespoons of suji
¼ teaspoon of turmeric
½ teaspoon of ginger paste
A pinch of asafoetida (heeng)
1 teaspoon of sugar
2 teaspoons of oil
1tablespoon of lemon juice
½ cup of water
1 teaspoon Eno fruit salt
For the tadka
3 teaspoons of oil
1teaspoon mustard seeds
½ teaspoon cumin
1teaspoon sesame seeds
24 pcs curry leaves
2 green chillies (split)
A pinch of asafoetida (heeng)
2 tablespoons of water
1 teaspoon of lemon juice
1 teaspoon of sugar
Salt as per taste
Preparation
In a large bowl, mix all the ingredients listed under "batter". Mix well to form a lump-free batter
Let the batter sit for 10 minutes. In the meanwhile, take small (microwave safe) cups and grease them with oil
Spoon batter into each cup. And put them in the microwave for 5 minutes
Prepare the tadka by first heating the oil and adding the mustard seeds, cumin, asafoetida, curry leaves, green chillies and sesame seeds
In another bowl, mix water with sugar, salt, lemon and juice
Mix the water –sugar mixture and the tadka
Once the dhoklas are out of the microwave, pour the tempering over them and allow them to absorb it completely
Serve with a garnish of coriander leaves and desiccated coconut!
3. Milk Cake
Since no high tea is really complete without "cakes", how about the tastiest Indian cake that you can make at home!
Here's what you will need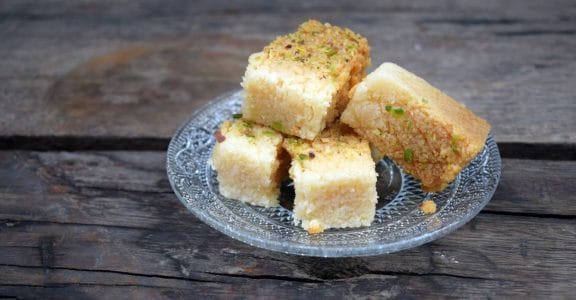 Ingredients
2.5litres full cream milk
250gms sugar
½ teaspoon of citric acid
½ teaspoon of cardamom powder
Preparation
In two heavy-bottomed pans, divide the milk equally and allow it to reduce over medium heat till only 1/3 remains
Combine the two bowls of milk and continue to boil. Keep stirring to avoid burning
In 2 tablespoons of water, dissolve the citric acid and add it to the boiling milk
The milk will curdle, and the whey will separate. (Don't worry!)
Add the sugar and mix till the whey completely evaporates
Add the cardamom powder and mix again
Grease a baking tray with ghee and pour the prepared mixture into it
Allow it to sit for 24hours
Note- this recipe needs to be prepared a day in advance. Please take into account its timeline before setting the menu!
Are there some special treats you would include in your high-tea? Do tell us!