There are certain dishes a tourist should definitely try when they are in Kerala, the tastes that underline the culture and ethnicity of the land. To savour the diverse Kerala cuisine, you need to travel from Thiruvananthapuram to Kasaragod.
You can discover the diversity even in a cup of tea or a bowl of dal or payasam, or in the way they serve the food. If at certain places people insist on folding the plantain leaf after a meal, others insist on leaving it open. And there are a many more of such traditions and unique tastes:
From Thiruvanthapuram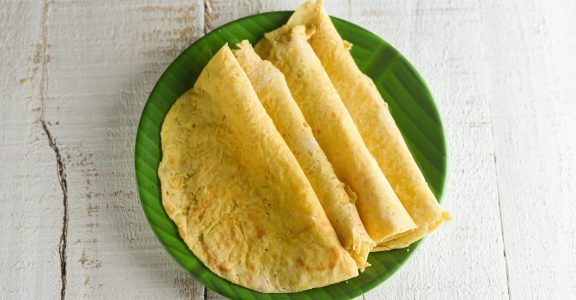 One of the main attractions of a Thiruvanthapuram Hindu wedding feast is boli and payasam. Though payasam is common at Hindu weddings in the state, serving boli along with payasam is a Thiruvanthapuram specialty. The soft and yellowish boli filled with coconut/jaggery/dal is a sure-shot favourite of all. And payasam as an accompaniment balances the sweetness. 
But that doesn't mean the state capital is full of vegetarians. Kozhiperattu is one of the favourite non-vegetarian dishes of the Thiruvanthapuram people. Marinated leisurely with spices, it's a must-try item if you are planning a visit here. 
When it comes to Kollam, vettu kekku and mutton curry top the food chart. Vettu kekku is a simple deep-fried sweet, which is crisp on the outside and soft on the inside. If you are at Kollam, drop at Ezhuthanikada for a sample tasting session. You can also try mutton curry along with it. Kollam's Munroe Thuruthu's kingfish delicacies that come fried and roasted in plantain leaf or in the curry form are also quite famous. 
The renowned Aranmula valla sadya is considered the top favourite of Kerala feast lovers. And you can only access it at one place—Aranmula Parthasarathy Temple, during its festival. This yearly event usually begins with a snake boat race. The main participants are the oarsmen who sing and make merry while racing the boat. There will be more than 70 vegetarian dishes at the feast, including sambhar, avial, koottukari and the like.
More than the food, the rituals associated with the sadya excite the participants. It's beautiful to watch the oarsmen demand dishes in a sing-song fashion and the organisers serving them. 
Asiad tapioca and Kuttanadu duck mappas
The houseboats in Alappuzha serve authentic Kerala meals with fish curry. Don't miss the quintessential tangy and fiery Alappuzha fish curry simmered in kudambuli. Kuttanadu duck mappas is one of the other specialties of the area. After all, duck and fish farming is the main source of livelihood for this part of the world. Therefore, duck curry is a major dish on the daily menu. Everyone loves the evenly spiced duck mappas made with creamy coconut milk. 
Though the traditional attire of chattayum mundum might have gone out of fashion in Kottayam, the flavourful dishes of Christian grandmoms will always be in vogue. Their pidi and chicken curry is a huge favourite. Pidi is made of rice flour, crushed jeera, shredded coconut and boiled in thin coconut milk. It pairs well with chicken curry simmered in roasted coconut.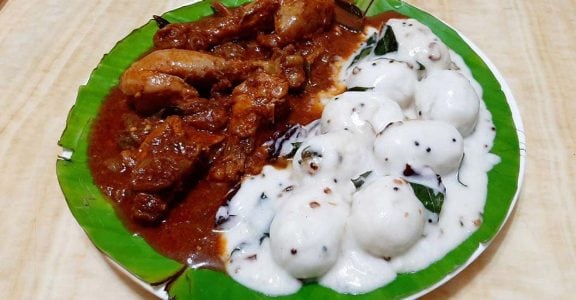 Tapioca biryani is another specialty of Kottayam. They are also called Asiad kappa and ellum kappayum. Tapioca simmered in buffalo meat is a delicacy served at weddings. You can replace buffalo legs with that lamb or chicken as well. Having said that buffalo legs add a special taste to this dish.
Flavours of Idukki
There are a lot of similarities between the cuisines of Idukki and Kottayam. But Idukki uses a lot of whole spices in their dishes which can be attributed to the cold climate.
They love crispy parottas with some spicy beef roast. But their specialty is idiyirachi. Earlier idiyirachi was supposed to be game meat (wild buffalo). But now they dry the meat of buffalo and crush it into strands to make idiyirachi. It is impossible to resist some masala-coated idiyirachi. 
The Cochin Cuisine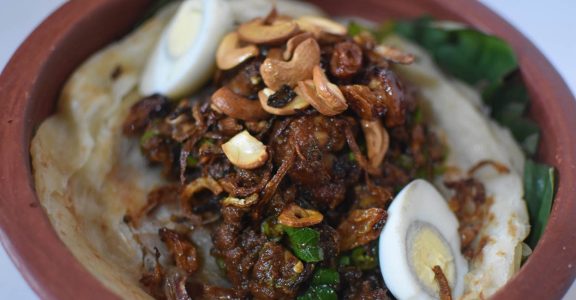 When it comes to Kochi, they have a lot of special dishes. Kochiites love their fish. And at any Kochi eatery, you will get an abundance of seafood dishes. The beef vindaloo is also a Kochi special. Though vindaloo is originally from Portuguese, it is quite popular in Goa and Kochi. When you go further to Angamaly, they will vouch for pork meat. The combination of Chinese potato with pork is to die for. 
Tastes of Thrissur
The land of appams and Ambiswamy's Payasam 
Thrissur loves various types of appams. They love the packaged achappams, vellayappams, vatteppams and palappams. There is a street called vellayappangadi where homemakers make vellayappams on order. You can see vellayappams being stacked on the roadside homes here. 
Payasams are equally popular here, especially Ambiswamy's palada pradhaman. 
Flavours of north Kerala
When it comes to Palakkad, the first thing that comes to our mind has to be Ramasheri idlies. Idli batter is poured over idli steamers lined with cotton clothes and cooked. They are thin and wide and look like white dosas. Though you can have it with sambhar or chutney, the best accompaniment has to be 'gandhi chutney.' 
Thenga choru or coconut rice is a traditional Malappuram dish. Much before biryani took over, Thenga choru reigned in that part of the world. It's a simple rice preparation made with grated coconut or coconut milk and minimum spices. It's often called poor man's biryani and goes well with beef curry.
If you are in Kozhikode, you cannot go without tasting their famous Kozhikode biryani. Besides, there are many dishes that are Kozhikode's own. You can see dishes like chattipathiri, kunjipathiri, unnakkaya and kozhi ada during the fasting season. 
People in Kannur love their Thalassery biryani. They both taste amazing though there is a slight difference in the recipe. Kannur also boasts of some delicious savoury snacks like neypathiri, kallummakkaya nirachathu, Chemmeen unda and idi mutta. 
When it comes to Wayanad, their tribal cuisine makes all the difference. Their recipes, which have been passed over to the next generation are now slowly getting out of the forests. Don't miss their crab curry, crab chutney or crab roast. The Gothra tribe's honey gooseberries are also available freely in Wayanad. 
The payasam made of bamboo shoots is quite famous in Wayanad. Bamboo shoots also contain many medicinal properties. When it comes to Kasaragod, they have a lot of Karnataka influence in their cuisine. Their Kalthappam, made with rice, coconut and jaggery for instance can be seen in Karnataka as well. Kozhi aanam is what they call their chicken curry, which is made with coconut milk and goes well with neypathal.
All said and done, nowadays the variety in tastes hardly matters since all kinds of cuisine are available everywhere. You get Kozhikode biryani in Thiruvanthapuram and boli and payasam at Kasaragod as well. But still, there is a special joy in travelling all the way to a place to taste its cuisine, isn't it?