The special bond that Keralites share with soft and flaky porotta is quite well known. As per the data revealed by popular food delivery app Swiggy, Kerala porotta is the most ordered item in 2022. Meanwhile, in the Thiruvananthapuram and Kochi regions, idiyappam and chicken biryani too fared well. Fried chicken and appam are the most ordered snack by Keralites. Besides, milk, onion and tomatoes are some of the most ordered food items on various grocery sites and apps.
The iconic porotta
Most of the Keralites would pick porotta and beef as one of their their favourite food. It is quite incredible how a food item like porotta has conquered the eating habits of Malayalis. Interestingly, porotta is not considered a local dish. Porotta is known as paratha, parantha and parounta in different parts of the country. Meanwhile, in Burma it is called Palatha and in the Maldives the dish is known as Pharatta. Interestingly, you would find a dish that is similar to our porotta even in the Pacific Island of Trinidad and Tobago.
It is assumed that porotta has its roots in the area south to the Karakoram Mountain range, close to Pakistan and Afghanistan. The nature of porotta still suits a dry area where water is scarce and which is surrounded by mountains and deserts. Historians say that the word paratha was coined by combining the words parath and aatha. In the local dialects, parath means layers and aatha means cooked grains.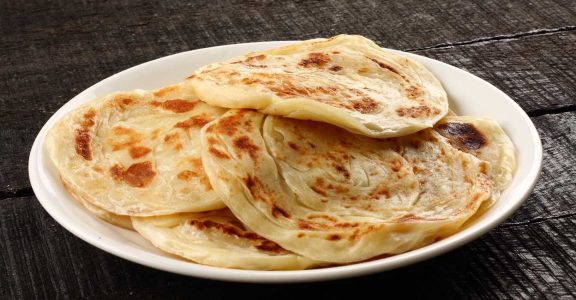 All purpose flour is made from finely milled wheat flour from which the bran is completely removed. It is considered the least nutritious among the various powders that are made from wheat. Bran which contains fibres, vitamins and minerals are absent in all purpose flour. One hundred grams of all purpose flour contains around 11 gm of protein and carbohydrates. So, it is not advisable to make porotta a part of your regular diet as it is not a wholesome dish.