So, it's Valentine's day, and the clock is ticking! You have planned a lavish date, but are now second-guessing it, or worse, you've forgotten to plan anything.
Don't worry, we've got your back! With Valentine's day just around the corner, you might want to ditch traditional dinner plans and try something fun with your boo. Might we suggest the divine elegance of wine and chocolates? The luxury of wine with the indulgence of chocolates will surely make your Valentine's celebrations a class apart. Whether you both are self-proclaimed seasoned connoisseurs or simply curious beginners, the seduction of the age-old wine and chocolate pairing is a fun and delicious way to experiment with your flavour profiles and spend quality time together.
One of the most important things to keep in mind when pairing wine and chocolate is to match the intensity of each. For example, a bold, full-bodied wine will pair well with rich chocolates, while a lighter, fruity wine may pair better with lighter chocolates.
The key is to find a balance between the two so that neither one overpowers the other. The complex and sophisticated flavours of wine and chocolate when paired right, can elevate your culinary experiences. Luckily, we are here to be your cupid and guide you on this gourmet expedition.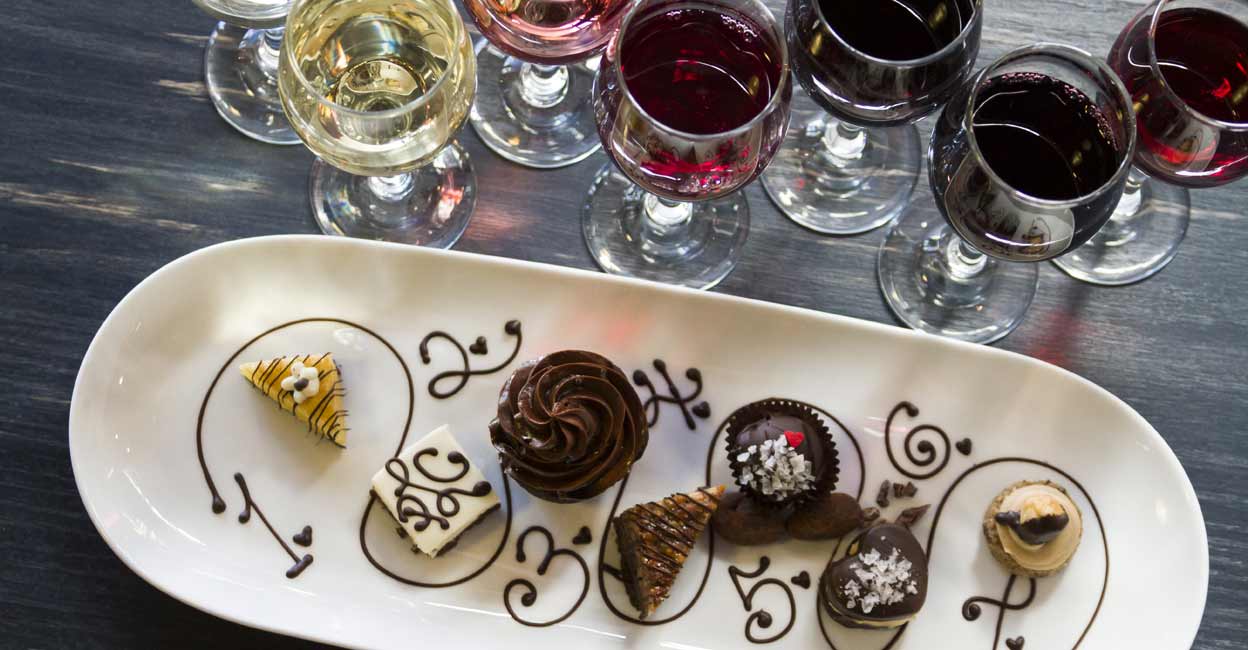 Dark chocolate
With its high cacao content, dark chocolate is a popular choice for wine pairing. Its rich, intense flavour pairs well with full-bodied wines. A full-bodied red wine, such as Cabernet Sauvignon, mingles well with dark chocolate. The sweetness of fortified wine, such as Port or Sherry, and the bitterness of dark chocolate can balance each other, creating a complex and fulfilling flavour profile, too.
In case you're feeling a little adventurous, might we recommend bringing on the heat with some spicy dark chocolates and pairing it with full-bodied wine such as Zinfandel. If nutty richness intrigues you, sip on Chardonnay's rich and buttery flavour to balance out the bitterness of hazelnut dark chocolate.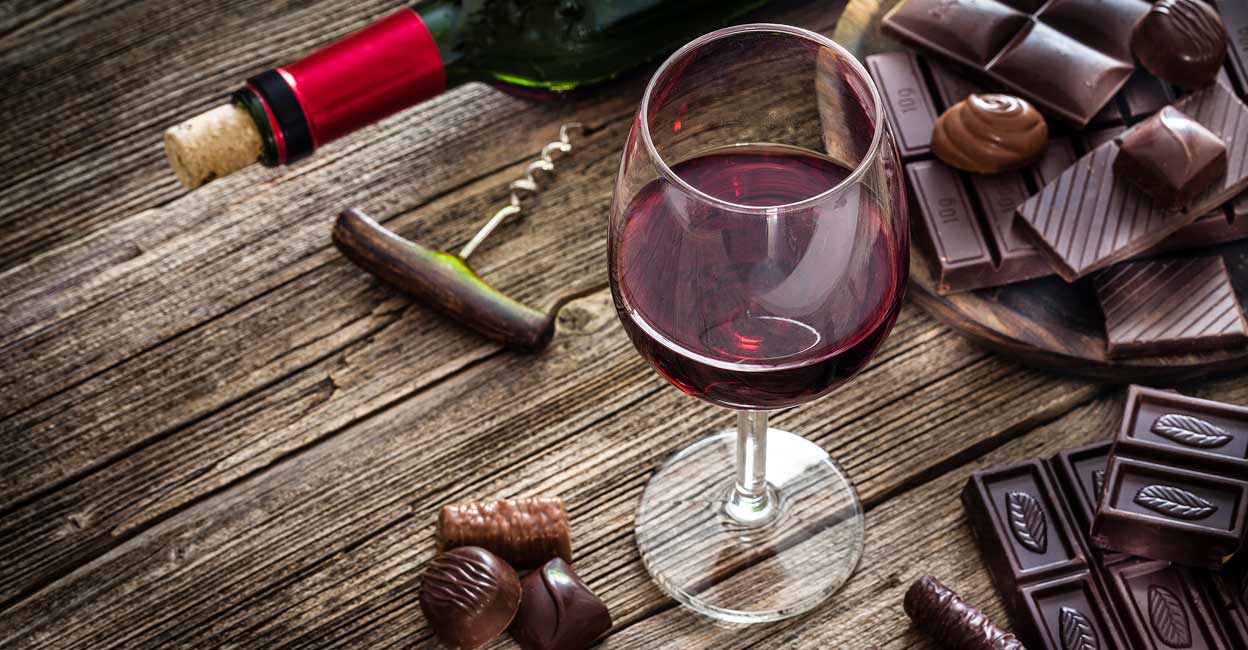 For a fresh fruity zestiness, go for a crisp, dry rosé wine with dark chocolate with raspberry or cherry. The fruity notes in wine and chocolate complement each other, creating a refreshing flavour profile. For coffee aficionados, caffeinated dark chocolates with Pinot Noir is a heavenly experience.
White chocolate
When pairing white chocolate with wine, it's important to look for a wine with similar sweetness and richness. A light-bodied dessert wine, such as a late-harvest Riesling or Moscato, is an excellent choice for white chocolate. The fruitiness and natural sweetness of these wines complement the creaminess of white chocolate. For creating a tangy and refreshing flavour profile pair a Sauvignon Blanc or a Viognier with white chocolate.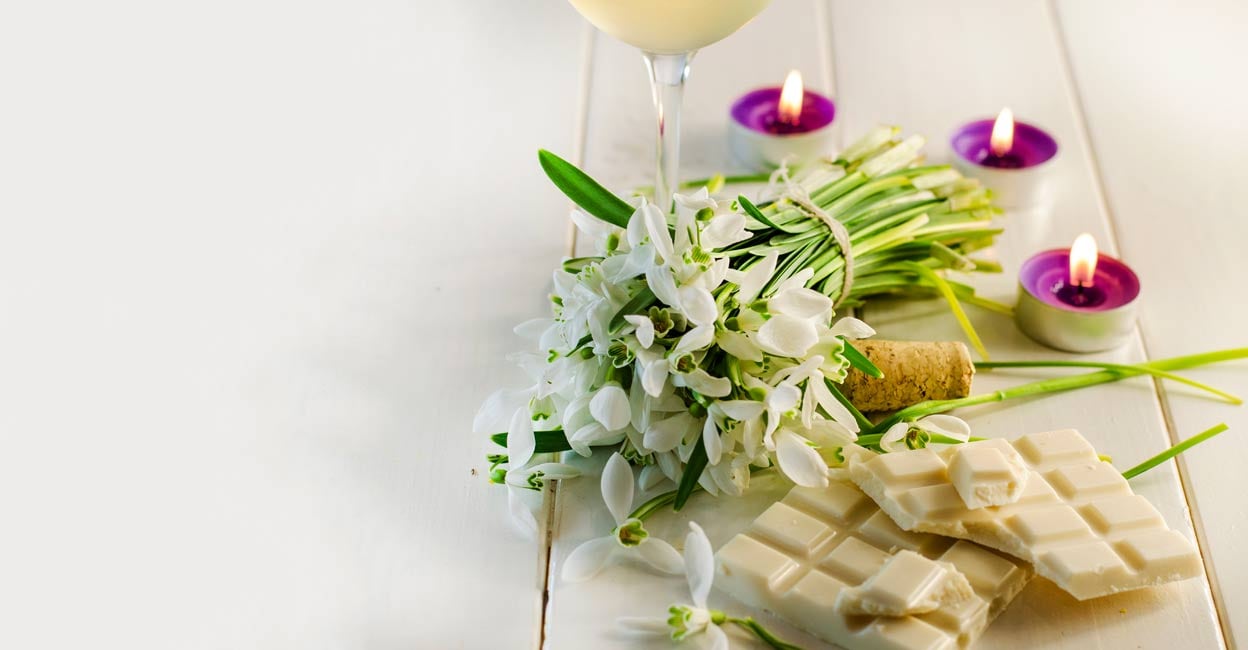 Pairing white chocolate with sparkling wine, such as Prosecco or Champagne creates a harmonious balance of sweet and crisp flavours. The citrusy Sauvignon Blanc and Viognier can work well with the sweetness of the chocolate, creating a tangy and refreshing flavour profile. The Moscato d'Asti wine with notes of peach or apricot when paired with white chocolate makes one go weak in the knees. We recommend combining white chocolate with Gewürztraminer for its spicy notes and dreamy, floral aromas of cinnamon and nutmeg.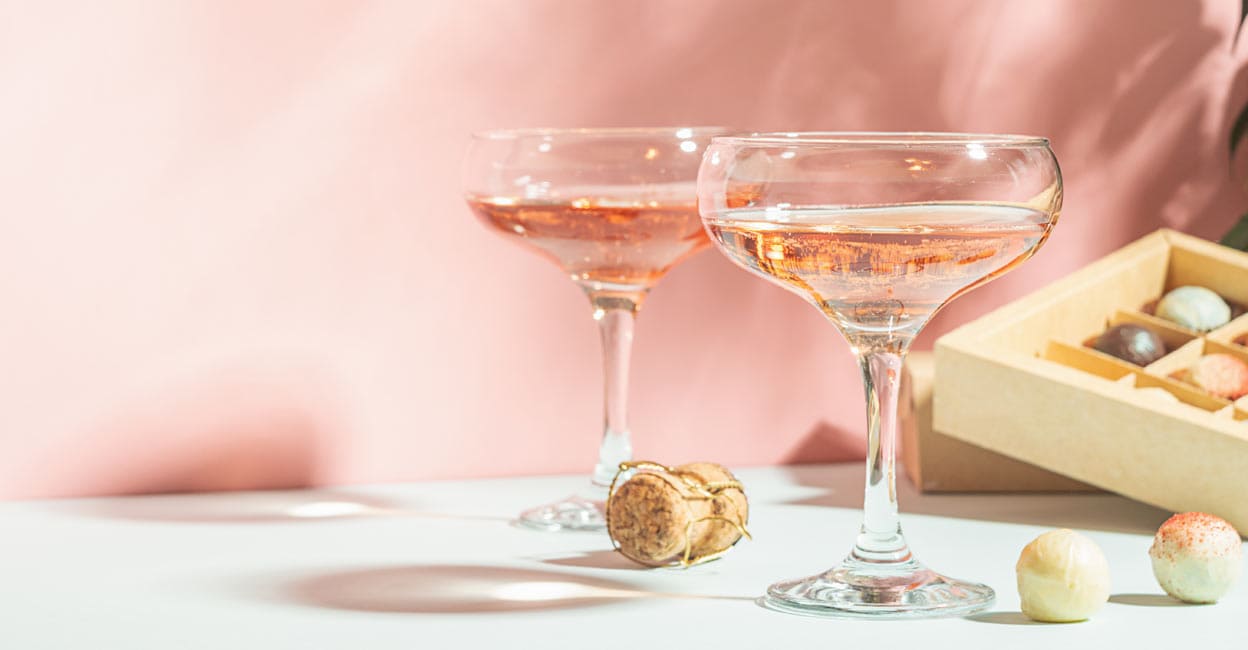 Milk chocolate
Milk chocolate is slightly more versatile than dark and white chocolates and can be paired with a wider range of wines. The caramel contours of a sweet, light-bodied Moscato with lychee, peach, lime, and orange zest go well with milk chocolate. The sweetness of the wine and chocolate can balance each other, creating a rich and indulgent pairing.
Milk chocolate can complement the vanilla notes of a crisp, acidic Chenin Blanc wine and balances the acidity of the wine. You can also try Merlot with nutty milk chocolates for an extravagant flavour.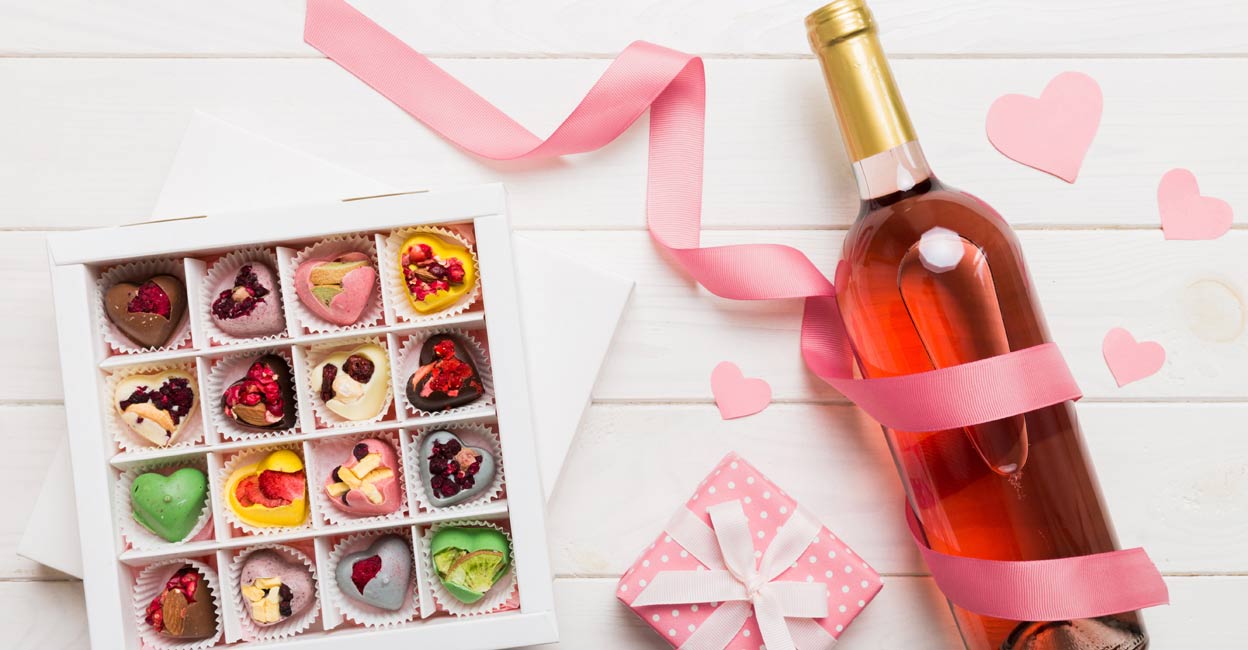 For a flirty, refreshing dizzy time, pair milk chocolates with berries and full-bodied Shiraz or light-bodied Beaujolais. Sweet white wines, such as Reisling and Moscato pair well with the sweetness of milk chocolates. Sparkling wine, such as Champagne or Prosecco, pairs well with creamy, smooth milk chocolates. A fruity, medium-to-light-bodied Pinot Noir can bring notes of cherry, subtle herb bouquets, and hints of cinnamon, making it a natural companion for milk chocolate.
Use complementing and contrasting flavours, experiment with acidity and intensity, and most importantly, don't be afraid to try new combinations. Be open to learning your partners' tastes and make sure to incorporate them on your charcuterie board for your next date.
The best way to find a wine and chocolate pairing that you love is to experiment and taste a variety of combinations. You may be surprised by what you discover about your partner, your taste, and yourself. On that note, Happy Valentine's Day!