Guruvayur: The renowned Sree Krishna Temple at Guruvayur in Thrissur district of Kerala has set apart an amount of Rs 2.31 crore to serve food to devotees during the annual festival beginning on Friday night.
While devotees can have 'kanji' and 'muthira puzhukku' from the temple in the morning, the preparations for the night are 'sadya' with rice, 'rasakalan' and other dishes. Meanwhile, specially-prepared food will also be served to the temple staff twice a day. The storeroom attached to the temple kitchen is currently being stocked for preparing the food on all the 10 days of the festival. In fact, the total requirements include 42,000 kg of raw rice for 'kanji' (rice gruel), 50,000 kg for serving cooked rice, and 25,000 kg horse gram ('muthira') and 22,000 kg 'idichakka' (raw tender jackfruit) for 'puzhukku'.
Moroever, 3,000 kg of rock salt and 600 kg of powdered salt are needed. Nine tonnes of coconut oil are required to fry 10 tonnes of 'pappadam.'
To serve 'kanji', 2.50 lakh plates made of 'pala' (spathe of arecanut palm) have been ordered. The same number of spoons made of green leaf of the jackfruit tree fixed with the midrib of the coconut leaf is also needed to partake of the 'kanji'.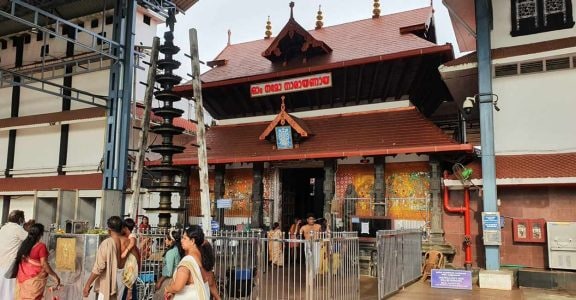 Vegetables being stocked include 20,000 kg pumpkin, 12,000 kg ash gourd, 500 kg elephant yam, 3,500 kg cucumber, 500 drumstick and 2,300 kg raw mango.
Other items to be used for the preparations are 750 chilli powder, 300 kg yellow turmeric powder, 45 kg cumin seed, 5,500 kg jaggery and 1,500 ripe mango.
Total expenses
According to Guruvayur Devaswom authorities, the total estimated expenses for the annual temple festival come to Rs 3.22 crore. "Of this amount, Rs 2.31 crore is for serving food alone," said Devoswom chairman Dr V K Vijayan and managing committee members C Manoj and K R Gopinath and administrator K P Vinayan, in a statement.
Temple festival
The 10-day annual festival will begin when 'thantri' (hereditary chief priest) Chennas Dinesan Namboodiripad hoists the gold-coloured flag on the golden flagpole at the temple on Friday night.
At the same time, the cultural programmes will start with a Kathakali performance by a team from Kalamandalam. On every day of the festival, rituals and events such as 'kazhcha sreebali', 'melam' (twice daily), 'darshan' of the golden 'pazhukka mandapam' and 'thayambaka' will take place.