Another festive season is here, and social media platforms are flooded with a variety of Onam-special food trends. Instead of relishing luscious payasams with accompaniments such as boli, pappadam, or banana, Malayalis are receptive to a new spin on Onam's traditional delicacies
Here is a list of five food businesses that have given a twist to Onam Sadya's integral element and people's favorite 'Payasam'.
» Payasam on a stick
Ice lollies always evoke a number of memories, especially when it comes to the classic flavours such as semiya, milk, pineapple, and orange. Now, Kerala's favourite ice candy maker, Peni Ice, has introduced a limited-edition flavour, Palada Payasam, for the festive season.
They are also offering ice candies in different flavours, such as blueberry, strawberry, raspberry, peanut butter, oreo, and tender coconut. To know more, visit Instagram/PeniiceCandy or contact 9633237373.
» A sweet take on Malayali's favourite snack
Kochi's Luv Cutlet found Onam the perfect festival to launch their sweet take on one of Malayali's favourite teatime snacks, Cutlets. Their Payasam cutlets are already popular on social media platforms, with many posting mouthwatering reels of tasting these delights.
"It took us a month and more to perfect a recipe. Our customers revisit asking for this product," said Luvin Sabu, a founder of Luv Cutlet. For orders, visit Luvcutlet.
» A healthy choice
Zeugar's sugar-free Palada Payasam is the perfect choice for health freaks and diabetics to not spoil their festive spirit. Their key ingredient, sucralose, is a safe and healthy alternative to sugar or jaggery. Zeugar is also offering a sugar-free cooking syrup, which can be used to prepare any dish without compromising on sweetness. Other sugar-free products include 5-in-1 Torte Dream Cakes and Jar Cakes.
Price: Payasam: Rs 110 for a 200-ml jar and Rs 450 for a 1-liter.
Sugarfree cooking syrup: Rs 299 for a 700-gram pack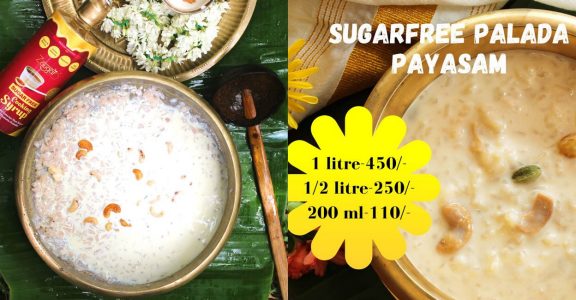 To place an order, visit www.zeugar.com or contact 9350000260.
» Going with the trend
Thrissur's Lilly's Cafe is known for its improvised take on a number of continental desserts. Their 5-in-1 Torte Dream Cakes, Coconut Madeleines, Unniyappam Tiramisu, and Tender Coconut Cake are customers' favourites. Palada Gelato is yet another best seller. The price of a dream cake starts from Rs 420 for 200 grams to Rs 1,547 for 1kg.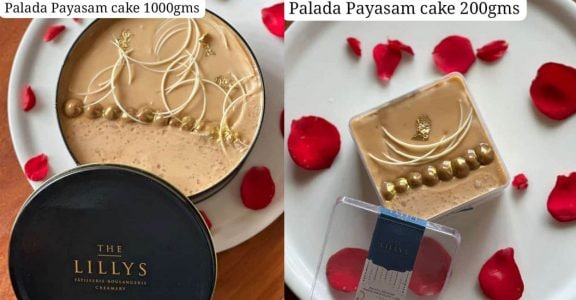 Those interested can place an order through Instagram@ lillysdelicacies.
» Payasam in a Uruli cake
Oh My Cake, which is known for its fusion desserts, has introduced a visually appealing twist to the classic Palada Payasam as part of its festive edition. The payasam is served on a butterscotch-flavoured cake, which is shaped as uruli, giving it a traditional touch.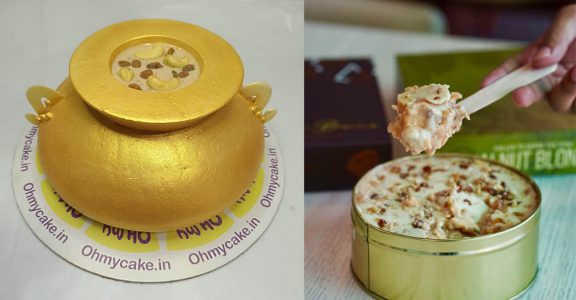 Their Palada Torte cake includes payasam, French pastry cream, dry fruits and nuts, and white couverture chocolate, layered to perfection. The Uruli Payasam cake is available in both 1kg and 2kg.
To place an order, contact 9074556097 or 9020333333.