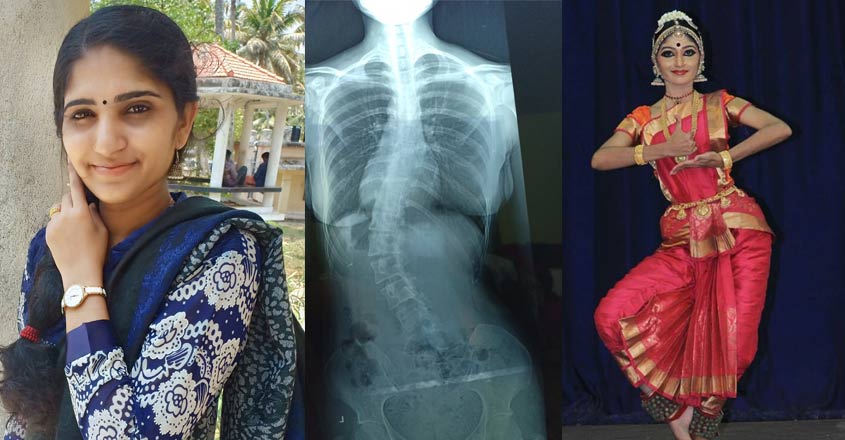 Thiruvananthapuram: The doctor's words shocked Bhavya, a professional dancer. He had suggested a 10-hour surgery to correct a sideways curvature of her spine (scoliosis). An anxious Bhavya asked the doctor: "Would I be able to dance again?"
The reply reassured the young artiste. "I can say with 100 % certainty that you will dance as earlier. But now you have to face the surgery with confidence. Think about it but don't delay the procedure any further," said the doctor.
Early signs
Bhavya, who belongs to Attingal, had studied Mohiniyattam at Kerala Kalamandalam and was establishing herself in the field of classical dance when she suffered from an unusual curve in the spine. But she had a pain in the backbone while she joined Kalamandalam itself. Bhavya had felt that the reason could be regular physical efforts and classes which were part of the curriculum there.
The young dancer sought traditional treatment, but it gave no relief. People who met also began noticing the curve. "Your back is not straight," they commented.
Meanwhile, the length of Bhavya's legs too showed some difference. She began to hunch and could only walk leaning to a side. Moving around itself was agonizing. Moreover, when Bhavya wore the dance costume, the sideways curvature of the spine was clearly apparent. When she developed pain on the knees too, Bhavya consulted a doctor and an x-ray was taken which showed the defects in her spine and knees.
The first doctor Bhavya consulted told her that she could forget dance and needed full-time rest. However, Bhavya was not willing to accept the suggestion and sought expert medical advice.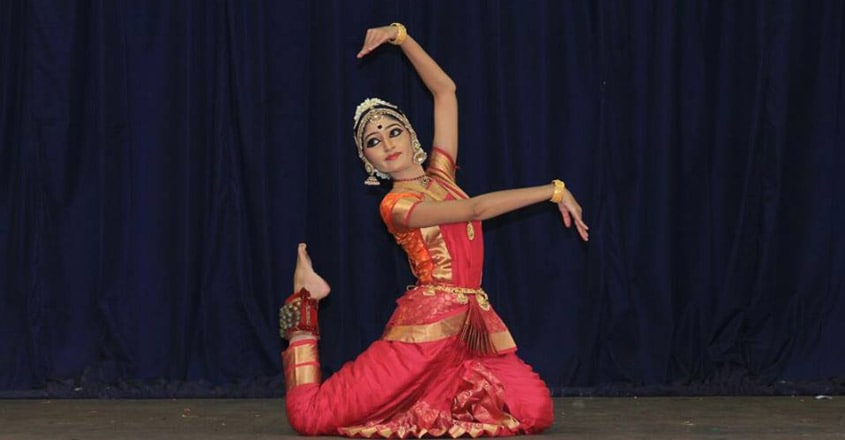 The surgery
During the examinations conducted at KIMS hospital, Thiruvananthapuram it was seen that Bhavya had 40% curve in the spine. At the hospital, it was consultant orthopaedic spine surgeon Dr Ranjith Unnikrishnan who attended to Bhavya. To the doctor, the young dancer revealed her anxiety.
"I have won several prizes for Bharatanatyam and Mohiniyattam at the school and university levels. Moreover, I was selected for the state government's fellowship for dance. Now I also guide several children in these performing art forms. Leading an active life in the artistic field, I was concerned whether all that would come to an end and postponed my treatment," she said.
By the time Bhavya met Dr Ranjith, her condition had become grave. The doctor gave her confidence and courage to face the surgery. However, Bhavya's biggest inspiration was her husband Vinod, a journalist. "You will indeed continue your career in dance. Whatever the outcome of this surgery, we will face everything together," he reassured her. Bhavya's elder son Niranjan also tried to boost her spirits.
The surgery soon took place and it was a success. After she was discharged from hospital, Bhavya travelled to Guruvayur temple and performed in front of the deity, resuming her dance career auspiciously.
According to Dr Ranjith, who treated Bhavya, incidence of scoliosis was rising among women in Kerala. "Girls in the 8-10 age group need to take special care. If any unusual curve is noticed in the spine, seek treatment immediately. If scoliosis is diagnosed early, complications during treatment can be avoided," he said.
In Bhavya's case, the surgery was conducted 13 years after the curve was seen, the doctor added.
Before the operation, Bhavya and Vinod had resolved to visit 100 temples if the procedure was successful and that she would perform classical dance at each of those shrines. Now that everything has turned out well, the couple are preparing for this elaborate thanksgiving exercise.
Meanwhile, their family which comprised only three persons welcomed a new member. He is Neerav, now four months old. Incidentally, Neerav was born after Bhavya's momentous spine surgery.