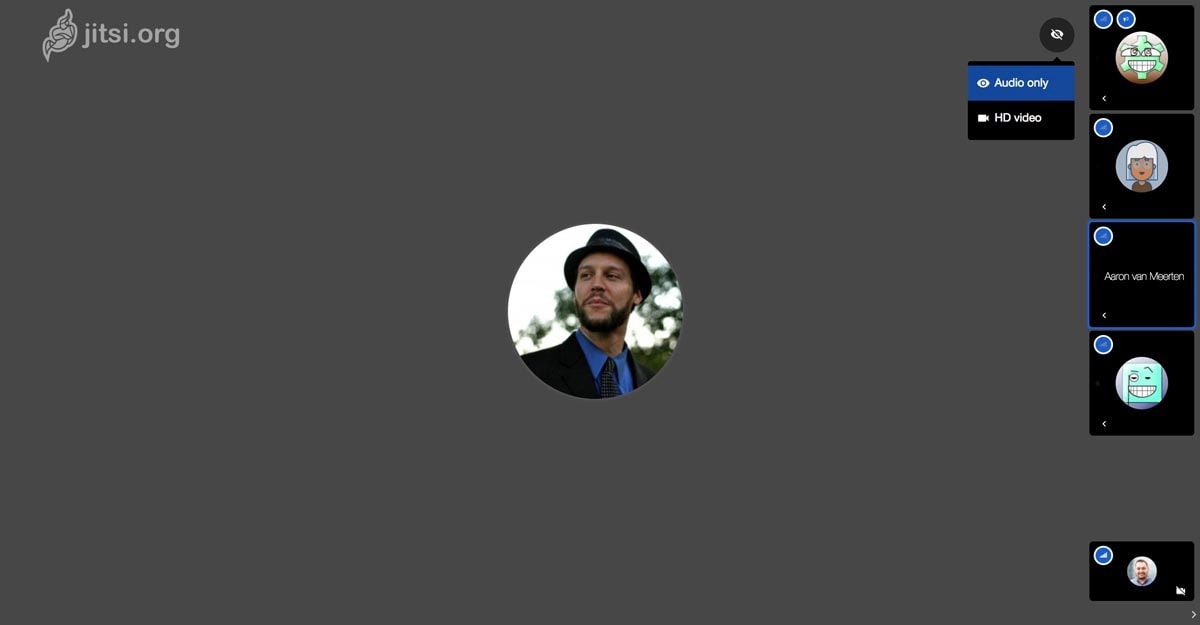 As the rapid spread of the novel coronavirus has pushed millions indoors, we are increasingly turning to videoconferencing solutions for every random meetup, formal meeting, or online class.
It is often in the worst of situations, that humans adapted to the best of inventions. A craving for human interaction has so fuelled the use of platforms such as Zoom, and the abundance of applications available by big tech companies.
While these are means to stay connected through the pandemic, each of these services has its fair share of barriers. It could be limited participants, throttling duration, or the worst of all – stealing your data.
Enter 'Jitsi Meet,' a state-of-the-art free and open source project that deploys a scalable and secure video conferencing solution for all the social activities you have been missing. By making it an open-source project that runs on Java WebRTC application, the creators have provided an option for developers to work on the code, improve quality, and develop better iterations of the product.
Jitsi has no limit on the number of participants or the duration of calls, and the user will never be asked to create an account whatsoever. All you need to do is to create a string of characters to start a new meeting or join one that already exists.
Besides options that allow an administrator to mute participants, it provides a host of exciting features such as the ability to live-stream meetings on YouTube, or saving the entirety on Dropbox. With the ability to simultaneously run sideshows and share video links within the stream, the options available are aplenty. Jitsi also allows the user to modify audio and video resolutions according to bandwidth availability, which makes it interoperable between regions experiencing variation in internet connectivity.
Privacy advocates have been singing praises of Jitsi due to its free, fully encrypted services provided across multiple platforms. American whistle-blower Edward Snowden who had copied and leaked highly classified information from global surveillance machinery, National Security Agency in 2013, had recommended and used Jitsi in conferences while remaining in asylum in Russia.
(https://www.flickr.com/photos/doctorow/33715659740/in/photostream/)
Though initially released in 2003, with a stable version out in 2017, it is the coronavirus pandemic that has actually led to the Jitsi project grabbing eyeballs. Thirteen million active users make use of the platform today, from a mere 100 thousand in December 2019. What makes it truly unique is that anyone can modify and share Jitsi's code to integrate it into their own software or enterprise.
The case with such secure and flexible services is that they mostly remain under the radar, away from other mainstream means of communication. Offline messaging app Bridgefy gained traction in the country due to the shutdown of internet services during protests against the Citizenship Amendment Act in late 2019.
FireChat, a similar peer to peer mesh networking app, was used by anti-government demonstrators in Hong Kong where internet services had been curbed and dissenters were prosecuted based on their activities on social media during the Umbrella revolution.
The popularity of Zoom and its consequences raised red flags in cybersecurity agencies across the globe. Germany, Singapore, and Taiwan were the first to ban the application. India's Computer Emergency Response Team (CERT) and the Ministry of Home Affairs had cautioned against its vulnerability. The Ministry of Electronics and Information Technology has so launched a new challenge for the development of India's own videoconferencing solution, accepting applications for the same from registered Indian companies and start-ups until April 30.
To keep up with the rising demand, Facebook has announced Messenger Rooms, which would integrate well into the existing Messenger app and launch later from Instagram Direct. Google and Skype have eased participant limit and made certain paid features of their apps free to use.
Even while Zoom has promised that its newest version 5.0 includes encryption and updated privacy controls, one can never be sure of how much user data is really at risk. People have grown increasingly comfortable to prefer convenience over security in a world that rushes to seek instant gratification.
Open source projects on the other hand offer agility and flexibility benefits without compromising on security. They offer a community that allows for collaboration without the barriers of licensing and proprietary regulation. These are reasons attributed to the phenomenal growth of various open-source projects such as Android, Linux, Ubuntu, and Mozilla as compared to proprietary vendors such as Microsoft and Apple.
The Jitsi project is available for use on jitsi.org, and on the Jitsi Meet client for Android and iOS.