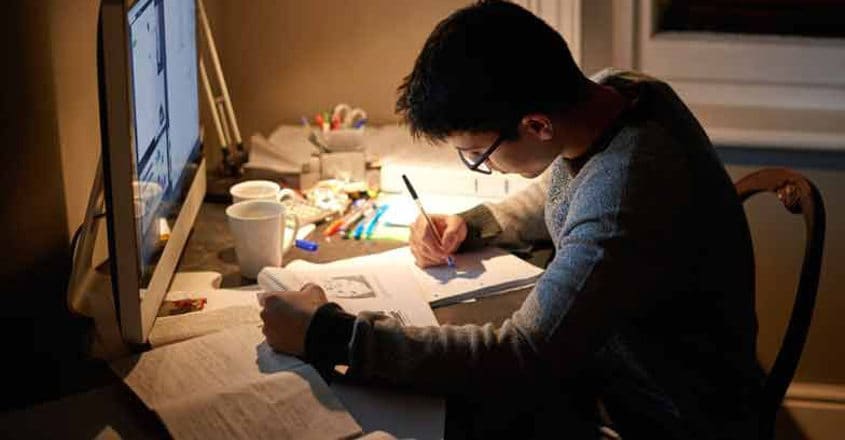 It has been a long time since pens and papers have stopped being mandatory for exams. Although the practice of going to various centres to write exams online has been going on for some time, COVID has forced us to think even beyond that. That is why writing online exams from home is now becoming widespread.
To give an online exam from home, you need a computer or a laptop and also a decently fast internet connectivity. There could be someone to supervise at the other end, or it could be artificial intelligence on 'exam duty'. Some exams, including those for entrance to various courses, have already been conducted in this manner.
This form of writing exam is likely to continue even when COVID abates.
Exam from home
The entrance exams for institutes such as Christ University in Bengaluru and Symbiosis and the HSEE (Humanities and Social Sciences Entrance Examination) of IIT Madras for admission to the integrated MA course were conducted in such a way that students could give them from home. NATA, the aptitude test for B.Arch courses and Kerala Law Academy entrance exam could also be written from home.
All the semester exams of Christ University were conducted online completely.   
"I gave all the six exams of the fourth semester from home," said Albert V Suneesh, now a third-year BCom (Professional) student of the university. "Online exams are stricter than offline ones. At first, there was some concern, but after a few tests, this method seemed convenient to me," he said.
It is a proper exam
Multiple choice questions are what come to mind at the mention of an online exam. But, questions that require detailed answers can also be asked in such online exams. 
The semester exams of Christ University in Bengaluru were just like normal exams. The answers had to be either typed into the computer or written on paper, which had to then be uploaded online within a specified time. 
What is needed to write the exam is a computer with a specific configuration and internet connectivity. The student enters the 'exam hall' by logging in through a pre-sent link or a pre-installed software.
No copying
If exams are written from home, don't for a moment think you can look into books and give your answers.  
Once logged in, your computer will be under the control of the exam administrator. It will be considered a violation of exam rules if you take your eyes away from the screen, keyboard, or the paper in front of you, or if any other voice is heard. There are artificial intelligence-based technologies to check that you are not cheating in the exam. Some institutions even deployed invigilators with each monitoring 15 students for online exams.
Exam administrators can see what the student is doing on the screen. Anyone found violating the rules more than a specified number of times will be disqualified. All the exams mentioned above were conducted in this manner.
"I gave three national-level exams from home," said Vishnupriya Suraj, a first-year student of Government Law College in Thrissur. "It is a big challenge because even if you remove your eyes from the screen to fix some technical problem, it will be considered a violation of the exam guidelines meant to prevent cheating," she said.   
Possibilities and concerns
There are many benefits to writing online exams from home. The most important is that it will reduce the huge costs involved in conducting normal exams. 
It has the advantages of being faster and easier to evaluate. Besides, it reduces the use of paper and saves students the hassle of having to travel to exam centres.
However, the fact that the majority of children in our country do not have the facilities to take online exams from home cannot be ignored.
As such tests become widespread, the government and society should ensure that facilities are available to all to avoid the 'digital divide'.
The other main concern is that if any technical problem that arises while writing the exams will be addressed immediately.
"If exams are left to technology, then universities and teachers can use that time for research and other constructive purposes," said P L Jomi, an education specialist. "From an environmental point of view, too, online exams are good‌. But it will be a success only if all the students are provided with the basic facilities needed for such exams," he said.