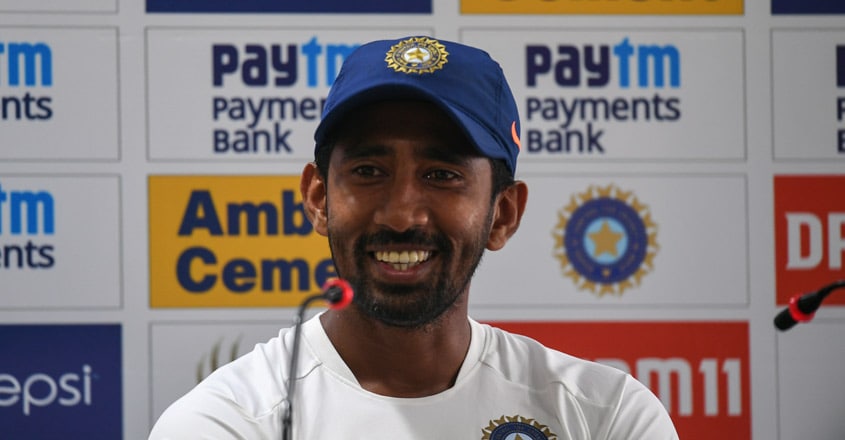 India have enjoyed a winning streak in Test cricket this season winning all the matches with astounding ease. The batsmen have been in top form and helped to set up tall scores that turned out to be winning totals, while the bowlers, both spinners as well as pacers, have struck it rich to make mincemeat of the opponents. There have been plenty of records as the players have competed with one another in setting new landmarks. However, in the midst of all this, one cricketer stood out and won the appreciation of observers of the game for going about his job in a silent, almost unobtrusive, manner, even while contributing handsomely to these victories.
If one jots down the names of unluckiest cricketers of this generation, Wriddhiman Saha would figure in the shortest of shortlists. He was unfortunate to have played cricket in India as a wicketkeeper at the same time as Mahendra Singh Dhoni. This meant that he had to wait patiently till the great man bid adieu to the longest version of the game to break into the national side. He quickly proved his worth, both behind as well as in front of the stumps, and had cemented his place in the squad when misfortune again struck him in the form of injuries. The damage to his shoulder required a major surgery followed by a long period rehabilitation that made him miss the tours of England and Australia in 2018. Rishabh Pant, who donned the big gloves in his absence, seized the opportunity to hit centuries in England and Australia, a feat that no other Indian stumper has achieved, thus mounting a direct challenge for Saha's slot.

Bouncing back
Thus, when the 2019-20 season started, Saha was back in a territory that he knew only too well, of being required to prove himself all over again. That he managed to do this with minimum of fuss and furore speaks volumes about his temperament and maturity. It would have rankled a lesser individual to keep on proving one's worth but not Saha. He has learnt to take the ebbs and flow of fortune with the stoicism of a monk, a quality that stands him in good stead while keeping wickets for the national side.
Cricket coaches teach young wards that the wicketkeeper is the most important player when the side is fielding. He is required to be constantly alert as the job makes no allowances for even the smallest lapse of concentration. He has to make adjustments to the vagaries of the pitch and weather, which can cause the ball to deviate in an unpredictable manner. Razor-sharp reflexes, peak physical fitness and bucketloads of mental stamina are the other requirements that the job demands. In addition to all this, he is invariably the prime motivator of the side and the main advisor to the captain.

Early days
Saha belongs to the new generation of cricketers who hail from small towns and have come up through the grind of domestic cricket. He was born in the town of Siliguri in North Bengal and moved to Kolkata, when aged 14, to pursue his ambitions on the cricket field. He shared a room with six other similarly placed boys in the fourth floor of an old, dilapidated building near Sealdah market. It was his single minded devotion towards the game and the passion with which he pursued it that sustained him during these difficult days. He played in the age limit tournaments and graduated to the senior level, where he soon became a permanent fixture in the Bengal Ranji Trophy side from 2007 onwards.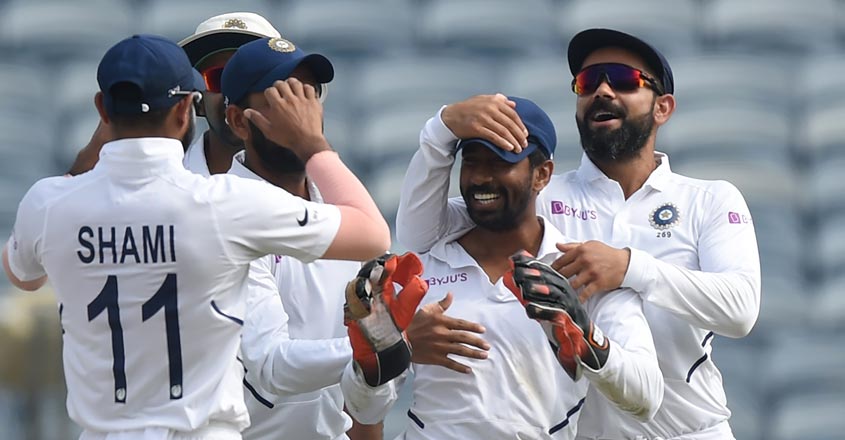 A rare stroke of good fortune, in the form of injury to Rohit Sharma and absence of other substitutes, helped Saha to make his Test debut, as a pure batsman, against South Africa, in 2010. Another opportunity came in 2012, when Dhoni was forced to sit out as penalty for slow over rates. These were small consolations that came his way during the period when Dhoni dominated the scene like a colossus, leaving little scope for another stumper to emerge on the horizon. It is a tribute to Saha that he kept going through these years, never losing hope, maintaining form and fitness and always on the alert for a call for doing national duty. Thus, he was ready to take over when Dhoni announced, after the Test at Melbourne in Australia in December, 2014, that he was quitting Test cricket.

It is an accepted fact that confidence levels of bowlers go sky-high when they know that the wicketkeeper does not drop a ball or miss any chance. It is rare to see Saha drop a ball; his technique is based on the principle of gathering the ball with soft hands. Thousands of hours that he has spent at practice sessions have helped to develop an excellent muscle memory which ensures that the forearms remain relaxed when he collects the balls. The soft thud with which the ball lands into his gloves is the most reassuring sound for a bowler. His sense of anticipation helps him to gauge the length, turn and lift while standing up to the stumps for R Ashwin and Ravindra Jadeja, who can make the ball talk and even spit venom on turning tracks. While standing back to pace bowlers, his superior technique involving getting up with the ball and smooth lateral movements to the sides enable him to tackle the late swing that can confound more ordinary stumpers. He is not flamboyant, like Farokh Engineer, nor is he a bundle of energy on the lines of Adam Gilchrist. He is a solid, dependable wicketkeeper, who neither fumbles with the ball or gets caught on the wrong foot.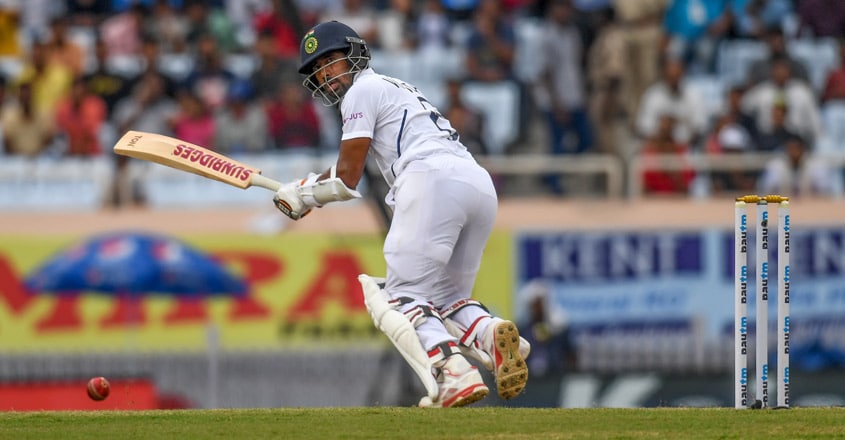 Saha turned 35 in October and is hence no spring chicken. He lost his best years languishing in the shadows of Dhoni and injuries added to his woes in the period after that. He has maintained peak levels of physical fitness despite the damages suffered by his body and should be able to stay on in international cricket for another four-five years. In the 37 Tests he has played till date, Saha has struck three centuries and five fifties, which indicate that he is a competent batman as well. He has pouched 103 victims behind the stumps - 92 catches and 11 stumpings - and, more importantly, has seldom missed any chance that came his way.
Inspirational tale
Saha's story made one remember Bob Taylor, the England wicketkeeper during the late 1970s ad early 80s. Taylor was brilliant behind the stumps but was destined to remain as an understudy to Alan Knott, who, besides being a excellent wicketkeeper, was a formidable batsman as well. It was only when Knott decided to play in the Kerry Packer sponsored World Series Cricket (WSC) that Taylor could finally become a part of England side. Taylor was past 36 when this happened but he rose to the challenge and performed commendably, earning accolades from all corners.

Taylor lost his place in the national team when Knott returned to the Test squad in 1980, after the WSC folded up. As Knott was five years junior to him, there appeared to be little chance that Taylor would get another opportunity to play again for his country. But good fortune smiled on Taylor yet again as Knott decided to retire from the game after the 1981 season. Though Taylor was past 40 by this time, the selectors had no hesitation in recalling him as he was simply the best wicketkeeper available in England. Taylor continued playing for his country till March, 1984, and did not hang up the boots for his Derbyshire, his county, till the end of 1988 season. Thus Taylor played first class cricket in the specialist job of wicketkeeper till 47!
Taylor's would not be an easy act to follow but Saha can take heart from the fact that there are examples of wicketkeepers who have overcome the challenge of age and continued playing the game at the highest level. Saha has demonstrated repeatedly that he is a fighter blessed with a cool head. He has faced more than his share of adversity in life but is extremely careful not to let the hard-won success bloat his ego. The equanimity and poise with which he has faced the various setbacks and fought them to emerge triumphant makes him an ideal role model for aspiring young cricketers.
Saha is one of the real heroes in the present day national team. He would not stand out in the bunch of flamboyant, larger than life characters but the solidity and substance that he brings is something the team cannot do without. His contribution needs a louder ovation from the fans and followers of the game.
(The author is a former international umpire and a senior bureaucrat)