New Delhi: The Delhi Police on Wednesday said they detained 13 students after the Left-affiliated Students' Federation of India (SFI) announced a screening of the controversial BBC documentary on the 2002 Gujarat riots would be held at the Jamia Millia Islamia campus.
The university administration said the screening will not be allowed and that they are taking all measures to prevent people and organisations with a "vested interest to destroy the peaceful academic atmosphere of the university".
"A screening for a BBC documentary was to be organised by a group of Jamia students inside the university today, which was not allowed by the administration of the university. The university administration informed the police that some students were creating ruckus on the streets and therefore, a total of 13 students were detained around 4 pm to ensure peace in the area," DCP (southeast) Esha Pandey said in a statement.
The SFI's Jamia unit has released a poster informing the documentary will be screened at 6 pm at the MCRC lawn gate no 8.
The SFI issued a statement following the detention.
"In an atrocious manner, Azeez, a student of Jamia Milia Islamia and SFI Jamia Unit Secretary; Nivedya, a Jamia Student and SFI South Delhi Area Vice President; Abhiram and Tejas, both Jamia students and SFI Unit members have been detained by the Delhi Police prior to the screening of the documentary," the SFI said.
"The SFI Jamia Unit had decided to screen the BBC documentary today on the campus," it added.
The university administration also issued a statement, saying no permission has been sought for the screening of the documentary and it will not be allowed.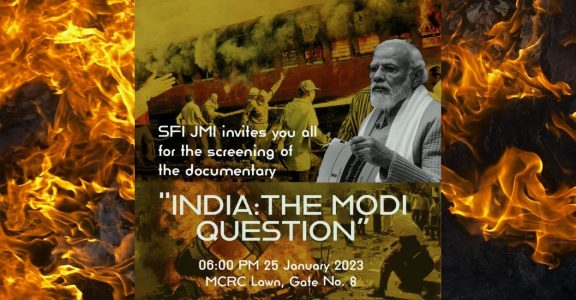 "It has come to the knowledge of the university administration that some students belonging to a political organisation have circulated a poster about the screening of a controversial documentary film on the university campus today," the university said in a statement.
The university earlier issued a memorandum/circular reiterating that no meeting/gathering of students or screening of any film shall be allowed on the campus without the permission of the competent authority.
The varsity said strict disciplinary action shall be taken against organisers in case of any violation.
"The university is taking all possible measures to prevent people/organisations having a vested interest to destroy the peaceful academic atmosphere of the university," it said.
The SFI attempt to screen the documentary at the Jamia campus comes a day after a similar event was organised at the Jawaharlal Nehru University during which students claimed that power and internet were suspended and stones were thrown at them.