The mission to relocate rogue wild tusker Arikomban to the Kalakad Mundanthurai Tiger Reserve (KMTR) in the Tirunelveli District of Tamil Nadu has hit a minor hurdle. The Tamil Nadu Forest Department has put the mission on hold as the tusker is reportedly not healthy enough to be pushed back into the wild.
Earlier on the day, the Forest Department had managed to convince the Madras High Court that the elephant was healthy. Based on that, the Madurai Bench of the High Court lifted an earlier stay order on the translocation.
According to Manorama News, the tusker which has a deep wound on its trunk, had undergone a punishing 200km ride from Theni to KMTR. En route, at Tirunelveli, the tusker was given a shower as it stayed tranquilised inside the wildlife ambulance.
It is understood that the Forest Department has decided to provide treatment to the tusker for two days. The animal that required two tranquilizer shots at Poosanampatti in Theni Sunday night, will have to be tranquilized again to resume the mission. The details in this regard are yet to be confirmed.
Once released, Arikomban, fitted with a GPS tracking collar, will find itself in a third territory since late April when it was tranquilised and captured from Chinnakanal in Kerala's Idukki district.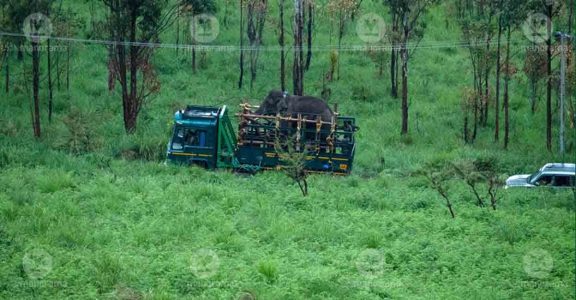 Arikomban was released in the Periyar Tiger Reserve on April 29, but it strayed into human settlements in the Theni district forcing Tamil Nadu to launch a mission to capture the elephant.
KMTR is situated over 60km from Tirunelveli and the point of release is understood to be in the Manjolai Division, several kilometres inside the reserve forest.
KMTR is the second-largest protected area in Tamil Nadu that is situated in the southern Western Ghats along the districts of Tirunelveli and Kanyakumari.
According to reports, the TN Forest Department believes the chances of Arikomban returning to human settlements are slim considering the vastness of its new abode.
However, a group of locals protested at Manimuthar against the translocation of Arikomban. The locals expressed their concern that there are tea estates inside KMTR where workers' families reside.