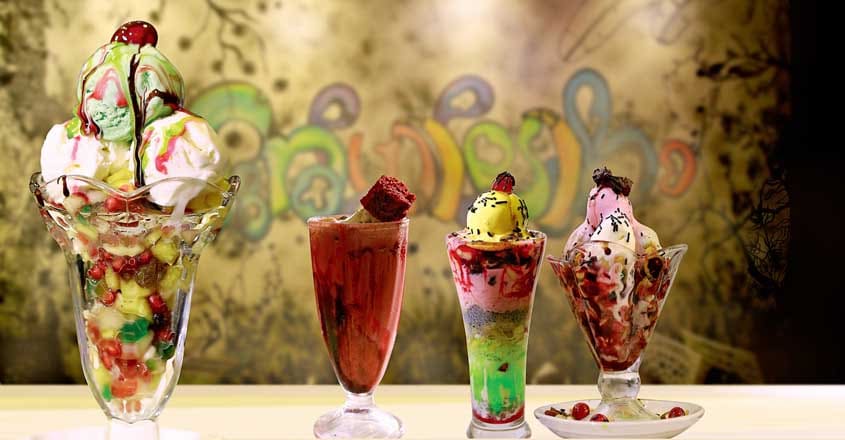 Enter the Adholokam and encounter the fierce 'flavours' offered by Dawood Ibrahim, Daddy Girija, Keerikadan Jose, and John Honayi. Thrissur has surrendered to the delicious and unique ice-creams and shakes at Adholokam, which means 'underworld.' When best buddies Jismon and Sumoj opened the creamery opposite the private bus stand in south Chalakudy, it was the unusual name of it which drew the attention of the ice-cream lovers.
Their menu card, too, is as unique and interesting as the name. Each flavour of ice-cream or shakes is given the names of the most popular characters in Malayalam cinema, especially the villains. The baddies who tormented the heroes on screen, however, would melt in our mouths at Adholokam. Heroes like Saagar Elias Jacky, Kottayam Kunjachan, Valayar Paramasivam, and Shaji Pappan, too, are incredibly popular items on the menu. Besides, Krishnavilasam Bhageerathan Pillaii, Dude and Arackal Abu who will also entertain you, have a special place in Adholokam. The creamery serves countless flavours in ice cream scoops, fried ice cream, ice cream rolls, falooda, shakes with ice cream, ice flakes, children's special and smoothies.

Adholokam specials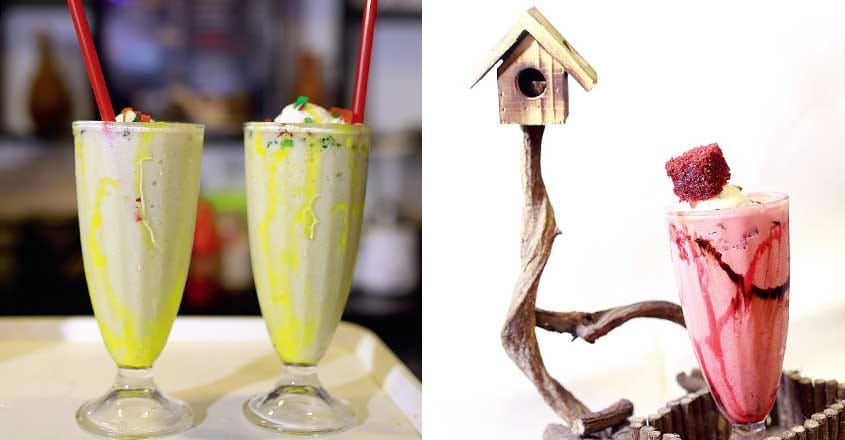 Adholokam has, in its menu, some unique and unusual flavours and preparations that aren't seen in other creameries or ice-cream bars. The 'Alibaba and the 41 thieves' is the most popular among them. It is a colourful and mouthwatering dry fruits salad topped generously with scoops of vanilla, chocolate, pistachio, and strawberry ice-creams. Revealing the secret of the great taste of ice creams and shakes here, Sumoj and Jismon says, "The ice creams of Amul and Merriboy brands are only used to prepare the dishes. The milk collected from the cooperative societies are chilled and used to make the shakes and juices. Seasonal fruits are mostly used. The use of artificial flavours is very limited. So, certain items are not available in all seasons."
Many gape at the menu in amazement and curiosity when they see the name of a dish as 'Njanum Appanum Appante Pengal Subadrayum.' However, it is an extremely popular item which actually is an upgraded version of the regular fruit salad. 'Hitler Madhavanu Pengamarum' is a delicious mix of ice-cream, dry fruits, and fresh fruits.
Rolled ice-creams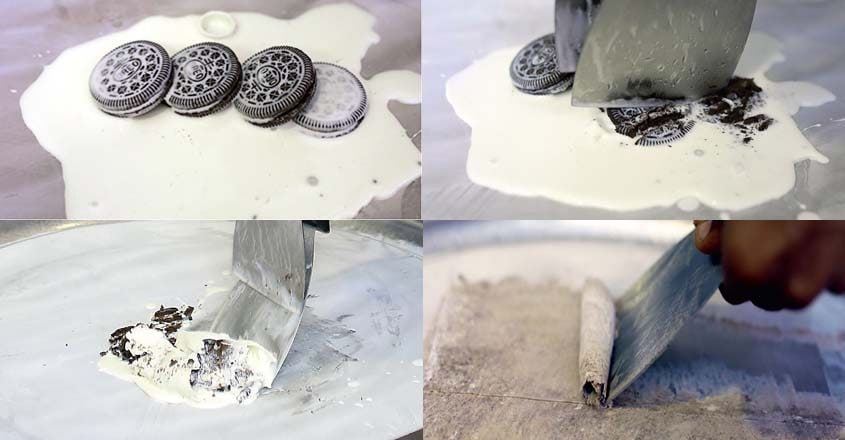 Rolled ice creams are a speciality at Adholokam. It is available in 17 different flavours. 'Ramji Rao' is an extremely tasty ice cream roll made with chocolate-filled cookies. Anakattil Chackochi (Kit Kat), Aadu Thoma (snickers), Kottayam Kunjachan (Diary Milk), Valayar Paramasivam (oreo biscuits), Bilal John Kurisinkal (kiwi), Dude (mango), Saagar Elias Jacky (dates), Arackal Abu (cherries), Garvasees Asan (chocolate cake), Paul Barber (Gulab Jamun), Induchoodanum Pavithranum (banana and caramel), Nakulanum Gangayum (brownie and choc chips) Kannappan Muthaliyum Daasappan Muthaliyum (Nutella and Oreo), Thommanum Makkalum (red velvet caramel), Mundakkel Sekharan (gems, nutella and snickers), and Pandi Durai (mixed fruits) are some of the special flavours in rolled ice-cream.
To make the Valayar Paramasivam, milk, oreo biscuits, and Adholokam special ice cream mix are added onto to the rolling machine, a metal surface which is set at minus 22°C. They are then chopped, mashed, and prodded into a frozen texture. This mixture is then spread out super thinly across the cold surface and rolled into columns of ice cream using a spatula. The rolled Valayar Paramisam is then decorated with generous squeezing of chocolate syrup and oreo biscuits. Rolled ice creams are extremely delicious and soft that it melts amazingly in your mouth. Kids are curious to try out rolled ice-cream flavours like Gems, Kit Kat, Munch, and Five Star which are called Mayavi, Kuttoosan, Luttapi, and Dakini, after their favourite children's book characters.
Vettichira Simon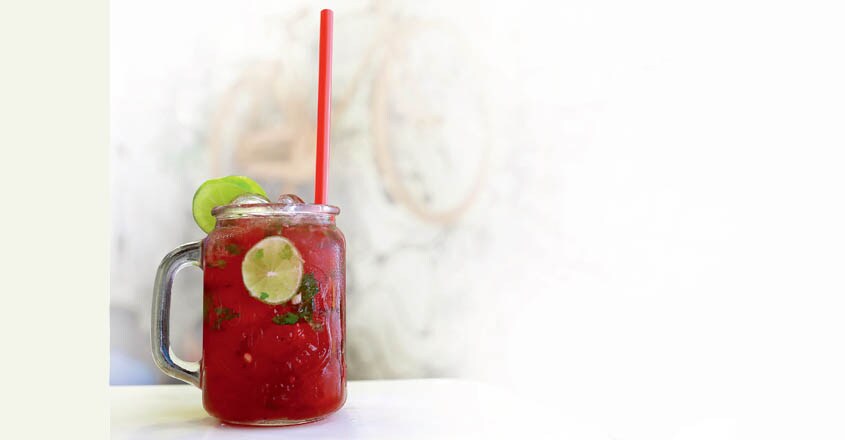 Vettichira Simon or strawberry mojito is the perfect drink to cool your body and soul from the scorching heat. Mojito is not a juice but a delicious cocktail made with many ingredients. Strawberry mojito is prepared by mixing lemon, mint, sprite, strawberry crush, and couscous with ice cubes. Mojitos in seven different flavours are available at Adholokam.
Ice candy or ice orathy is another popular item. Green apple, kiwi, orange, strawberry, grapes, and pineapple flavoured ice orathy are really delicious and cooling.
Royal Falooda or 'Pattanathil Sundaran' is the star among the faloodas. Seven layers of ice creams in different flavours are garnished with generous amounts of fresh and dry fruits to prepare the extra special royal falooda. Urukku Satheeshan or fried ice cream is a unique item that is served at Adholokam. Vanilla ice cream is fried to perfection, adding texture and flavour. The sight of the soft ice cream turning into a fried ball of deliciousness is truly spectacular. However, it would melt pretty quickly on the plate.
Ice creams and shakes have always been inseparable. However, 'Murukkunnathu Ahmed Haji' or red velvet cake shake is a unique invention. The taste of the red velvet cake, milk and sugar creates a riot of flavours in our palettes.
Mister Pereira (carrot and apple), Mohan Thomas (mango and orange), Nicolas (sapota and banana), gang leader (guava and watermelon) and Balu Bhai (spicy plum) are the Adholokam special smoothies. Adholokam has never disappointed anyone who walks in to chill themselves from the blazing heat outside, with some incredibly delicious ice creams, shakes and juices. The creamery has recently opened an outlet at Angamaly as well. The customers are only too happy to get 'trapped' in this cool 'underworld.'