Mundakkayam: Puthenchantha in Kottayam still emanates the rustic charm of the local community market which bustled with activities almost a century ago. The Farmers' Club has revived the local market at Puthenchantha by beginning to sell locally sourced materials, and it truly is a nostalgic reminder of the olden ways of trade and commerce.

The local market in Puthenchantha which was opened 4 months ago has been successful in introducing the goodness of the local materials to the community. This market is drawing crowds and the people love to visit, even just to experience and enjoy rustic features in their truest sense. As per historical records, it was an Englishman named Robinson who founded the market in 1925. In the beginning it was called the Robinson market and later re christened as Puthenchantha.
Hundreds of people thronged the market to purchase the fresh agricultural produce which was brought from the nearby farming villages and settlements. In the olden days when the market was held on Sunday, people would turn up from even faraway places on Saturdays itself.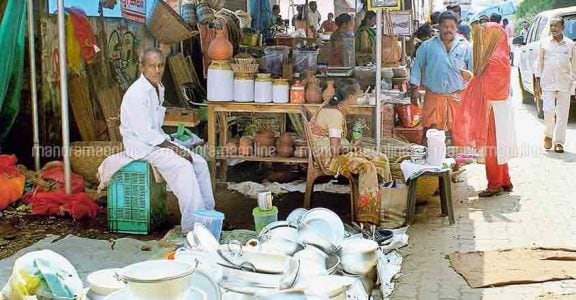 However, after the bridge connecting the banks of the Manimala river and the KK Road were constructed, the area witnessed rapid development which transformed it into a town. Thus, Puthenchantha lost its old glory as the centre of trade activities. In the recent years, however, there are a number of developmental activities taking place in the area which could open new prospects for Puthenchantha. The people of the locality hope that the newly constructed stadium and KSRTC bus station would accelerate the development of the area.
Puthenchantha recreates history on every Sunday as the lane from Kallepalam to Puthenchantha would be lined with makeshift shops which sell locally sourced materials. The Farmers' Club which took the initiative to revive the local market vows to make it a haven of fresh and organic local produce. On Sundays the lanes and roads here would be crowded with the people who throng to buy their favourite items.
Cows are brought to the market, milked, and fresh milk is sold then and there. Freshly caught fish are even cooked for the customers here. Local methods are followed in the slaughtering and sale of meat products as well. Farmers directly sell their produce at the market and the customers are able to buy organic and fresh vegetables. Goats, chickens, and cows are also sold at the market. The market at Puthenchantha has truly opened up an era of renewed culture which upholds the goodness and integrity of the locally sourced materials.