Deepak, Joby, Ajay and Jithu, all natives of Thazhava, have been admirers of renowned Brazilian writer Paulo Coelho and his magnum opus The Alchemist that narrates the incredible story of the shepherd boy Santiago and his quest for treasure in the Egyptian pyramids. A year ago, the four friends enrolled at Yaudaya pre-recruitment coaching centre, with a dream to land a government job. However, when studies became serious they found it extremely hard to find money for their expenses. Soon, they began doing odd jobs including assisting the catering groups.
Their instructor at the coaching centre came to know about it and was determined to bring them back to studies while helping them financially. It is said that when you desperately want something, the universe conspires to make it happen. This advice by the old king to Santiago in The Alchemist came true in the case of the four friends too.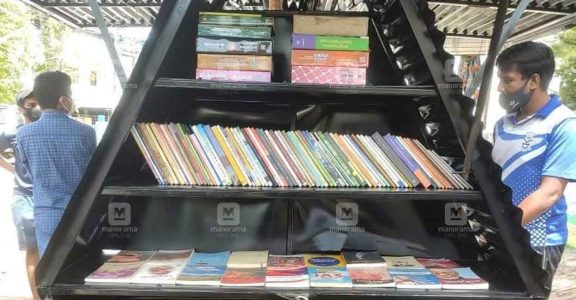 They soon opened a tea stall, 'The Alchemist' or the 'shop of the one who pursues dreams' near Thazhava panchayat office with the support of their teachers. At The Alchemist nine varieties of tea (black tea, special sulaimani, regular tea, booster tea, horlicks, biscuit booster tea, cardamom tea, masala tea, ginger tea) and delicious snacks are served. Moreover, what attracts people to this quaint tea stall is the cupboard that is lined with books. From Paulo Coelho's best sellers and Malayalam classics to PSC guides and question banks, they have an impressive collection of books at their tea stall library.
The customers can read the books while enjoying the different varieties of tea and snacks at this wayside tea stall that is open from 4 – 8 pm. They would allow people to take books home if you promise to return it. Moreover, they offer PSC coaching to interested customers. Besides, they have made some special arrangements for the cycle riders too.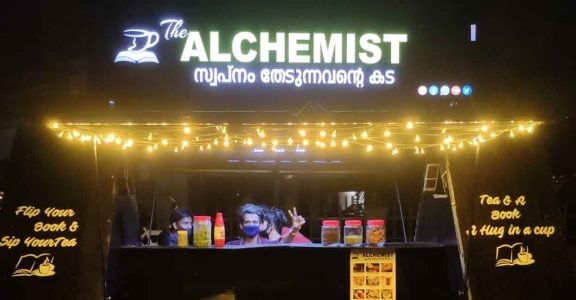 Deepak is a BTech graduate while Jithu has completed his hotel management degree. Meanwhile, Joby studied polytechnic courses and Ajay has completed plus two. The four friends attend coaching classes for PSC and staff selection commission exams, from 8 am to noon. They would open the tea stall only after attending the classes. After closing the shop, they continue studying till 10 pm. Their teachers Jishnu, Akhil Raj, Ratheesh and Jishnu say that they plan to hand over the responsibility of running the tea stall to another four candidates once Deepak, Jithu, Joby and Ajay qualify the exams and secure a government job.