With summer holidays being here and the pandemic restrictions behind us, we can all start finally catering to our wanderlust!
With the international lockdowns that have been in existence since the last couple of years, only a few have gotten the opportunity to travel outside India. In fact, even today, there are travel restrictions in some parts of the world. But that being said, travel to international lands has largely opened from India to most countries.
Given the current environment in Eastern Europe and North Asia, travel to the countries located in this region is not advisable. And where the rest of the world is open for tourism, we recommend restricting travels to neighbouring countries.
Destinations that can be reached within four to five hours are the best in this case. This brings us to our top two recommendations for international travel this summer- Dubai and Phuket!
Let's explore them both a bit more.
Phuket
The Island city situated in Thailand has been a hot spot for Indian tourists for a few decades now, and not without reason! Be it the lush emerald greens or the sapphire waters; this city has many gems for guests to explore.
With many direct flights (roughly four-and-a-half hours long) to Phuket available from all the leading metros of India, this island is easily accessible and more economical where airfare is concerned. You can find direct return flights to and from Phuket (from Delhi and Bangalore) for as little as Rs 15,000.
The Island life of Phuket is every bit as rejuvenating and relaxing as one assumes it to be after looking at its picturesque photographs! With several spas dotting its bustling streets, one really cannot help the indulgence and consequent relaxation when in Phuket. It is the perfect destination to go when one needs a break from a hectic life!
Spas aside, the city offers an array of delights to its travellers; some of them include:
1. Boat ride to the 'James Bond Islands'
Enjoy a boat ride under the Thai Sky and tour the famous vertical islands (also known as the 'James Bond Islands') that have graced the silver screen many times, amongst other islands. Island hopping is an absolute must-do when in Phuket!
2. Jungle safari
Phuket's Khao Lak Park and Khao Sok National Park flaunt a gamut of flora and fauna that await to be captured on your lenses! When there, indulge in a jungle safari to witness the wildlife in their natural habitat. The parks also offer interesting activities like bamboo rafting and trekking for visitors' amusement.
3. Tiger Kingdom
Have you ever wondered what it would feel like to have a wild cat as a pet? Well, here's your chance to experience it. Phuket's Tiger Kingdom is home to many majestic tigers, whom you can interact with and even pet! This particular activity is loved by all age groups and is an absolute 'must' when in Phuket.
4. The Big Buddha statue
Experience the spiritual side of Phuket whilst visiting the big Buddha statue sitting peacefully atop the Nakkerd Hills. The 45 metre tall statue is made of white Burmese marble and is an eternal symbol of peace and harmony. Soak in the view and the serenity here with the sounds of the chiming bells and blissful chants.
5. Weekend night market
For which holiday can ever be complete without a little retail therapy? Visit the buzzing night market of Phuket to indulge in pretty trinkets that make for great souvenirs.
One thing to note about Phuket is that its nightlife and bar-hopping experience are the most popular activities to enjoy there. While Phuket presents itself as the best option for young couples, for families with young children, there are only a few activities to enjoy, like the ones mentioned above.
Dubai
The hyper-modern city on the Persian Gulf coast of the United Arab Emirates is another Indian tourist favourite, and rightfully so! The city that redefines the meaning of luxury has so much to offer its visitors that a week in this oasis isn't enough.
Again a short, direct flight (under four hours) from all major Indian cities, you can purchase a return ticket to this Arabian land for under Es 20,000. Since tourism is one of the largest industries here, you are likely to find many lodging options to suit your budget.
Since there's a ton to do in and around Dubai, we recommend a minimum stay of a week here. During this week, you can indulge in: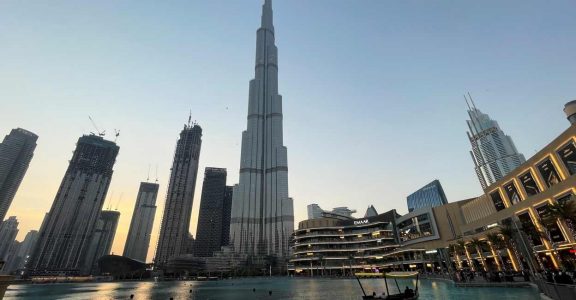 1. A Visit to the Burj Khalifa
You can't even say 'Dubai' without thinking of the world's tallest building- the Burj Khalifa, so do plan a visit. We have it on good word that the view from the top is as spectacular as promised! Whilst there, you can even indulge in bungee jumping!
2. A tour of the Miracle Gardens
In this marvellous garden, you can spot beautiful life-size artworks made only from flowers. There's also a butterfly sanctuary here that houses some of the world's most unique flutter bugs!
3. Shopping in Dubai
It's hard to resist retail therapy in this urban jungle with a glistening Gold Souk and a larger than life Dubai Mall! So whilst planning your trip, don't forget to allocate a budget for this indulgence.
4. Snow City
A theme park that replicates the experience of skiing in the Swiss Alps in the middle of the Arabian desert; what's not to love about this unique and thrilling experience?
5. Desert Safari
Traverse and bash the dunes of Dubai in this extraordinary adventure over the desert! Here you can enjoy various activities like camel riding and quad bikes as a part of your safari tour.
There are plenty of day trips from Dubai, like to Ferrari World, the Louvre or the Grand Mosque- all of which are super fun and can be enjoyed with the whole family.
That's it for our top recommendations for your annual international vacation!
Tell us which one entices you more?