For many, a meal is incomplete without having a dessert or relishing something sweet. The Kerala cuisine takes incredible pride in its quintessential dessert, payasam, which was served even in the royal palaces. A delicious payasam is what gives an elaborate sadya (traditional feast), the perfect ending that it deserves. If the payasam doesn't taste as good, then the unique gastronomical experience of a having the sadya would be lost. Payasam, made by cooking rice or wheat in milk is served in almost all the Indian states.
Payasam definitely adorns the position of the graceful queen among the sweet dishes. In North India, it is called kheer, which came from ksheer, the Sanskrit word for milk. Meanwhile, our payasam becomes payasa in Kannada and Telugu. The Tamilians love their 'payasam' as much as we love ours.
South Indians mostly prefer adding jaggery and coconut milk in payasam. However, the North Indians stick with the basic ingredients of milk and sugar. The gil e firdaus is a delicious, thick dessert which is part of the traditional Hyderabadi cuisine. Milk and bottle gourd are the main ingredients in this special dish. It was during the Nawabi era that the gil e firdaus got discovered in the royal kitchen. Phirni, which is a popular dessert in North India, was gifted to us by the Persians. Fragrant rose water and dried fruits are abundantly added in firni.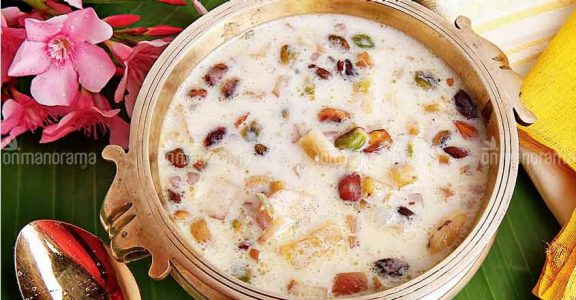 A unique rice payasam is believed to have originated, around 2000 years ago, in the temple town of Puri in Odisha. The goyinda godi is a sweet dish, associated with the famous Konark temple here. It is believed that this dessert played a vital role in explaining an important engineering feature while building the foundation of the temple. The foundation, which was supposed to be built above the anchoring spot in the ocean, couldn't be constructed, despite trying hard. Finally, the chief engineer's son discovered that the foundation could be built if a bridge is constructed from below. He explained it by dropping rice balls into a bowl of thick dessert. The dessert which was used for that later became famous as the goyinta godi. The legends say that this sweet dish was served as part of the evening snacks in the palace of emperor Ashoka.
The Bengali payesh too is believed to be more than 2000 years old.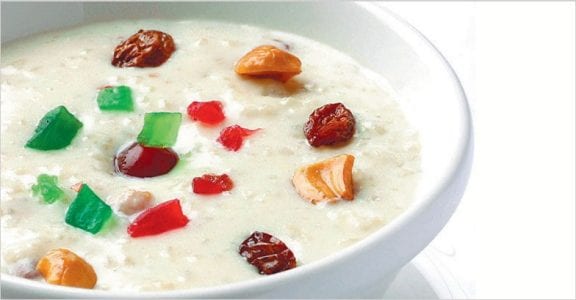 The payox prepared in the Eastern parts of India has a distinct light red hue. They use lots of fresh cherries which gives it the pleasant colour. Instead of rice, sago pearls are added in payox. In Bihar, sugar or jaggery is interchangeably used in the chaval ki kheer.